Saving lives: Pass it on
Posted: May 8, 2012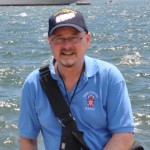 Tom DiDonna, DHSc
Tom A. DiDonna, DHSc, '10, MSN, RN, spends his vacations making a global impact. His volunteer work is anything but small scale and embraces his lifelong passion for global health. The ASHS alum and adjunct faculty (doctor of health sciences) is a leader in the reduction of unnecessary newborn deaths worldwide.
Last year, Dr. DiDonna embarked on an international medical volunteer mission to the Republic of Namibia and South Africa to prevent the loss of fragile new life. He was one of the first master trainers in the Helping Babies Breathe program, which trains women who deliver babies in resource-poor countries how to resuscitate newborns.
"We teach them early recognition and how to use a bag and mask to ventilate the baby within a minute of the episode," says Dr. DiDonna."Then we teach them to teach the techniques to their sisters."
To volunteer for global humanitarian missions with Dr. DiDonna through Operation Smile or the Helping Babies Breathe program, contact him at tdidonna@atsu.edu.
For the last 10 years, Dr. DiDonna has been a volunteer for Operation Smile, which provides life-saving corrective surgery to kids with severe clefts. Operation Smile and the Helping Babies Breathe program, offered by the American Academy of Pediatrics, are now taught in tandem to create life-saving sustainability all over the world.
But his contagious quest for life-saving doesn't stop there.
Dr. Didonna, a newborn resuscitation certified instructor, was invited aboard the U.S. Navy Ship Comfort to help prepare naval healthcare professionals and volunteers from around the world for a nine-country goodwill tour. He trained 82 doctors and nurses who went on to train 800 birth attendants and midwives how to prevent newborn asphyxia deaths. Dr. DiDonna accompanied the ship to Jamaica for the first part of the tour and continued to "train the trainers." The tour was one of the largest infant and child humanitarian missions ever conducted.
Traveling to four countries a year, Dr. DiDonna has made a significant impact on saving lives and says the long-term relationships he forms are tremendously rewarding.
"The people I come into contact with contribute to my knowledge, so I always come home with something new that I've learned," he says.
He is now taking the Helping Babies Breathe initiative to Rwanda. Each trip, he says, brings valuable experience that he can apply to his own practice.
"I don't ever see myself stopping," he says.