Rural route dentist
Posted: October 29, 2018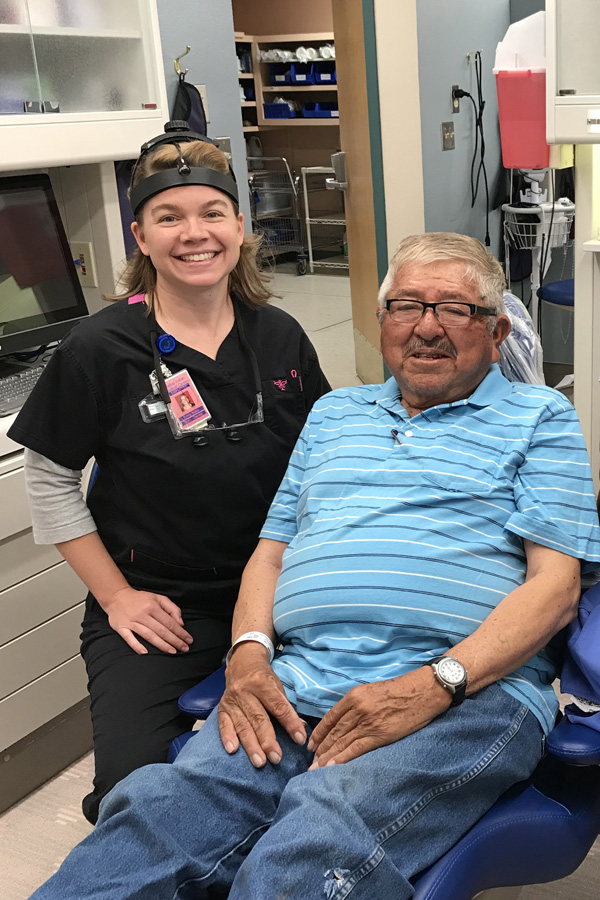 Dr. Nieto treats a patient at her practice in Tohatchi, New Mexico.
According to her classmates, Emily Nieto, DMD, '14, MPH, '13, didn't just say she was going to work in rural communities — she went out and did it.
Dr. Nieto's first experience with dentistry came as a dental assistant at a private practice in high school. The experience left a lasting impression on her.
"One patient cried after her two front teeth were fixed," she recalls.
Before coming to ATSU-ASDOH, Dr. Nieto pursued her undergraduate degree in religious studies and worked as a community organizer in Chicago.
"I found I was being called to more direct service than my degree in religious studies allowed," says Dr. Nieto.
Having a background in community service and social change gave her the head start she needed to apply to dental school. Dr. Nieto knew she wanted to go into community dental work, rather than private practice. She was drawn to ATSU-ASDOH's dual degree option so she would be able to receive her MPH degree alongside her DMD degree.
Her rotations in Bethel, Alaska; rural South Dakota; Nogales, Arizona; and Silver City, New Mexico, served as her "advanced training." In South Dakota, Dr. Nieto traveled around in a recreational vehicle to provide dental services to the community.
Following graduation, Dr. Nieto dedicated three years to working in a community health center in Clovis, New Mexico. When that contract ended, she moved to a reservation near Tohatchi, New Mexico. Today, she is one of eight dentists for 40,000 residents on the reservation.
At her satellite clinic outside Gallup, New Mexico, Dr. Nieto is the only dentist for at least 26 miles. She works alongside a number of expanded-function dental assistants because of limited dental resources in the area. Since New Mexico has no dental schools, the need for dental care is high, and the ability to recruit new practitioners is low.
Dr. Nieto's former classmate Scott Howell, DMD, MPH, '14, knew she would become a phenomenal general dentist who would bring health to rural families and communities.
"When we were students, Dr. Nieto was one of the few people I could point to and say, 'She's going to do it,'" Dr. Howell says. "She's going to go out there and be the model ATSU-ASDOH graduate."