Richard Thomas named KCOM Student DO of the Year
Posted: December 23, 2014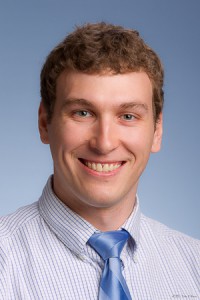 The Student DO of the Year Award Committee announced Richard Thomas, OMS II, as A.T. Still University's Kirksville of Osteopathic Medicine (ATSU-KCOM) Student DO of the Year.
"Congratulations to Richard Thomas on his selection as Student Doctor of the Year! All the candidates were outstanding and represent the wonderful characteristics of students here at KCOM," said Margaret Wilson, DO, '82, dean of ATSU-KCOM.
Thomas was raised primarily in Scott's Bluff, Nebraska. Prior to becoming a medical student, Thomas practiced as an attorney. He quickly found that it was not the best fit for him, and wanted to serve a better purpose in life.
"I didn't feel like I was making a difference. I wanted to get away from the desk-life and make an impact," said Thomas. "I started following my father-in-law, who is a DO, and I fell in love with the principles of osteopathy."
Thomas started applying for medical schools shortly thereafter and interviewed with ATSU-KCOM. He noted the family-friendly atmosphere, close relationship between students and faculty, and prestige of the University as reasons for him choosing ATSU-KCOM over any other medical school.
Winning the award came as a surprise to Thomas, but he is honored to be a part of the school's history.
"It's an incredibly humbling experience and a great honor, especially when you consider the history of the school and all those who received the award before me," said Thomas.
Thomas will be formally recognized during the spring awards ceremony, and his application will be considered among other local Student DO of the Year award recipients for National Student DO of the Year.