Research data management
Posted: May 16, 2018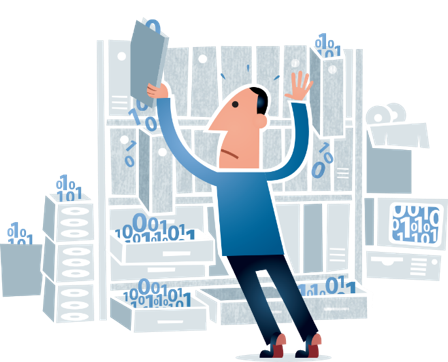 Jørgen Stamp, published under a Creative Commons Attribution 2.5 Denmark License, http://d7.library.gatech.edu/research-data/home
Data for health and research has been discussed extensively, and a strategic plan has been formulated by the National Library of Medicine (NLM) for 2017-27. The plan's main focus is on data and information, and how to utilize this vast wealth of knowledge to advance healthcare. According to the NLM Strategic Plan Overview, its three goals are to "accelerate discovery and advance health through data-driven research, reach more people through enhanced dissemination and engagement, and build a workforce for data-driven research and health." Goal three calls for "a new generation of data-ready librarians and informationists to transform libraries into epicenters of data literacy." Librarians play a critical role in assisting with finding and using data. In addition to providing direct assistance, librarians also provide educational programming on data and research data management.
The library is now offering services for research data management. Our Data Services LibGuide provides resources, tools, and educational material on all aspects of data. Librarians can assist in a number of ways including creating a data management plan, locating data sets to analyze, and preparing data for sharing, storing, and preservation. A proper data management plan has the benefits of consistent data collection, increased efficiency of research, adherence to funder requirements, and allowing for easy data sharing for other researchers.
One useful tool found on the new Data Services LibGuide is the Data Management Planning (DMP) tool. DMP tool is a free open source, online application, which assists with creating data management plans. Many funding agencies are requiring a data management plan as part of the grant proposal submission process. DMP tool provides an easy-to-use wizard to create your plan. Begin by creating a free account, and properly plan your next research project.
Join me at the June meeting of Research Nexus, where I will cover research data management and library support. Ensure funding for your next research project with a well thought out research data management plan.
References:
by Adrienne Brodie, MLS, distance support librarian, liaison librarian to ATSU-SOMA & ATSU-ASHS