Register for ATSU's annual Collaborative Case Competition
Posted: September 5, 2014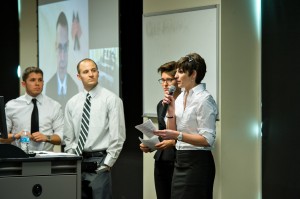 A.T. Still University is pleased to announce this year's Interprofessional Collaborative Case Competition details.
The 2014 case – which is free and available to students across all disciplines – is based upon a simulated case designed by the National League of Nursing. Registration starts on Sept. 8.
September 8-24: Register online, be assigned to a team, and contact your teammates
September 26: Case is released on website, teams begin working
November 8: Arizona Campus Case Competition Day: Teams present case reports
November 3-8: Missouri Campus Case Competition: Teams present case reports
To register and for more information, please visit: atsuccc2014.weebly.com
After registering, students will be assigned to an interprofessional team. Each team will create an interprofessional plan of care for a patient and their family. On competition day, your team will present your interprofessional plan of care and explain how you met your patient's needs by following the Core Competencies for Interprofessional Collaborative Practice.