Raising awareness
Posted: May 21, 2019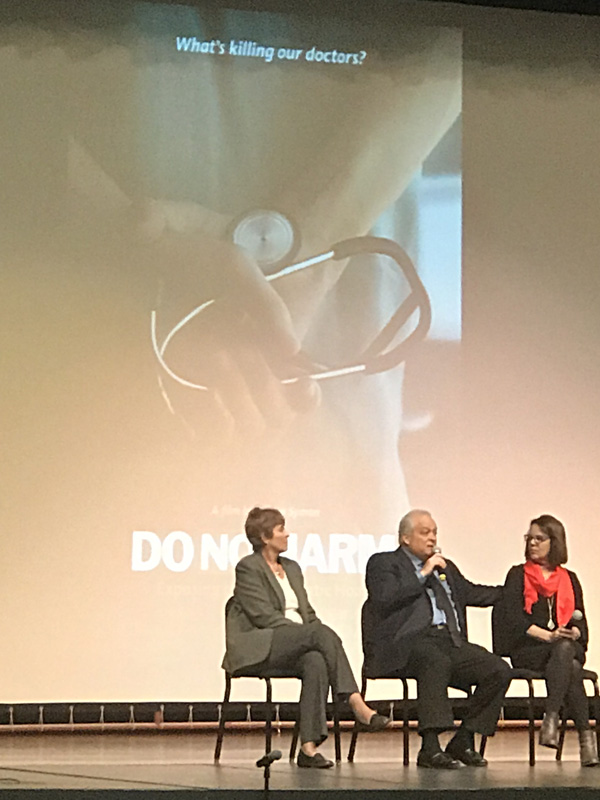 John and Michele Dietl and Dr. Margaret Wilson hold a discussion with audience members after the "Do No Harm" showing.
Continuing efforts to increase mental health awareness, ATSU-KCOM hosted showings of the film "Do No Harm: Exposing the Hippocratic Hoax" on Wednesday, Dec. 12. The film, produced by two-time Emmy Award winner Robyn Symon, addressed the importance of self-care, mental health awareness, and the national epidemic of caregiver distress. All first- and second-year medical students, as well as physicians, healthcare professionals, behavioral health counselors, and emergency response personnel from the community were invited to attend.
Among those in attendance were John and Michele Dietl, parents of Kevin Dietl, DO, '15, who died by suicide weeks before his graduation from ATSU-KCOM. The Dietls are one of the storylines featured in the film. During each showing, John and Michele shared their son's story, discussed mental health awareness, and addressed questions from those in the audience.
"On April 23, 2015, our lives changed dramatically when Dr. Kevin Thomas Dietl lost his battle with depression and anxiety and died of suicide," John said. "We were devastated."
In the months following his death, the Dietls decided to take action. Unembarrassed and unashamed, they wanted to spread awareness and prevent this from happening to anyone else. They met with ATSU-KCOM Dean Margaret Wilson, DO, '82, and the three agreed something had to be done.
"Since that time, a lot of positive changes happened, starting here at this program and spreading throughout the U.S.," John said.
Missouri leads the nation in advocating for medical student well-being. A bill was signed into law designating Aug. 28, 2017, as the first Show-Me Compassionate Medical Education Day. The day is a statewide observance by osteopathic and allopathic medical schools to raise awareness of medical student well-being with various awareness activities throughout the week. The bill also established the Show-Me Compassionate Medical Education Act with a committee to organize and implement mental health research projects, identify best practices, make recommendations, and report findings.
ATSU-KCOM continues to emphasize the importance of self-care and balance. Resources are available, including mental health wellness counselors, the Ask/Listen/Refer suicide prevention training program, and a Mental Health First Aid training program. In addition, students are encouraged to participate in the Still-Well Student Wellness Program.
"Awareness needs to be raised at all levels," Dr. Wilson said. "We continue to look for ways to reduce stigmas and improve interventions and strategies to engender lifelong habits of good health and well-being."