Queen of internal medicine
Posted: November 11, 2013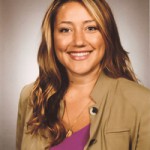 Hailed as the queen of internal medicine by her peers, Lindsey Merritt, DO, '13, is leading the charge to boost participation in internal medicine among medical students. Dr. Merritt, a resident at Stamford Hospital in Connecticut, began her journey with internal medicine as a first-year medical student at SOMA. By seizing new opportunities, she found her career path and paved the way for others.
As a first-year student, Dr. Merritt attended many different club meetings available to new students, searching for the best fit. She discovered the Internal Medicine Interest Group (IMIG), a new group needing a first-year student to take charge and get the group off the ground.
"I didn't know for sure I was going into internal medicine, but I knew I couldn't go wrong because internal medicine is essentially the basis for all specialties," says Dr. Merritt.
Soon afterward, opportunities came like a domino effect.
As the student leader of IMIG, Dr. Merritt became a member of the American College of Physicians (ACP), IMIG's sponsoring organization. She progressed through ACP's ranks, serving two years as the student osteopathic representative for the national Council of Student Members. In her fourth year, she became chair of the council, as well as the student representative to ACP's board of regents. During her tenure with the board, she servedon the Health and Public Policy Committee, developing policies and evidence-based papers to help ACP influence healthcare issues nationwide.
"I wanted to help medical students across the country get involved in internal medicine," Dr. Merritt says. "It was very rewarding to be involved at the national level in ACP."
International opportunities came during her second year as she and classmate Simrat Singh, DO, '13, traveled to Nicaragua for a DOCARE mission. The mission team trekked to small towns and rural areas around the country, setting up make-shift clinics and using whatever resources were available.
"The people we helped were in so much need and so thankful for whatever we could do for them," recalls Dr. Merritt. "I came back to SOMA with a renewed sense for medicine and helping people."
Upon her return, Drs. Merritt and Singh decided to make the most of their experience by establishing a DOCARE chapter at SOMA to give other students the opportunity to share in similar experiences.
"Younger classmen often look to upperclassmen for advice," says Dr. Merritt. "I really enjoy sharing my experiences and helping in any way I can."
Continuing her reign in internal medicine, she is now helping patients in residency. She knows internal medicine was the right decision, and she's grateful that she is able to provide a cohesive treatment plan for the whole patient.
"So often, people are scared to go to the hospital as a patient, not knowing what's wrong with them," explains Dr. Merritt. "It's my goal to help people understand their own healthcare process and have a doctor they can trust."