PT alum and students meet at APTA
Posted: February 26, 2016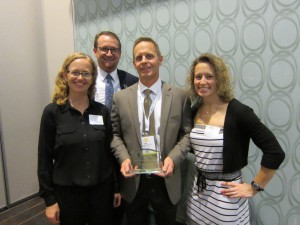 Physical therapy (PT) alumni and students gathered at a reception during the American Physical Therapy Association's Combined Sections Meeting in Anaheim, Calif. Updates shared by ASHS Vice Dean Ann Lee Burch, PT Chair Jim Farris, and ASHS Alumni Board member Robin Galley, '12 included:
ASHS concluded the celebration of its 20th anniversary in December 2015, and the University is looking forward to celebrating its 125th anniversary next year. We owe our success to the strong students and graduates we've had in all our programs.
Thank you for helping ATSU become a leader in health professions education. Whether as clinical instructors, mentors, or recruiters, we appreciate our alumni staying involved in our students' learning and growth. If you would like to become more involved, consider contacting Dr. Tawna Wilkinson to become a clinical instructor, sign up to be an Alumni Ambassador and mentor our students, or contact Career Services to request a free table at our recruitment fair on May 4.
Many thanks to our alumni, faculty, and other supporters who help celebrate our students earning their white coats each year. The sponsorships are an invaluable part of marking this important student milestone. Learn more about the White Coat sponsorship program.
The ASHS Alumni Board is proud to present alumni awards each year, and this year's Humanitarian of the Year is Erik Salley, '14. While earning his DPT degree online, Dr. Salley worked with international organizations to deliver physical therapy services to patients who had complex neuromuscular impairments and served communities in numerous other ways to provide basic necessities. Congratulations, Dr. Salley, on an award well deserved! For more photos, check out our Facebook page.