Providing whole person healthcare to patients with special needs
Posted: April 30, 2021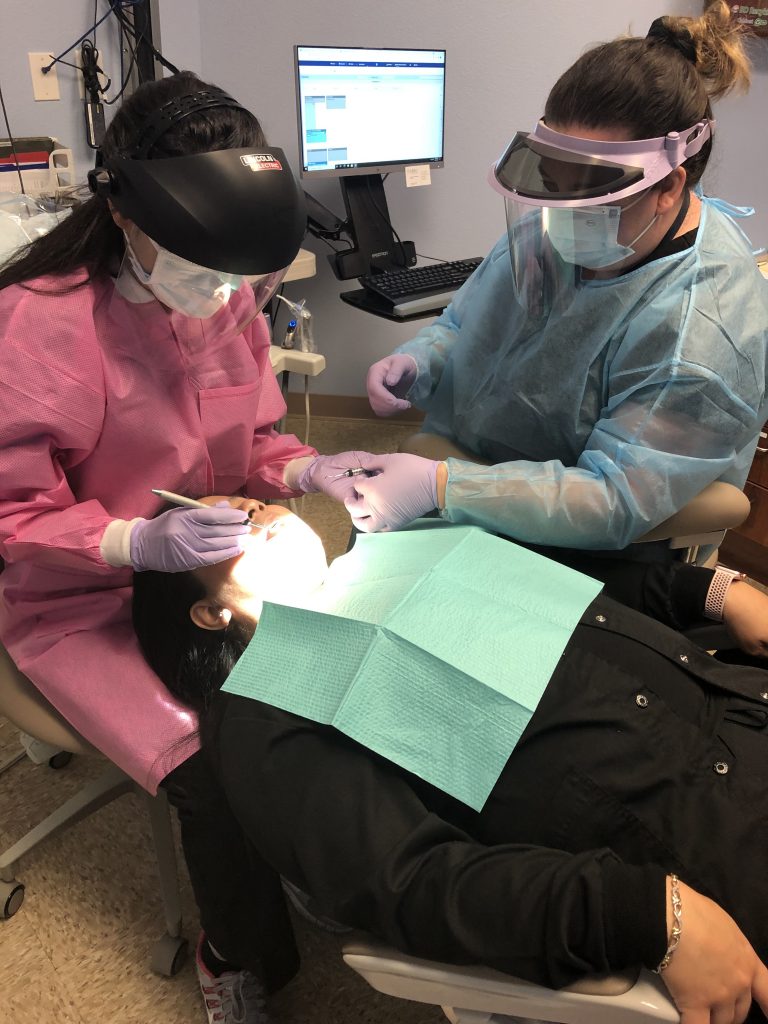 Scott Howell, DMD, MPH, '14, assistant professor, and Maureen Perry, DDS, MPA, associate dean, professor, are taking steps to elevate dentistry into the future through a partnership with District Medical Group Children's Rehabilitation Services (DMG CRS) and A.T. Still University–Arizona School of Dentistry & Oral Health (ATSU-ASDOH). DMG CRS offers a variety of healthcare services to meet the unique requirements of children with special healthcare needs. Serving children from birth to 21 years of age, DMG CRS has over 25 specialties, from cardiology to pulmonology, offered under one roof, but lacked full comprehensive dental until Drs. Howell and Perry were asked to help.
They started with providing teledentistry services at this location. A hygienist practiced on-site, with Dr. Howell supervising virtually. Eventually, it was determined that this location would benefit from a dentist being on-site because the hygienist would tell their patients they needed dental work, but without providing the service the patient would have to schedule an appointment elsewhere creating an additional barrier to care.
"Some of these kids, 0-21, they have up to 250 medical visits a year. We wanted to build a one-stop shop so they don't have to go somewhere else," Dr. Howell said. "This integrated model was crucial to the success of the dental clinic."
"The patient is satisfied because I have a relationship with their physicians, and I can get medical information right away. It is more efficient, with not a lot of downtime. We are all in the same place, so there aren't those kinds of barriers," Dr. Perry said.
DMG CRS looked to Drs. Perry and Howell to provide guidance on how to build out a dental clinic for people with special needs.
After the project team eliminated the location barrier for patients, they didn't stop there. Drs. Perry and Howell worked with DMG CRS administrators to get the clinic signed up through Medicaid and other private insurance plans to eliminate the payment barrier. They also agreed that seeing more than just DMG CRS patients would be beneficial for both patients' families and the dental clinic.
"So we also agreed to see siblings," Dr. Perry said. "You don't want to take your child with special needs to one dentist and then your whole family somewhere else. That is a big barrier for parents. We kind of have the 'friends and family plan.' Once we see one of your kids, we'll see the rest."
ATSU-ASDOH is in the process of creating additional educational opportunities on-site at the DMG CRS location. This will provide opportunities for students and residents to have more hands-on practice with providing special care dentistry, which they are currently participating in via teledentistry.
"Right now, we are in the midst of getting our application to make sure we can send residents there. We are waiting from the Commission on Dental Accreditation," Dr. Perry said. "If they approve it, we can send residents there soon. It will be an excellent education site."
ATSU's mission of providing whole person healthcare is being carried out through the efforts at the DMG CRS clinic. Having dentistry available to patients at the same place where they get their medical care eliminates many barriers and affords opportunities to truly be well.
"You can't say your heart is doing great, your lungs are doing great, but your mouth is falling apart, because then you're not healthy," Dr. Howell said. "As C. Everett Koop, former surgeon general, said, 'You're not healthy without good oral health.'"
The dental team at DMG CRS now consists of two full-time dentists, Sarah Karlin, DDS, pediatric dentist, and ATSU-ASDOH alumna Leila Zadeh, DMD, '19 general dentist; a hygienist, Lyn Hughes, RDH; and a dental assistant, Mindi Mitchell. "Going forward, when we teach future generations of dentists about working with people with special needs, we want them to remember what they learned during their time at ATSU-ASDOH," Dr. Howell said. "The partnership with DMG CRS is going to make those lessons that much more powerful."