President's Perspective – November 2016
Posted: November 11, 2016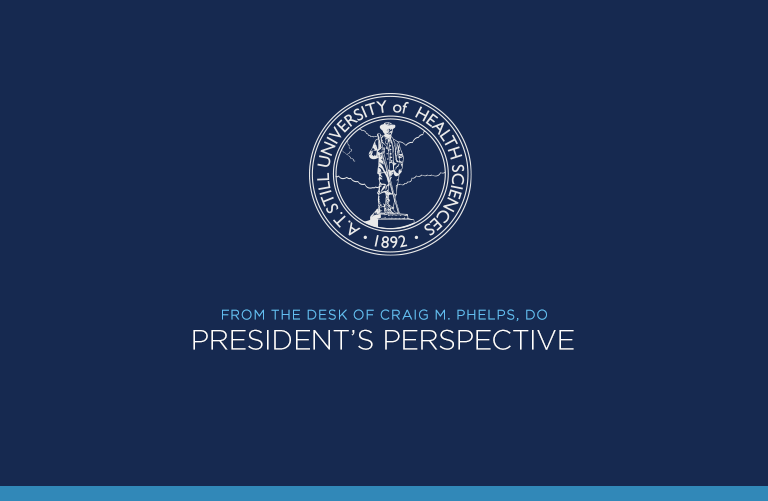 Celebrating accomplishments
In September, more than 500 ATSU alumni gathered in Anaheim, California, and Chicago, Illinois, to share experiences, network, and honor accomplishments of students, graduates, faculty, staff, and friends of the University. I was touched and inspired by alumni and students for all they do on behalf of patients, peers, and communities. From our country's most rural settings to its largest cities, ATSU alumni have a significant impact on the health and wellness of Americans.
In this "President's Perspective," we highlight great work of faculty, staff, students, alumni, and friends of ATSU. From establishing a new endowed scholarship for students planning to serve undeserved communities to faculty kudos for innovative new learning models, I hope you will enjoy reading about their achievements.
Students, faculty, and staff continue to make a difference in communities. Day for Special Smiles in Mesa, Arizona, Milan Health Fair in northeast Missouri, and dental community outreach in Dexter, Missouri, are a few examples.
Next year, October 2017 will mark the 125th anniversary of ATSU and osteopathic medical education. Please join us in celebrating all who blazed the way and those who continue advocating the importance of whole person healthcare. I hope you will be able to visit either campus. In addition, if you have not attended an ATSU alumni event recently, I encourage you to consider doing so. You will be inspired, renew friendships, make new friends, and leave reenergized.
ATSU Strategic Plan 2016-2020
Several important initiatives are already underway.
Rankin & Associates Consulting Inc. is working with faculty, staff, and students to develop ATSU's first Cultural Proficiency Climate Study.
Two faculty members from each school/college will receive tuition assistance to pursue master of public health degrees from ATSU's College of Graduate Health Studies.
Pilot innovation initiatives in virtual reality and augmented reality, specific to health professions education and healthcare, are being encouraged through internal grants.
ATSU has partnered with University of Missouri's Missouri Training Institute to offer a non-credit certificate program in management knowledge and skill for ATSU employees.
ATSU-Arizona School of Health Sciences' Physician Assistant Studies program is now offering a postgraduate certificate in psychiatry and behavioral health. The innovative program is ATSU's first competency-based offering.
To improve health and well-being of our University community, recent life-work balance activities include wellness fairs, free flu shots, cooking seminars, veterans recognition ceremonies, and certificate class in mental health first aid.
Arizona campus
ATSU is in the final phase of purchasing three buildings on the Arizona campus. The University currently leases the majority of space in these buildings. By purchasing the three buildings, ATSU will benefit from greater control of the Arizona campus environment, increase University assets, gain additional space, and reduce overhead costs.
The City of Mesa, Arizona, also approved plans for an additional academic building and parking structure, should ATSU increase enrollment. Thank you to Gary Cloud, PhD, vice president, university partnerships, and participating faculty, staff, and students.
Missouri campus
Remodeling is underway in the Thompson Campus Center to better serve students, faculty, staff, and community members. Over the next two years, improvements include locker room upgrades, a family restroom, enlarged fitness area, and new flooring.
Dedicated space for scholarly activity in the Interprofessional Education Building will begin in early 2017.
Cost estimates are being obtained to upgrade the central plant (Boiler Room) and Timken-Burnett Research Building.
Good news to know
Drew Family Endowment for Interprofessional Education
ATSU's Board of Trustees began funding an endowment in honor of Konrad Ferdinand and Virginia Drew, parents of G. Scott Drew, DO, FAOCD, '87, current board member and past board chair (2013-16).
Dr. Tom Curtin Endowed Student Scholarship
In honor of Thomas Curtin, MD, and in recognition of his significant contributions to ATSU and the National Association of Community Health Centers, friends, family, and colleagues have established an endowed scholarship to support ATSU students committed to serving the healthcare needs of America's underserved communities.
ATSU's Museum of Osteopathic Medicine received a $150,000 challenge grant from Institute of Museum and Library Services, and an additional $50,000 gift to support obtaining American Alliance of Museums (AAM) accreditation. AMM accreditation will increase opportunities for grants and gifts to help preserve the museum's archives and increase research capabilities of the world's premiere museum dedicated to osteopathic medicine and the works of Andrew Taylor Still, DO.
Faculty and staff accomplishments (as of Oct. 31, 2016)
Congratulations on recent promotions
Please view the complete list of employee promotions (PDF).
Accomplishment kudos
Please view the complete list of accomplishment kudos (PDF).
Well wishes to faculty and staff celebrating anniversary milestones
Please view the complete list of employee anniversaries (PDF).
Have an idea or concern?
Please remember to send your ideas to make ATSU a better place to our virtual suggestion box at ideas@atsu.edu.
See something you are worried about? Please contact the anonymous Fraud Hotline to report situations or behavior compromising the University's integrity. The hotline is available 24/7 at 1.855.FRAUD.HL (1.855.372.8345) or www.fraudhl.com.
In closing
Thank you for helping us celebrate the wonderful accomplishments of our alumni, students, faculty, and staff. I also thank you in advance for your support as we begin celebrating 125 years of ATSU and leading osteopathic medical education.
Yours in service,
Craig M. Phelps, DO, '84
President
A.T. Still University of Health Sciences
800 W. Jefferson St., Kirksville, MO 63501 | 660.626.2121
5850 E. Still Circle, Mesa, AZ 85206 | 480.219.6000
Office of the President | president@atsu.edu
ATSU Communication & Marketing | communications@atsu.edu