President's Perspective – May 2017
Posted: May 5, 2017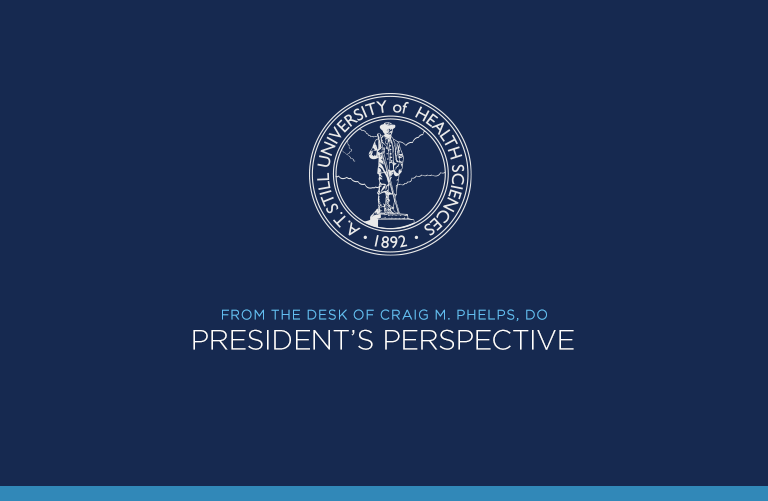 Thank you for 125 years
Thank you to all who have helped and supported ATSU on its remarkable 125-year journey. From humble beginnings as the American School of Osteopathy at our heritage campus in Kirksville, Missouri, ATSU has grown to six schools and colleges, including an additional residential campus in Mesa, Arizona, and online presence. Dr. Still's ideas and theories are as relevant today as in 1892.
As we began developing a theme for our 125th anniversary, it became obvious the reason for our success and longevity was the result of many individual efforts inside and outside of our classrooms and clinics. A theme of thankfulness and gratitude began taking shape. We are thankful for our alumni and their support. We are thankful for dedicated faculty and staff who inspire our students. We are thankful to patients who advocate for and support our students and graduates, and we are thankful for associations, foundations, and donors who provide support for our students and programs with time, treasure, and talent.
Many of ATSU's recent accomplishments are possible because of our 125-year heritage as the founding college of osteopathic medicine and as a leader in education innovation. Our mission, vision, values, and core professional attributes (pdf) are built upon a commitment to provide students a quality education in a family-like environment and prepare graduates to accomplish great things in healthcare.
Dr. Still believed our best chance for health and wellness requires restoring the body's structure and function, using medications and surgical procedures only when necessary. Today, this seems intuitive; however, in the late 1800s and early 1900s, the idea was met with disbelief and skepticism.
In 2017, our students in osteopathic medicine, athletic training, audiology, dentistry, occupational therapy, physician assistant studies, physical therapy, health administration, health education, health sciences, kinesiology, public health, and biomedical sciences graduate with an appreciation of Dr. Still's principles and philosophy, making each graduate a more complete healthcare professional. With more than 28,000 graduates, ATSU has positively influenced lives of countless patients, numerous communities, America's healthcare system, and beyond. Of course, 125 successful years would not have been possible without the help of alumni, employees, and external community stakeholders.
2016-2017 goals (Strategic Plan 2016-2020)
Professional development opportunities for faculty and staff
Lunch & Learns continue updating our faculty and staff regarding innovations, personnel roles and responsibilities, and policies and processes.
University of Missouri Extension Program completed multi-day training for employees in supervisory management positions on the Missouri and Arizona campuses, with 40 ATSU participants. This offering will continue over the next several years. Forty openings will be available on each campus during the 2017-2018 fiscal year. In addition to learning new management skills, participants receive a certificate of participation. Interested supervisors are welcome to email Joe Vincent at jvincent@atsu.edu.
Professional development funding for faculty will increase over $200,000 during fiscal year 2017-2018, bringing all full-time faculty across programs and locations to parity.
Assessment and scholarly activity seminars, symposiums, and conferences continue for faculty and related staff.
If you have an idea or topic for professional development, please email Donna Brown, assistant vice president for human resources, at dbrown@atsu.edu.
Cultural proficiency
ATSU received national recognition for its marketing campaign, "Diversity Means More Than Hue at ATSU." Former ATSU Board Chair Clyde Evans, PhD, attended the Cynopsis Media Social Good Awards ceremony on March 2 in New York on behalf of the University. You may have noticed some of the recognized artwork on video screens and pull-up banners in ATSU facilities.
Our first Cultural Proficiency Climate Study is underway. Thank you to all who are and will be participating.
Events on both campuses throughout the academic year are assisting in developing cultural proficiency – a University core professional attribute – for our students, faculty, and staff.
Life-work balance
Our individual and collective health and well-being remain a top priority. This year, offerings for ATSU employees and students include:
free mental health first-aid training and resources (multiple sessions throughout the year)
quarterly Still Healthy and Still-Well Healthy Cooking seminars
an eight-week Mindfulness Stress Reduction course for students
wellness events (e.g., massage, yoga, and crafts)
drawings for ergonomic stand-up desks
financial wellness seminars for employees
lanyards for all
Upcoming Commencement and White Coat Ceremonies
Congratulations to our soon-to-be graduates! Thank you for your hard work and dedication to your profession. On behalf of ATSU, I wish you the best in your future endeavors.
This summer, we will welcome a new group of students to the University. Please join us in celebrating the newest members of the ATSU family.
Commencement Ceremony dates and cities
Kirksville College of Osteopathic Medicine (ATSU-KCOM)
Saturday, May 20
Kirksville, Missouri
School of Osteopathic Medicine in Arizona (ATSU-SOMA)
Arizona School of Dentistry & Oral Health (ATSU-ASDOH)
College of Graduate Health Studies (ATSU-CGHS)
Friday, May 26
Mesa, Arizona
Missouri School of Dentistry & Oral Health (ATSU-MOSDOH)
Saturday, June 10
St. Louis, Missouri
Arizona School of Health Sciences (ATSU-ASHS)
Friday, Aug. 4
Mesa, Arizona
White Coat Ceremony dates and cities
ATSU-SOMA, ATSU-ASDOH, and
ATSU-ASHS Physician Assistant Studies and Physical Therapy programs
Friday, July 14
Mesa, Arizona
ATSU-KCOM and ATSU-MOSDOH
Saturday, July 15
Kirksville, Missouri
ATSU-ASHS Audiology program
Saturday, Sept. 9
Mesa, Arizona
Continuing Education accreditation
The American Osteopathic Association's (AOA) Council on Continuing Medical Education has acknowledged ATSU's achievement in meeting the application requirements of the AOA and has awarded ATSU five-year accreditation with commendation as a Category 1 CME sponsor. This is the highest honor given to AOA Category 1-A CME sponsors. ATSU's Continuing Education department received a perfect score of 100 points on its reaccreditation survey.
Congratulations to all staff involved!
Still Magazine awards
ATSU Communication & Marketing recently received notification of two awards for Still Magazine. It received first place in publications for AACOM's 2017 Excellence in Communication Awards, and it received gold in the 2017 Hermes Creative Awards.
Kudos to all contributors!
Faculty and staff accomplishments (as of March 31)
Congratulations on recent promotions
Please view the complete list of employee promotions (pdf).
Accomplishment kudos
Please view the complete list of accomplishment kudos (pdf).
Well wishes to faculty and staff celebrating anniversary milestones
Please view the complete list of employee anniversaries (pdf).
In closing
Throughout 2017, we celebrate all who have supported ATSU and the professions of our graduates. Whether you are a patient, preceptor, association advocate, faculty member, staff member, alumni, elected official, or business leader, thank you for believing in and supporting our University.
Yours in service,
Craig M. Phelps, DO, '84
President