President's Perspective – March 2021
Posted: March 11, 2021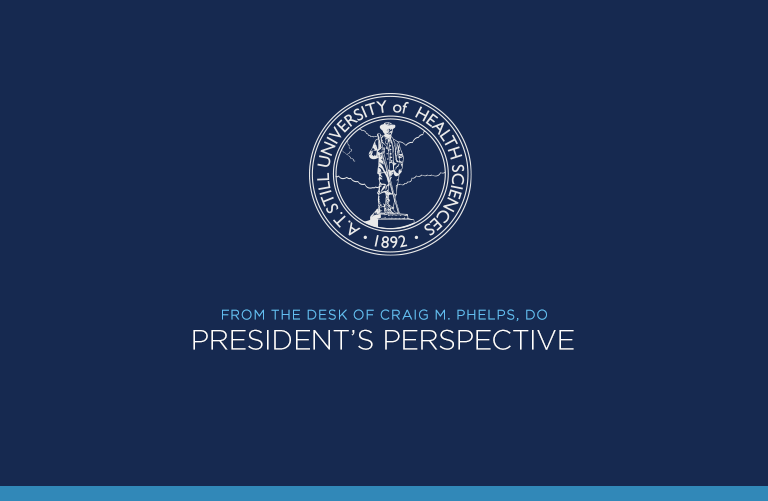 ATSU's year of living dangerously
During ATSU's 2020 spring break, our lives changed as we moved to online learning followed by hybrid learning and reduced location capacity. We became familiar with coronaviruses, quarantine, personal protective equipment (PPE), social distancing, vaccines, mRNA, and Centers for Disease Control and Prevention (CDC) guidance. Our front-line faculty and staff continued to provide patient care, security, and essential operations. Throughout the pandemic, faculty, staff, and students worked cooperatively to support each other and our communities.
Over the past 12 months, nerves frazzled, tears shed, and relatives and friends suffered illness and death. Remarkably, learning continued, students matriculated, jobs were saved, and care was provided as many stepped up to challenges, professionally and personally.
ATSU faculty, staff, and deans redesigned education delivery models. Staff and faculty members became virus sleuths, contributing to the health and safety of ATSU community members. A.T. Still Memorial Library 3D printers produced PPE. Information Technology Services staff facilitated those working at University locations and remotely. Teaching & Learning Center team members delivered seemingly endless professional development opportunities. Grant writing teams submitted successful proposals. University Advancement raised funds for students' PPE. Communication & Marketing kept us informed. Four program accreditation site visits occurred virtually. Diversity & Inclusion was recognized with ATSU's fourth Higher Education Excellence in Diversity award. Board of Trustee members continued meeting virtually. Strategic planning moved forward. Human Resources and Finance tirelessly assisted those with questions and needs.
Additional points for us, as ATSU continues its mission:
Six schools operating in four locations
15 doctoral programs
13 master's programs
15 certificate programs
3,658 unique students (as of March 2)
1,759 full-time and part-time employees (approximately 1,022 FTE) (as of Feb. 28)
More than 32,580 graduates and more than 21,600 living alumni
Four employees have received bachelor's degree completion bonus with one employee in pipeline
COVID-19 update
With CDC, state, and local guidelines still in place, known COVID-19 cases at University locations remain low. ATSU continues to be vigilant while working with local public health officials, community health center partners, and independent practices on vaccination opportunities. ATSU's COVID-19 Task Force continues to meet weekly to assess data, review guidance, analyze trends, and provide recommendations. CDC has released interim public health recommendations for fully vaccinated people. Please continue current guidance and enjoy a safe and healthy spring break.
Please visit the following sites for the latest updates and vaccination information:
Centers for Disease Control and Prevention
Missouri Department of Health & Senior Services
Arizona Department of Health Services
Maricopa County
State of Missouri
In addition, you may visit vaccinefinder.org/search to find COVID-19 vaccines near you.
Goals for 2020-2021
Health and wellness of faculty, staff, and students
The mental and physical health of students, faculty, and staff remain a top University priority, especially during the COVID-19 pandemic. With the assistance of many faculty, staff, and students, COVID-19-related infections, isolations, and quarantines all remain low. A significant number of ATSU faculty and staff have received SARS-CoV-2 vaccinations. Still Healthy programs for employees continue to be offered virtually covering a range of wellness topics.
If you have questions or need assistance, please reach out to Donna Brown at dbrown@atsu.edu or Tonya Fitch at tfitch@atsu.edu.
Safety and security
More fencing has been installed on the Mesa, Arizona, campus, and an updated security camera system is being installed on the Kirksville, Missouri, campus. In addition, ATSU's Emergency Operations Plan is in its final stages of development and will be distributed soon.
Innovation and scholarly activity
Tim Ostrowski, PhD, assistant professor, physiology, A.T. Still University-Kirksville College of Osteopathic Medicine, recently received a grant from the National Institutes of Health National Institute on Aging, and several faculty and staff members received internal grant funding for cultural proficiency and post-COVID-19 scholarly strategies. Additionally, the third edition of Spark magazine is on the way, recognizing scholarly activity of our faculty, staff, and students.
2021 Beyond Flexner Conference
The 2021 Beyond Flexner Virtual Conference will be held April 26-28. Kudos to ATSU's Beyond Flexner team, which has worked with Beyond Flexner Alliance and Arizona State University to move this conference to a virtual platform. Please visit the Beyond Flexner Conference website for more information or register for the conference online.
Faculty and staff updates
Recent promotions: Please view the list of employee promotions (PDF).
Accomplishment kudos: Please view the list of accomplishment kudos (PDF).
Anniversary milestones: Please view the list of employee anniversaries (PDF).
Ideas or concerns?
Please submit your ideas to ideas@atsu.edu. Each email will receive a personal response from me. Ideas are only shared with the sender's permission.
If you see something you are worried about, please contact the anonymous Fraud Hotline to report situations or behavior that compromises ATSU's integrity. The hotline is available 24/7 at 1.855.FRAUD.HL (1.855.372.8345) or fraudhl.com.
In closing
ATSU faculty, staff, alumni, and student accomplishments have been nothing short of phenomenal over the past 12 months; I am humbled by their efforts and successes. Everyone is looking forward to applying lessons learned and returning to a safe, no-mask living, learning, and working environment. Never has it been more important to remember the University is dedicated to the success of students, faculty, and staff. We celebrate the uniqueness of each and every person, and we understand the benefits of diversity and inclusion in education and healthcare.
Yours in service,
Craig M. Phelps, DO, '84
President
A.T. Still University of Health Sciences serves as a learning-centered university dedicated to preparing highly competent professionals through innovative academic programs with a commitment to continue its osteopathic heritage and focus on whole person healthcare, scholarship, community health, interprofessional education, diversity, and underserved populations.