President's Perspective – December 2021
Posted: December 16, 2021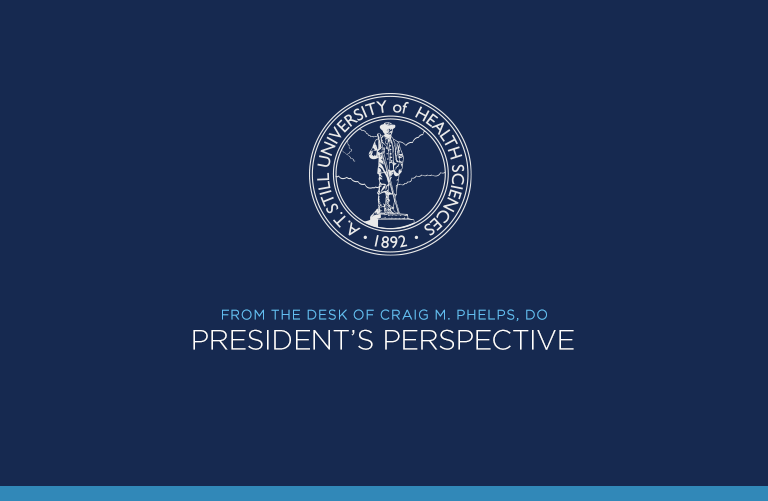 The gift of time with family and friends
Soon ATSU students, faculty, and staff will enjoy a well-deserved winter break. Spending time with family and friends is a true treasure and provides an opportunity to reflect, renew, and take stock of what matters most in our lives.
Thank you for taking a few minutes to read about celebrations, accomplishments, and progress of our students, faculty, and staff. It has been another challenging year for all as ATSU continues to educate tomorrow's healthcare professionals.
Recent commencement
A.T. Still University-Arizona School of Health Sciences (ATSU-ASHS)
Physician Assistant Studies
Friday, Sept. 10
Mesa, Arizona
69 graduates
Commencement speaker: Albert "Bert" Simon, DHSc, PA, former chair and current professor in the Department of Physician Assistant Studies, ATSU-ASHS
Recent white coat ceremonies
ATSU-ASHS Audiology
Class of 2024
Sunday, Oct. 10
Mesa, Arizona
16 students
A.T. Still University-Arizona School of Dentistry & Oral Health (ATSU-ASDOH)
Class of 2025
Friday, Oct. 29
Mesa, Arizona
78 students
A.T. Still University-School of Osteopathic Medicine in Arizona (ATSU-SOMA)
Class of 2025
Friday, Oct. 29
Mesa, Arizona
157 students
ATSU-ASHS Physician Assistant Studies
Class of 2023
Friday, Oct. 29
Mesa, Arizona
74 students
ATSU-ASDOH
Class of 2024
Friday, Nov. 5
Mesa, Arizona
80 students
COVID-19 and vaccination update
The University continues to adhere to CDC guidance to prevent and reduce transmission and maintain healthy campus environments. Encouraging our families and friends to be fully vaccinated is the fastest and safest opportunity to continue slowing the spread of COVID-19. As of Dec. 15, 2021, nearly 95% of the faculty and 89% of the staff are fully vaccinated.
Artificial intelligence technology at ATSU
In January 2020, an ad hoc Artificial Intelligence (AI) team was appointed to explore opportunities for integrating AI into ATSU's curricula as well as considering roles for AI in various areas, including patient care and University operations. Despite the COVID-19 pandemic, the team examined current and potential uses of AI to support healthcare delivery, education, and operations at the University. Please click here to review the white paper.
Thank you to the following team members for accepting this challenge and exploring potential AI applications for curricula, support services, and patient care.
Matthew Kahn, DDS, MS, FACP, assistant professor, ATSU-ASDOH
M. Lindsay Wright, DMD, MPH, assistant professor, ATSU-CGHS
Robert Baer, PhD, professor, ATSU-KCOM
Sue Falsone, PT, MS, SCS, ATC, associate professor, ATSU-ASHS 
Lora Hanson, MLIS, electronic resources librarian, A.T. Still Memorial Library, ATSU
Randy Shockley, senior software developer, administrative computing, ATSU
Akshay Vij, BDS, ACT, FAGD, specialty care unit director, ATSU-MOSDOH
Required Employee Education (REE)
More than 1,000 ATSU employees have completed the 2021 REE. Please remember to complete your REE by Friday, Dec. 31, if you have not already done so. This course is critical for ATSU's ongoing legal compliance and best practice management. For questions, please contact John Gardner, PhD, MEd, director of policy and employee education, human resources, at johngardner@atsu.edu or 660.626.2113.
Faculty and staff updates (as of Nov. 30)
Recent promotions: Please view the list of employee promotions (PDF).
Accomplishment kudos: Please view the list of accomplishment kudos (PDF).
Anniversary milestones: Please view the list of employee anniversaries (PDF).
Ideas or concerns?
Please submit your ideas to ideas@atsu.edu. Each email will receive a personal response from me. Ideas are only shared with the sender's permission.
If you see something you are worried about, please contact the anonymous Fraud Hotline to report situations or behavior that compromises ATSU's integrity. The hotline is available 24/7 at 1.855.FRAUD.HL (1.855.372.8345) or fraudhl.com.
In closing
I would like to wish our entire University community a very happy and healthy holiday season. Thank you to students, faculty, staff, trustees, alumni, and friends for your commitment to ATSU and keeping everyone safe and well.
Yours in service,
Craig M. Phelps, DO, '84
President
A.T. Still University of Health Sciences
800 W. Jefferson St., Kirksville, MO 63501 | 660.626.2121
5850 E. Still Circle, Mesa, AZ 85206 | 480.219.6000
Office of the President | president@atsu.edu
ATSU Communication & Marketing | communications@atsu.edu
A.T. Still University of Health Sciences serves as a learning-centered university dedicated to preparing highly competent professionals through innovative academic programs with a commitment to continue its osteopathic heritage and focus on whole person healthcare, scholarship, community health, interprofessional education, diversity, and underserved populations.