President's Perspective – August 2023
Posted: August 22, 2023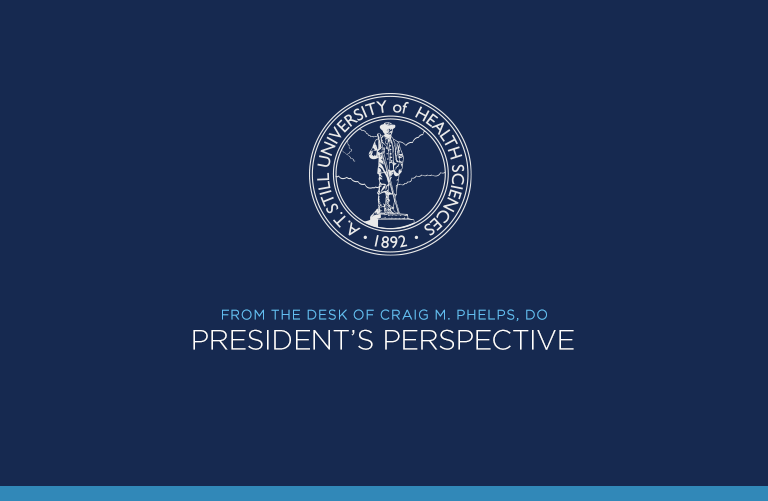 Welcome back!
ATSU campuses are abuzz with new and returning students ready to complete another exciting academic season. Unusually hot weather in Missouri and Arizona made the first several weeks challenging for all. Thanks for hanging in there!
Summer commencements honored a record number of graduates with 911 students receiving diplomas across six ceremonies. Thank you to everyone who supported our graduates, faculty, staff, and commencement activities. We are also looking forward to September graduations for physician assistant programs in California and Arizona.
Thank you, Board of Trustees members, Danielle Barnett-Trapp, DO, '11; Bertha Thomas; Jonathan Cleaver, DO, FAOCD, FAAD, FASMS, '08; and Kim Perry, DO, MBA, MHCM, FACEP, FACOEP, '91, for participating in commencement and white coat ceremonies.
California dreaming
On Friday, Sept. 8, 2023, ATSU will celebrate College for Healthy Communities' physician assistant program's inaugural commencement.
Thank you, Drs. Ted Wendel, Eric Sauers, and Dan McDermott, and faculty and staff, for all of your hard work and perseverance. Also, thank you to the pioneering inaugural class for battling through COVID, curriculum updates, and new campus snafus.
California's Central Coast community continues to play a vital role in the success of our students and campus. We are thankful for their support.
Incorporating ATSU's core professional attributes (CPAs) and osteopathic philosophy into students' education and experiences
ATSU students and graduates possess a unique set of knowledge, capabilities, and skills to succeed in today's and tomorrow's challenging world. ATSU's CPAs cover five domains critical to graduates entering healthcare.
Knowledge regarding the philosophy of osteopathic medicine also provides graduates an advantage in providing, guiding, and leading healthcare delivery. Today, more than ever, understanding the interconnectedness of our bodies' systems is essential in delivering whole person healthcare.
Exploring artificial/augmented intelligence's emerging role in healthcare and education
Three ATSU AI projects are underway to improve student, faculty, and staff experiences. Funds have also been allocated to provide pilot research grants for interested faculty and staff.
Ivy.AI chatbots to assist students, faculty, and staff.
Google Bard to assist with generating text, language translation, and answering questions.
Anthology CRM for crafting messages and promoting engagement.
Student recruitment and retention
Colleges and universities are facing future headwinds with fewer high school graduates, the public's questioning of higher education's value proposition, and rising costs.
Focusing on student retention is paramount to a successful health science university. College deans and Student Affairs are working closely together to assure ATSU students receive the support necessary for success.
Cultural proficiency
Essential to becoming the best healthcare professional, student, faculty, or staff member requires understanding and practicing cultural proficiency. Appreciating the unique perspectives we all bring to healthcare and education makes ATSU a great place to learn and work.
Understanding recent conversations around the U.S. Supreme Court's decision regarding admissions and race is helpful. Please visit this link to learn more.
Reaccreditation news
The A.T. Still University-College of Graduate Health Studies' (ATSU-CGHS) Master of Public Health – Dental program successfully met all metrics required for reaccreditation. After an April 3, 2023, site visit on the Mesa, Arizona, campus, the program was notified it met all standards and complied with all commission policies. Congratulations to Jeff Chaffin, DDS, MPH, MBA, MHA, assistant professor and program director; Mary-Katherine McNatt, DrPH, MPH, MCHES, CPH, COI, professor and chair; and team on this accomplishment.
ATSU commencement ceremonies
Arizona School of Dentistry & Oral Health (ATSU-ASDOH)
Friday, May 12
Mesa, Arizona
76 graduates
Commencement speaker: Wayne Cottam, DMD, MS, vice dean, associate professor, ATSU-ASDOH
Missouri School of Dentistry & Oral Health (ATSU-MOSDOH)
Friday, May 19
Kirksville, Missouri
57 graduates
Commencement speaker: Dennis A. Mitchell, DDS, MPH, vice provost for faculty advancement, Columbia University
Kirksville College of Osteopathic Medicine (ATSU-KCOM)
Saturday, May 20
Kirksville, Missouri
166 graduates
Commencement speaker: Robert A. Cain, DO, FACOI, FAODME, president and CEO, American Association of Colleges of Osteopathic Medicine
College of Graduate Health Studies (ATSU-CGHS)
Friday, May 26
Mesa, Arizona
217 graduates
Commencement speaker: Daryl Nelson, MS, ATC, director of team growth and development, Las Vegas Raiders
School of Osteopathic Medicine in Arizona (ATSU-SOMA)
Friday, May 26
Mesa, Arizona
138 graduates
Commencement speaker: Faith L. Polkey, MD, MPH, CPE, CEO, Beaufort-Jasper-Hampton Comprehensive Health Services Inc.
Arizona School of Health Sciences (ATSU-ASHS)
Friday, June 2
Mesa, Arizona
257 graduates
Commencement speaker: Victoria Garcia Wilburn, DHSc, OTR, FAOTA, assistant professor of occupational therapy, Indiana University-Purdue University Indianapolis
Upcoming ATSU commencement ceremonies
College for Healthy Communities (ATSU-CHC)
Friday, Sept. 8
Santa Maria, California
ATSU-ASHS Physician Assistant
Friday, Sept. 22
Mesa, Arizona
ATSU white coat ceremonies
ATSU-ASHS Physical Therapy
Class of 2024
Thursday, June 1
Mesa, Arizona
ATSU-ASDOH
Class of 2027
Friday, July 14
Mesa, Arizona
ATSU-SOMA
Class of 2027
Friday, July 14
Mesa, Arizona
ATSU-ASHS Physician Assistant
Class of 2025
Friday, July 14
Mesa, Arizona
ATSU-MOSDOH
Class of 2027
Friday, July 14
Kirksville, Missouri
ATSU-KCOM
Class of 2027
Saturday, July 15
Kirksville, Missouri
ATSU-CHC Central Coast Physician Assistant
Class of 2024
Friday, Aug. 18
Santa Maria, California
Faculty and staff updates (as of July 31)
Recent promotions: Please view the list of employee promotions (PDF).
Accomplishment kudos: Please view the list of accomplishment kudos (PDF).
Anniversary milestones: Please view the list of employee anniversaries (PDF).
Ideas and concerns?
Please submit your ideas to ideas@atsu.edu. Each email will receive a personal response from me. Ideas are only shared with the sender's permission.

If you see something you are worried about, please contact the anonymous Fraud Hotline to report situations or behavior that compromises ATSU's integrity. The hotline is available 24/7 at 1.855.FRAUD.HL (1.855.372.8345) or fraudhl.com. Reference code "ATSU" when making a report.
In closing
Thank you for taking a few minutes to catch up on ATSU activities. For daily updates, please visit ATSU News.
May your 2023-2024 academic year be one of professional and personal successes.
Yours in service,
Craig M. Phelps, DO, '84
President
A.T. Still University of Health Sciences
800 W. Jefferson St., Kirksville, MO 63501 | 660.626.2121
5850 E. Still Circle, Mesa, AZ 85206 | 480.219.6000
1075 E. Betteravia Rd., Ste. 201, Santa Maria, CA | 805.621.7648
Office of the President | president@atsu.edu
ATSU Communication & Marketing | communications@atsu.edu
A.T. Still University of Health Sciences serves as a learning-centered university dedicated to preparing highly competent professionals through innovative academic programs with a commitment to continue its osteopathic heritage and focus on whole person healthcare, scholarship, community health, interprofessional education, diversity, and underserved populations.