President's Perspective – August 2020
Posted: August 13, 2020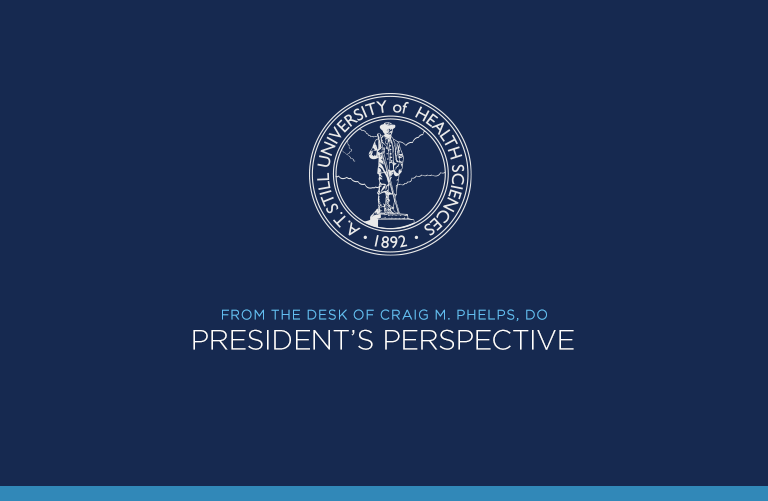 Leading through uncertainty
While many educational institutions are understandably facing an existential crisis during this time of uncertainty, ATSU is fortunate its faculty and staff share a compelling mission, vision, set of values, and common purpose. Educating and mentoring our students to serve literally thousands of patients and communities is of the highest calling to which anyone may aspire. In return, our students, alumni, and their patients teach us how to respond to an ever-changing healthcare environment.
ATSU's mission brings us together through a shared purpose, emphasizing learning together, scholarly activity, whole person healthcare, our osteopathic heritage, community health, interprofessional education, diversity, and underserved populations. I cannot think of a better reason to get up each morning and come to work virtually or in person. Today's healthcare challenges need ATSU to continue leading through innovation, cultural proficiency, and focusing on eliminating educational and healthcare disparities.
Our compassion and concern for one another will remain as our strength. Each ATSU community member plays an important role in the education of our students and care of our patients. Together, we are making a positive difference in the health of our country and lives of our students, faculty, and staff.
Thank you to our faculty, staff, alumni, and students for making health and safety a priority for our ATSU community and the communities we serve.
Goals for 2020-2021
Our primary goal is to continue safely adapting to the COVID-19 pandemic. ATSU is closely monitoring the situation, taking necessary safety precautions, and working alongside faculty, staff, students, and patients to provide education and patient care.
ATSU will also continue focusing on our 2019-2020 goals—health and wellness of faculty, staff, and students; safety and security; and innovation and scholarly activity—as well as updating our strategic plan and enhancing our cultural proficiency awareness.
Board of Trustees update
James D. Cannon, DHA, MS, PA-C, '97; Chester Douglass, DMD, PhD, MPH; and Stanley Grogg, DO, '71, faithfully completed their terms of service to ATSU's Board of Trustees as of July 24, 2020. ATSU is a better place to learn and work thanks to their thoughtful, compassionate, and critical stewardship.
New board member Alan Morgan, MPA, began his term July 25. Morgan serves as CEO of the National Rural Health Association and has more than 22 years' experience in health policy development at the state and national level. He holds a bachelor's degree in journalism from University of Kansas and master's degree in public administration from George Mason University. In 2011, readers of Modern Healthcare magazine selected Morgan as one of the top 100 most influential people in healthcare.
COVID-19 update
The heavy lifting by faculty, staff, deans, and vice presidents during this pandemic is unprecedented. ATSU community members quickly adapted their individual and professional lives to serve our students and patients.
Thank you to all who graciously accepted the challenges and tribulations of COVID-19. While far from perfect, ATSU appears to be ahead of many institutions regarding adapting to the pandemic.
Following CDC, local, and state guidance, the University's vigilance will serve us well while protecting our families, communities, and patients. ATSU's success battling COVID-19 is directly related to our professionalism, compassion, and willingness to work together.
Commencement 2020
ATSU celebrated its class of 2020 through virtual ceremonies on the originally scheduled dates. We are incredibly proud of our graduates and wish them success in their careers.
Arizona School of Dentistry & Oral Health
Friday, May 8
73 graduates
Missouri School of Dentistry & Oral Health
Friday, May 15
39 graduates
Kirksville College of Osteopathic Medicine
Saturday, May 16
162 graduates
School of Osteopathic Medicine in Arizona
Friday, May 22
98 graduates
College of Graduate Health Studies
Friday, May 29
322 graduates
Arizona School of Health Sciences
Athletic Training, Audiology, Occupational Therapy, Physical Therapy, and Physician Assistant Studies (distance learning)
Friday, June 5
348 graduates
Physician Assistant Studies (residential)
Friday, Aug. 7
66 graduates
Faculty and staff updates
Recent promotions: Please view the list of employee promotions (PDF).
Accomplishment kudos: Please view the list of accomplishment kudos (PDF).
Anniversary milestones: Please view the list of employee anniversaries (PDF).
Ideas or concerns?
Please submit your ideas to ideas@atsu.edu. Each email will receive a personal response from me. Ideas are only shared with the sender's permission.
If you see something you are worried about, please contact the anonymous Fraud Hotline to report situations or behavior that compromises ATSU's integrity. The hotline is available 24/7 at 1.855.FRAUD.HL (1.855.372.8345) or fraudhl.com.
In closing
Thank you for taking a few minutes to catch up on the accomplishments of our faculty, staff, and students.
Please stay safe and well,
Craig M. Phelps, DO, '84
President
A.T. Still University of Health Sciences serves as a learning-centered university dedicated to preparing highly competent professionals through innovative academic programs with a commitment to continue its osteopathic heritage and focus on whole person healthcare, scholarship, community health, interprofessional education, diversity, and underserved populations.