President's Perspective – April 2023
Posted: April 18, 2023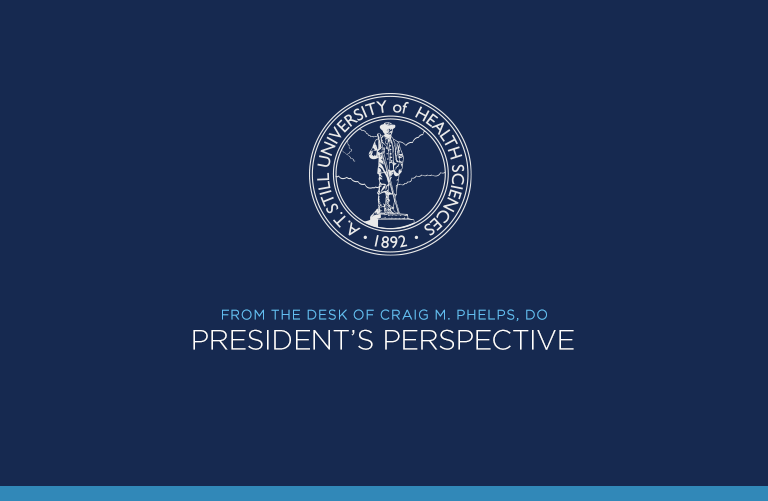 Thank you, faculty and staff

Celebrating faculty and staff
During March, A.T. Still University (ATSU) celebrated faculty and staff anniversaries at the annual Employee Recognition and Award Ceremonies. We honored 44 5-year, 29 10-year, 25 15-year, six 20-year, four 25-year, two 30-year, one 35-year, two 40-year, and one 50-year anniversary milestones. Congratulations, Nancy Parrish, executive assistant, university advancement, on the big 5-0!
Celebrating faculty and staff anniversaries allows us time to pause and reflect on the accomplishments of those we spend many years with, sharing professional and personal milestones, challenges, tears, joys, and accomplishments. It is one of my favorite times as president. Please visit ATSU News for additional anniversary and award information from ceremonies in Mesa, Arizona; St. Louis, Missouri; and Kirksville, Missouri.
Communication is key to your professional development and health
How do faculty and staff stay informed regarding ATSU news, benefits, and developments?
Regularly check ATSU News.
Ask your supervisor or division vice president. If they do not know the answer, please feel free to contact the President's Office.
Attend Still Healthy seminars or watch recordings.
Read issues of the President's Perspective.
Email your questions to the ATSU idea box.
Attend open forums.
Schedule a one-on-one visit with the president.
Check with your faculty senate representative or staff council representative.
Be proactive. No more "I don't know" or "no one tells me anything." Just ask.
Engaged, diverse university community
In addition to ATSU receiving the 2022 Health Professions Higher Education Excellence in Diversity Award, the Diversity & Inclusion team celebrated many accomplishments, including adding a new Diversity & Inclusion calendar on the ATSU website, assisting with developing ATSU's Grow Your Own diverse faculty initiative, sponsoring HUG It Out diversity events, establishing the Board of Trustees-funded Dr. Scott Drew GPS scholarship award, and helping develop a new Commission on Osteopathic College Accreditation Diversity Standard.
Mission-focused scholarship
ATSU experienced a record-breaking year in grant funding. Twenty-three external grant awards totaling more than $8.2 million were received from July 1, 2021, through June 30, 2022. Congratulations to our Sponsored Programs team and faculty, staff, and students for a successful year of scholarly activity.
Additionally, ATSU offers internal grant funding related to scholarly activity supporting the strategic plan and publishing by faculty and staff.
Agile resource management
In academic year 2023-2024, ATSU will focus on opportunities to operate facilities in the most effective manner. Former ATSU Chief Financial Officer Rick Rieder, MBA, MM, will be visiting locations, analyzing data, and providing feedback for this strategic initiative.
ATSU is also adding new software tools to assist academics, Admissions, University Advancement, and Alumni Relations. The software will allow ATSU to effectively support and communicate with applicants, students, faculty, staff, and alumni.
Alan Freeman, DMgt, MBA, FACHE, senior director of patient care centers, is working with each patient care center and respective dean to assure quality care is delivered safely, effectively, and in accordance with ATSU's mission.
Mesa, Arizona, campus hosts second annual ATSU Spring Expo
On April 1, more than 1,000 community members attended the ATSU Spring Expo to learn about and celebrate healthcare providers, organizations, entrepreneurs, vendors, nonprofits, and manufacturers. With 105 exhibitors, attendees explored many health-related themes, including exoskeletons, prosthetics, animal-assisted rehabilitation, an adapted glider plane and motorcycle, medical response teams, and more.
Thank you to A.T. Still University-Arizona School of Health Sciences' Adam Story, PT, DPT, OTR/L, MTC, assistant professor, occupational therapy, and Dean Ann Lee Burch, PT, EdD, MPH, along with faculty, staff, and students for making the ATSU Spring Expo a huge success!
Kirksville, Missouri, highlights
A.T. Still University-Missouri School of Dentistry & Oral Health (ATSU-MOSDOH) students visited the Kirksville Primary School and provided "Lessons in a Lunch Box."
ATSU's annual wellness run was held Saturday, April 1. Proceeds benefited New Smiles for Veterans and the ATSU Student Emergency Fund.
St. Baldrick's Still Shave for a Cure was held Tuesday, April 11. Those participating shaved their heads to raise funds for childhood cancer research. This annual event is sponsored by A.T. Still University-Kirksville College of Osteopathic Medicine's (ATSU-KCOM) Student Osteopathic Medical Association.
ATSU-KCOM medical education fellows Erin Cassidy and Matthew Burnett have been invited to participate with the American Association of Colleges of Osteopathic Medicine in the Resilience and Growth Mindsets in Medicine Initiative.
St. Louis, Missouri, highlights
ATSU-MOSDOH students, faculty, and staff continue community outreach programs serving underserved communities and veterans.
ATSU-MOSDOH welcomed the first group of students to enter its Advanced Standing International Dentist program, which is designed for internationally educated dentists who desire to earn their doctor of dental medicine degree for practice in the U.S.  
Santa Maria, California, highlights
A.T. Still University-College for Healthy Communities' students volunteered at Lideres Campesinas to distribute food to farmworker families.
Required Employee Education (REE)
The 2023 REE is now available on UKG Pro Learning. Please remember to complete your REE by Sunday, December 31, 2023, if you have not already done so. This course is critical for ATSU's ongoing legal compliance and best practice management. For questions, please contact John Gardner, PhD, MEd, director of policy and employee education, human resources, at johngardner@atsu.edu or 660.626.2113.
Upcoming ATSU commencement ceremonies
Arizona School of Dentistry & Oral Health (ATSU-ASDOH)
Friday, May 12
Mesa, Arizona
Missouri School of Dentistry & Oral Health (ATSU-MOSDOH)
Friday, May 19
Kirksville, Missouri
Kirksville College of Osteopathic Medicine (ATSU-KCOM)
Saturday, May 20
Kirksville, Missouri
College of Graduate Health Studies (ATSU-CGHS)
Friday, May 26
Mesa, Arizona
School of Osteopathic Medicine in Arizona (ATSU-SOMA)
Friday, May 26
Mesa, Arizona
Arizona School of Health Sciences (ATSU-ASHS)
Friday, June 2
Mesa, Arizona
College for Healthy Communities (ATSU-CHC)
Friday, September 8
Santa Maria, California
ATSU-ASHS Physician Assistant
Friday, September 22
Mesa, Arizona
Upcoming ATSU white coat ceremonies
ATSU-ASHS Physical Therapy
Class of 2024
June 1, 2023
Mesa, Arizona
ATSU-ASDOH
Class of 2027
July 14, 2023
Mesa, Arizona
ATSU-SOMA
Class of 2027
July 14, 2023
Mesa, Arizona
ATSU-ASHS Physician Assistant
Class of 2025
July 14, 2023
Mesa, Arizona
ATSU-MOSDOH
Class of 2027
July 14, 2023
Kirksville, Missouri
ATSU-KCOM
Class of 2027
July 15, 2023
Kirksville, Missouri
ATSU-CHC Physician Assistant
Class of 2024
August 18, 2023
Santa Maria, California
Faculty and staff updates (as of March 31)
Recent promotions: Please view the list of employee promotions (PDF).
Accomplishment kudos: Please view the list of accomplishment kudos (PDF).
Anniversary milestones: Please view the list of employee anniversaries (PDF).
Ideas or concerns?
Please submit your ideas to ideas@atsu.edu. Each email will receive a personal response from me. Ideas are only shared with the sender's permission.
If you see something you are worried about, please contact the anonymous Fraud Hotline to report situations or behavior that compromises ATSU's integrity. The hotline is available 24/7 at 1.855.FRAUD.HL (1.855.372.8345) or fraudhl.com. Reference code "ATSU" when making a report.
In closing
Thank you for taking a few minutes to review ATSU faculty, student, and staff accomplishments. ATSU graduations are just around the corner, and I hope to see you in person soon.
Yours in service,
Craig M. Phelps, DO, '84
President
A.T. Still University of Health Sciences
800 W. Jefferson St., Kirksville, MO 63501 | 660.626.2391
5850 E. Still Circle, Mesa, AZ 85206 | 480.219.6010
1075 E. Betteravia Rd., Ste. 201, Santa Maria, CA | 805.621.7651
Office of the President | president@atsu.edu
ATSU Communication & Marketing | communications@atsu.edu
A.T. Still University of Health Sciences serves as a learning-centered university dedicated to preparing highly competent professionals through innovative academic programs with a commitment to continue its osteopathic heritage and focus on whole person healthcare, scholarship, community health, interprofessional education, diversity, and underserved populations.