Museum of Osteopathic Medicine and A.T. Still Research Institute receive Osteopathic Cranial Academy Foundation grant
Posted: November 26, 2013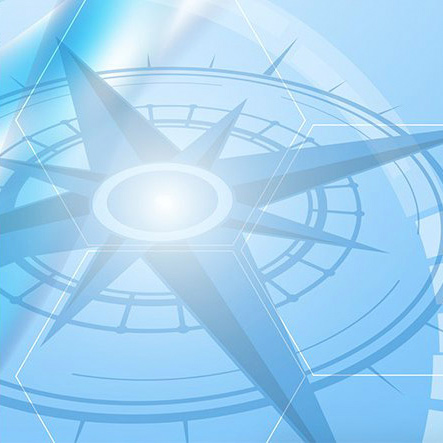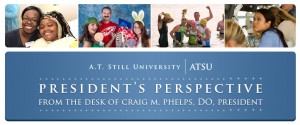 Perspective No. 7 – Giving thanks
This week's Thanksgiving holiday offers each of us a few moments to reflect upon a successful fall and spend precious time with family and friends. Around the world, students, faculty, and staff will be hosting or visiting friends and relatives, reconfirming the importance of giving thanks for our health, relationships, and opportunities. Over the past 90 days there have been many reasons for ATSU to be thankful: the hiring of our first diversity director, inauguration of a new dental school, formal opening of an advanced care dental clinic, completion of KCOM's accreditation visit, and successful research and IPE events, to name a few. Focus areas 2013-14 Research and scholarship John Heard, PhD, vice president, research, grants, & information systems, is coordinating efforts with deans, chairs, faculty, and staff to develop an ATSU research agenda appropriate for our vision, mission, and resources. For those involved in supporting or participating in research and scholarly activity, your input will be very helpful. Advancement Thank you to everyone participating in ATSU's annual fund campaign. Your contribution allows funding of many priorities, including scholarships, research activity, personnel, and equipment. When ATSU reaches out to donors, grantors, etc., often the first question asked is "What level do your Board of Trustees and employees support ATSU?" I am happy to report ATSU's board, president's staff, and deans participate at the 100 percent level. I am also happy to report the Missouri campus (KCOM and SHM) reached an all-time high in both percentage participation and dollars pledged. The Arizona campus is still conducting its pledge drive. If you have not pledged yet from either campus, please consider supporting ATSU by year's end. Make your pledge today. Learning-centered Senior Vice President – Academic Affairs Norman Gevitz, PhD, is calling together faculty and staff to participate in a symposium exploring learning-centered education and additional relative topics. Sponsored by the Teaching and Learning initiative, the symposium is tentatively scheduled for February 2014, with final dates to be determined. Strategic plan update 2016-2020 It is hard to believe it has been five years since planning began for the A.T. Still University 2011-15 Strategic Plan. During ATSU's last strategic planning activities, the Affordable Care Act, the great recession, MOOCs, and Twitter were nonexistent or relatively new. While the next 2-10 years will also offer many new and unexpected twists and turns, it is time to come together as a University and begin thinking about tomorrow's opportunities and challenges. All ATSU stakeholders will have an opportunity to contribute and comment on a new plan. Strategic Plan 2016-2020 will shape how we prioritize efforts, resources, and activities across the University. Arizona campus update The majority of non-clinical space leases on the Arizona campus will mature by December 2017. Deans are analyzing potential new programs and enrollment growth. Once all deans have completed projections, financial modeling will determine revenue for supporting additional and improved facilities. MOSDOH update After receiving initial accreditation in August, 42 students were accepted into MOSDOH's inaugural class. It has been an eventful couple of months, with student orientation and the White Coat Ceremony in September and the first day of classes and the inauguration ceremony in October. Plans are moving forward—literally—on MOSDOH's third- and fourth-year dental clinic in St. Louis, scheduled to open in late spring 2015. Ground breaking will occur in February or March 2014. Construction is anticipated to take approximately 12 months.
Meet Bucky, the Ram of Reason ATSU's mascot, Bucky, the Ram of Reason, made a surprise debut appearance at the Missouri campus Founder's Day. Bucky was named after Francis "Bucky" M. Walter Jr., MA, BS, DOEd (Hon.), KCOM emeritus dean of students, who passed away Aug. 24. An anonymous ATSU alumnus donated the professional quality mascot costume to be used during school and community events to promote ATSU, healthy eating, physical activity, preventative healthcare, and education. The Ram of Reason will soon be at an event near you! November is national American Indian Heritage Month National American Indian Heritage Month celebrates native peoples, culture, traditions, music, dance, and concepts of life. ATSU is the proud home of a growing number of American Indians in healthcare professions. In celebration, numerous events have been held on the Arizona campus to honor the American Indian heritage. Dr. George and Patricia Blue Spruce donated a beautiful sculpture by American Indian Artist Upton "Greyshoes" Ethelbah for display in the Arizona campus lobby. Interprofessional education research and collaborative case competition update On Nov. 2, ATSU held its fifth annual Interdisciplinary Biomedical Research Symposium on the Missouri campus. Students, residents, faculty, and regional researchers presented current research activities, which helped promote collaboration among the groups. The event was hosted by the Still Research Institute, who presented awards for Outstanding Research Posters: Nick Musso, OMS II, KCOM ($200-Overall); Jessica Lapinski, academic fellow, KCOM ($100); Joshua Moody, MS, '14, KCOM ($100); and Paul A.J. Baillargeon, DO, '09 ($100). Sigma Xi also awarded $200 to Nelson Ugwu, student, Truman State University, for best Research Poster presented by an undergraduate. Thank you, Brian Degenhardt, DO, director, Still Research Institute, and Neil Sargentini, PhD, chair, microbiology/immunology, KCOM, for putting together such a well-received interprofessional event. ATSU also hosted its second annual Interprofessional Education Collaborative Case Competition (IPE-CCC) on Nov. 2. IPE-CCC offers students an interprofessional teamwork experience and reveals the complexity of healthcare delivery and the need for collaboration among healthcare professionals to reach the best health outcomes for clients/patients. This year's competition brought students together from four universities, representing 14 programs and 11 different professions. Prizes were awarded to the top three teams. The Dr. William McKinney Award for first place went to Mimi Bankiewicz, D1, ASDOH; Christine Burris, AuD, '15; Bethany Galbraith, OT, '16; and Josie Harding, AT, '15. Second place went to Pam Barnes-Palty, psychology student, Argosy University; Jennifer Garbarini, AuD, '16; AJ Hortin, PT, '15; Amanda Peterson, OT, '15; and Michelle Smith, nursing student, Grand Canyon University. Third place went to Jeremy Berger, OMS II, SOMA; John Crum, psychology student, Argosy University; David Lifferth, D2, ASDOH; Caroline Lindsey, AuD, '16; and Katherine Rolston, OT, '16. Congratulations also to KCOM students Christine Beeson and Gabriel Eljdid and Truman State University students Ashley Anderson, Cody Campbell, Victoria Caskey, Emma Hosman, Alaina Kramer, Rachel Krauss, Alicia Kimberlin, Nikki Jerowski, Jessica Ray, Stephanie Thomas, and Kendra Woolman, who were recognized for their respective team presentations. ATSU student recognized for IPE efforts Adam Bennett, D4, ASDOH, was recognized for his commitment in enhancing interprofessional education by University of Minnesota faculty and members of the National Center for Interprofessional Practice and Education (NCIPE). Bennett spent six weeks in June and July working at NCIPE, an organization aimed at strengthening the advancement of collaborative, team-based health professions education and patient care. He served in a student consultancy role developing a strategic vision to involve future students. Day for Special Smiles ASDOH hosted its third annual Day for Special Smiles on Nov. 8, providing free dental care to 44 people with developmental, intellectual, and physical disabilities, including athletes from Arizona Special Olympics. More than 50 ATSU students participated. Advanced Care Clinic now open
ASDOH celebrated the official opening of its newest addition, The Center for Advanced Oral Health on Sept. 18. The Center is comprised of two specialty dental clinics: The Dr. Rick Workman Advanced Care Clinic and ASDOH Orthodontic Clinic. The Dr. Rick Workman Advanced Care Clinic is Arizona's first to offer expertise and equipment necessary to treat patients with complex dental needs. The clinic also specializes in comprehensive oral healthcare for patients whose physical and developmental disabilities require dentists with advanced training. Arizona governor supports ATSU fall prevention program
Caroline Lindsey, AuD, '16, met with Arizona Governor Jan Brewer in September to discuss ATSU's Still Standing Fall Prevention Outreach, a community health education program conducted by ATSU's Aging Studies Project to alleviate falls among older adults. ATSU holds a nine-year association with the Governor's Office on Aging and has been a part of the Arizona Fall Prevention Coalition since its inception. Students participate in Community Health Center Expo SOMA faculty and students were successful in including 13 posters accepted for presentation during the National Association of Community Health Center's Community Health Institute & Expo, held Aug. 25-27 in Chicago. Each of ATSU's 11 community health center partner sites participated, and of the more than 100 student participants, six of the 13 poster teams were chosen to advance with their posters through an oral presentation. Each presentation was related to the social determinants of health and issues affecting their community health center community. Project Faculty Adviser Joy H. Lewis, DO, PhD, FACP, associate professor, family and community medicine, SOMA, and ATSU Board of Trustee Member Isaac R. Navarro, DMD, '08, were faculty moderators and presenters. Read more about SOMA students' participation in the Community Health Center Expo AuD White Coat Ceremony Audiology students in the class of 2016 crossed the stage Oct. 5, to receive their white coats. Congratulations! Andrea Ruotolo, AuD, '05, adjunct assistant professor, audiology, was the keynote speaker.
Orthodontic residents graduate ASDOH's Postgraduate Orthodontic program celebrated the graduation of its fifth class of residents at the Arizona Country Club in Phoenix on Aug. 15. Orthodontic class of 2013 residents Blake Hillstead, DMD, DHSc; Trent Cox, DMD, DHSc; Shruti Shastry, DDS, DHSc; Ryan Bullen, DDS, DHSc; and Bradley Milde, DMD, DHSc, gave presentations at the event. Graduates received a certificate in orthodontics and dentofacial orthopedics.
Normore to lead ATSU's diversity initiative Our first director of diversity, Clinton Normore, MBA, joined ATSU this summer and will serve in a strategic role to assess, promote, and increase diversity and diversity of service among the University's students and workforce. Normore will work with key leadership to collaboratively develop and oversee a comprehensive plan to implement diversity goals to support ATSU's mission and vision. ATSU is committed to continued progress in the area of diversity. AOF recognizes ATSU students, advocates Congratulations to our students and student advocates who were recognized by the American Osteopathic Foundation as 2013 Honors recipients. The following were honored at a celebration in Las Vegas on Sept. 29. KCOM
Philip Hall, OMS II – Rossnick Humanitarian Grant ($1,123)
Rebecca M. Jordan, OMS III – Welch Scholars Grant ($2,000)
Alan Miner, OMS IV – Rossnick Humanitarian Grant ($1,800)
Natalie Shurtz, spouse of Joe Shurtz, OMS IV – Donna Jones Moritsugu Memorial Award
SOMA
Kyle Bohan, OMS II – HumanTouch Student Leadership Project, Coachella Valley, Calif. ($875)
June C. Chapin, OMS IV – Welch Scholars Grant ($2,000)
Jill Haggerty, spouse of John Haggerty OMS IV – Donna Jones Moritsugu Memorial Award
ATSU is a 2014 Military Friendly School®

ATSU ranks in the top 20 percent of colleges, universities, and trade schools in the country that are doing the most to embrace military service members, veterans, and spouses as students and ensure their success on campus. ATSU is a Health at Work Award winner ATSU is a Silver winner of the ninth-annual Health at Work Awards sponsored by ComPsych, honoring organizations who promote employee health and wellness. Winners were selected based on their wellness program's comprehensiveness, delivery, promotion, participation rates, and results achieved. ATSU boasts two health and wellness programs to its employees: Still Healthy Lifestyle & Still Healthy Fitness. ATSU earns four marketing awards ATSU received four top nods from MarCom Awards 2013, an international creative competition that recognizes outstanding achievement by marketing and communication professionals. Platinum Awards (the highest honor) recognized Still Magazine Cover Summer 2012 in the Design (Print)/Magazine Cover category and Still Magazine Online in the Alumni Magazine Website category. Gold Awards recognized Still Magazine in the Magazine/Alumni Magazine category and Still Magazine in the Design (Print)/Magazine category. Admissions recruitment suite materials and First Impressions magazine received honorable mentions in their respective award categories. Faculty and staff accomplishments (as of Nov. 1, 2013) Congratulations on recent promotions
Patty Hester, lead rotation site coordinator, Arizona region, KCOM
Ali Kittleson, supply room assistant, dental clinic, ASDOH
Amisha Klawonn, PT, DPT, OCS, FAAOMPT, professor, physical therapy, ASHS
Barbara Maxwell, DPT, director and professor, IPE, ATSU
Donna McBride, clinical education project coordinator, SOMA
Lise McCoy, MTESL, curriculum specialist and assistant director, faculty development, SOMA
Ian McLeod, MEd, assistant professor and director, didactic education, ASHS
Amanda Murphy, front office support, ASDOH
Seena Patel, DMD, MPH, associate director, oral medicine, Dental Care West, ASDOH
Bartly Rust, PA-C, adjunct professor, physician assistant studies, ASHS
Alan Schalscha, DO, MS, associate professor, SOMA
Stephanie Sullivan, administrative support, anatomy, KCOM
Lisa Watts, DO, director, graduate medical education, SOMA, and regional director, Oregon
Accomplishment kudos Katherine M. Adler, DHA, FACHE, associate dean, academic success and assessment, SHM, will serve on the Missouri Chapter of the American College of Healthcare Executives Communication Committee. Azra Baab, BS, coordinator, program and global oral health, ASDOH, received the Arizona campus Employee Excellence Award for the second quarter of 2013. SHM faculty Joshua Bernstein, PhD, assistant professor, and Lynda Konecny, DHEd, MS, CHES, assistant professor, presented their poster entitled "Influence of Availability of Comprehensive Wellness Resources on Online Student Wellness" at the 38th Annual National Wellness Conference in Stephens Point, Wis., in July. Jack Dillenberg, DDS, MPH, dean, ASDOH, was inducted into the Incisal Edge Dental Innovator Hall of Fame. He also was featured on the cover and in an article on innovation in dentistry in the winter 2014 issue of Incisal Edge. Tim Flores, online enrollment counselor, ATSU, was honored as an outstanding Native American employee for 2013 at the AZ American Indian Excellence in Leadership Awards by the Phoenix Indian Center. Jason Haxton, MA, director, Museum of Osteopathic MedicineSM, presented the 2013 Mary Burnett, DO, FACOFP dist. lecture during the OFP Fellows Semiannual Business Meeting at the ACOFP/Osteopathic Medical Conference & Exposition on Oct. 2 at The Hotel at Mandalay Bay in Las Vegas. SOMA Dean Kay Kalousek, DO, MS, AAHIVS, FACOFP, was featured in a one-page article in the Arizona Republic in conjunction with her nomination to the 2013 Who's Who in Business' colleges and universities category. Peter Kondrashov, PhD, anatomy chair, KCOM; Tatyana Kondrashova, PhD, assistant professor, family medicine, KCOM; Jane Johnson, MA, senior biostatician, ATSU; Karl Boehm, OMS III, KCOM; and Daris Rice, OMS III, KCOM, won Best Poster Award for their Anatomy in Ultrasound poster, "Impact of the clinical elective course on retention of anatomical knowledge by second year osteopathic medical students in preparation for board exams," at the Second World Congress Ultrasound in Medical Education conference, held Sept. 27-29 in Columbia, S.C. Greg Loeben, PhD, associate professor, SHM, presented twice at the Arizona Psychological Association Annual Convention on Oct. 11. Dr. Loeben also was selected to serve as a board member of the Arizona Bioethics Network. Jennifer Magruder, project coordinator, academic affairs, KCOM, received the Missouri campus Employee Excellence Award for the second quarter of 2013. Tamara Valovich McLeod, PhD, ATC, FNATA, professor, athletic training, and director, interdisciplinary research laboratory, ASHS, was elected to the United States Brain Injury Alliance board. Dr. McLeod also was invited to the national conference on youth sports safety in Washington, D.C., on Nov. 7-8. Additionally, Dr. McLeod contributed as an expert reviewer of the draft report highlighting sports-related concussions in youth by The Institute of Medicine and National Research Council. Susan Miedzianowski, MS, adjunct professor, SHM, has been appointed to the editorial board of CSA Journal. She also published an article in the summer 2013 edition of the journal, "The Changing Face of Primary Care." Adam Moore, MS, manager, Gutensohn Clinic, completed the Certified Medical Practice Executive certificate program with the Medical Group Management Association. Jae Hyun Park, DMD, MSD, MS, PhD, director, postgraduate orthodontics, ASDOH, was selected as an American Board of Orthodontics examiner and was voted as new chief editor of the Journal of the Pacific Coast Orthodontic Society. Kelly Rogers, photographer, communication & marketing, ATSU, received the Missouri campus Employee Excellence Award for the third quarter of 2013. Karen Snider, DO, chair, OMM, KCOM, reported on the results of a pilot study of osteopathic manipulative treatment on nursing home residents during an OMED presentation at the AOA Conference on Sept. 30. Her report was highlighted in The DO magazine. Well wishes to faculty and staff celebrating anniversary milestones 5-year anniversary
Ann Lee Burch, EdD, MPH, PT, vice dean, ASHS
Carlo Caroli, library technician, A.T. Still Memorial Library-Missouri, ATSU
Khanh Chu, DDS, director, ASDOH
Michael Haynie, MBA, sponsored project coordinator, sponsored programs, ATSU
Matthew Heeren, JD, vice president and general counsel, ATSU
Ronni Jones, administrative assistant, facilities/plant operations, Missouri campus, ATSU
Donald Lee, BS, online enrollment counselor, ATSU
Barbara Magers, research coordinator, research support, KCOM
Matthew Midkiff, DPT, adjunct professor, physical therapy, ASHS
Jae Hyun Park, DMD, MSD, MS, PhD, director, postgraduate orthodontics, ASDOH
Milton Pong, PhD, assistant professor, SOMA
LaTrisha Riggins, MAT, associate director, student financial assistance, ATSU
Catherine Ryczek, library assistant, ASHS
Sarah Spencer, MPH, associate director, ATSU
Thomas Turner III, DDS, adjunct professor, ASDOH
Demetrius Washington, DA, dental assistant, Dental Care West, ASDOH
Gene Winfield, DO, chair, SOMA
10-year anniversary
Marcia Arbizu, MBA, associate director, ICSP, ASDOH
Geri DeWaard, lab assistant, occupational therapy, ASHS
Harvey Summers, coordinator, development, ATSU
15-year anniversary
Kathy Krog, administrative assistant, microbiology/immunology, KCOM
Dean Maag, manager, academic technologies, ATSU
Jim Sharp, security officer, security, Missouri campus, ATSU
20-year anniversary
Jerry Bell, security officer, security, Missouri campus, ATSU
Brian Degenhardt, DO, director, Still Research Institute, ATSU
25-year anniversary
Janet Head, EdD, MS, RN, program specialist, AHEC, KCOM
Julia Ousterhout, PhD, assistant professor, pharmacology, KCOM
William Sexton, PhD, professor, physiology, KCOM
35-year anniversary John Heard, PhD, vice president, research, grants, & information systems, ATSU Happy Thanksgiving! Happy Thanksgiving to all, and may your holiday season be a wonderful time filled with family, friends, smiles, and warm hearts. Yours in service,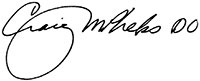 A.T. Still University of Health Sciences 800 W. Jefferson St., Kirksville, MO 63501 | 660.626.2121 5850 E. Still Circle, Mesa, AZ 85206 | 480.219.6000 Office of the President | president@atsu.edu ATSU Communication & Marketing | communications@atsu.edu