President's Perspective – May 2015
Posted: May 21, 2015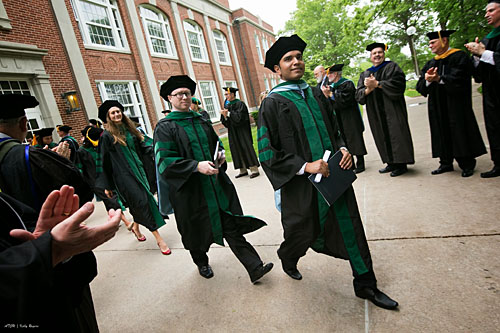 Commencement – A time for celebration We are in the midst of another exciting graduation season at ATSU. Students, friends, and family gather alongside faculty and staff to celebrate one of life's greatest accomplishments. This year it was especially exciting for me as we welcomed back one of my professors, honorary degree recipient Richard Cenedella, PhD, professor emeritus, ATSU-KCOM. Many alumni remember Dr. Cenedella's contributions to student knowledge, faculty advancement, and ATSU's success. It was great to see him along with our new graduates.
2014-15 strategic initiatives update  Student clinical rotations and residencies Dr. Gevitz's team is putting together results from nearly 11 months of in-house data analysis and information gathering. A white paper including recommendations will be available in July 2015. Global initiatives For the first time, ATSU is developing a global strategy to assist students, faculty, and staff with seeking safe and appropriate learning opportunities. Opportunities for ATSU's brand within the global online educational realm are also being explored. Innovation Assessment, 3-D printing, and exploring new learning platforms are a few examples of the innovation currently underway at ATSU. To promote innovative faculty-led initiatives through the Teaching and Learning Center, $250,000 has been allocated for the upcoming 2015-16 academic year. Marsha Ham, PhD, will join ATSU on August 1, 2015, as the inaugural director of the Center for Teaching and Learning. Dr. Ham comes from University of New Haven in Connecticut where she is associate vice president and dean of the College of Lifelong Learning and eLearning. Prior to joining University of New Haven, Dr. Ham was executive director of lifelong learning and distance learning at Ohio University. ATSU's Strategic Plan 2016-20 Thank you to all who participated in developing ATSU's new strategic plan recommendations. ATSU's Board of Trustees is reviewing the recommendations. Vice President of Finance/Chief Financial Officer Rick Rieder, MBA, MM, and staff will be analyzing costs and funding options. The new plan will be unveiled November 2015, and implementation will begin July 2016. Advancement Thanks to our alumni, friends, faculty, staff, and students, ATSU has been blessed with a successful fundraising year. While fiscal year 2014-15 final numbers will not be available until July 1, it has been a remarkable year for Advancement. ATSU's largest individual bequest has been developed. Pending market performance, the gift may approach or exceed $10,000,000 at maturity. Faculty/staff Annual Fund Campaign has raised $182,698 fiscal year to date. These gifts provide scholarships, update facilities, and support faculty endeavors and strategic initiatives. Total funds raised through April 1, 2015, were $3,358,595. This represents an 84 percent increase over the same time period last year. An additional $1.4 million is due over the next six months in estate gifts. Proceeds from a charitable life insurance policy, $1,034,000, have also been received; however, due to accounting rules, the amount is not included in the above total. Missouri School of Dentistry & Oral Health ATSU-MOSDOH's second-year students will soon transition to St. Louis, Mo., to begin their clinical experiences. The St. Louis Dental Education and Oral Health Clinic is nearing completion, and the official grand opening will be held June 10. ATSU-MOSDOH completed a second accreditation site visit in March from the Commission on Dental Accreditation (CODA). Please visit atsu.edu/mosdoh to learn more about ATSU-MOSDOH's revolutionary dental education model.
Kirksville College of Osteopathic Medicine Last Saturday, a new class of 157 osteopathic physicians graduated. The class of 2015 included 70 females and 87 males. Ten graduates received their master's in biomedical sciences. Dr. Cenedella received an honorary doctor of science degree, and Mark D. Pressley, DO, '92, MPH, '03, FAAFP, delivered an outstanding commencement speech.
Arizona School of Dentistry & Oral Health ATSU-ASDOH served as the national host for Give Kids A Smile in February, shining the spotlight on the School's wonderful students, faculty, staff, and alumni. More than 400 children received interprofessional compassionate care on the Mesa, Ariz., campus, setting the record for ATSU-ASDOH's highest attendance to date. Please listen to national dental leaders comment on the event. ATSU-ASDOH's commencement will be held Friday, May 22, and Jeffrey A. Parker, MPA, will give the commencement address. Seventy-four doctor of dental medicine degrees and 22 master of public health degrees will be conferred.
School of Osteopathic Medicine in Arizona ATSU-SOMA recently prepared an annual report and mid-cycle report for the Commission on Osteopathic College Accreditation. Both reports were accepted at COCA's April meeting without any additional requests from the School. ATSU-SOMA's commencement will also be held Friday, May 22. Winston F. Wong, MD, MS, will be the commencement speaker, and Ron Yee, MD, MBA, FAAFP, chief medical officer for the National Association of Community Health Centers (NACHC), will provide a welcome message to graduates. One hundred four students will receive their doctor of osteopathic medicine degrees.
Arizona School of Health Sciences ATSU-ASHS celebrated its 20th anniversary on Saturday, January 24. Nearly 200 friends of ATSU, including board members, alumni, faculty, staff, and students, reunited on the Arizona campus for the event. The School has graduated approximately 8,000 healthcare professionals, and today, offers 15 residential and online programs. ATSU-ASHS commencement is scheduled for Friday, August 7, at the Phoenix Convention Center.
College of Graduate Health Studies ATSU-CGHS hosted a CODA site visit in April for the Dental Public Health Residency program. The site visit report will be sent to CODA recommending full accreditation with no reporting requirements. Results from the Council on Education for Public Health accreditation site visit in fall 2014 will be posted this summer. In addition, a new program is coming to the College this fall. A master's degree in school health education will be offered for educators teaching or leading school health education programs. ATSU-CGHS' Commencement Ceremony will be held Friday, June 5, with ATSU-ASHS Dean Randy Danielsen, PhD, PA-C, DFAAPA, providing the commencement address. This is the first time the ceremony will take place in Arizona. Faculty and staff accomplishments (as of April 30, 2015) Congratulations on recent promotions Read the complete list of employee promotions. Accomplishment kudos Read the complete list of accomplishment kudos. A special thanks to all contributors who made ATSU's inaugural Assessment Week a success. Please review the complete list of contributors. Well wishes to faculty and staff celebrating anniversary milestones Read the complete list of employee anniversaries. With gratitude Thank you for taking a few moments to catch up on the latest happenings around the University. Best wishes to our new graduates as they continue to build upon the knowledge and skills developed while attending ATSU and making a positive impact in their communities. Yours in service,
      Craig M. Phelps, DO, '84 President