President's Perspective – March 2014
Posted: March 25, 2014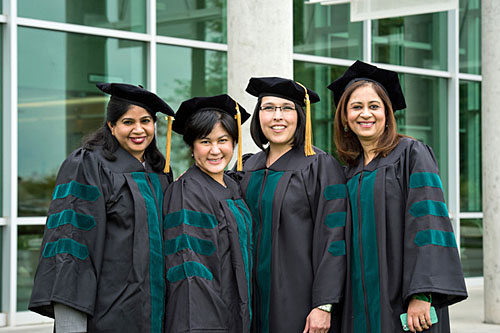 Corporate and Commercial Photography by Mark Skalny 1-888-658-3686 www.markskalny.com
Hello, spring! Spring is finally here. You can tell by the sale of antihistamines, spring training in Mesa, and the sighting of front yards in Kirksville. You can also tell by students and faculty eagerly anticipating spring and summer graduations. It won't be long until the next graduating classes will be following in the footsteps of our alums and blazing new trails in healthcare. We wish all graduates well as they begin their next life adventure. Strategic planning update What will ATSU look like in 2020 and beyond? This is the next big question and opportunity facing ATSU as we begin our 2016-20 strategic planning process. Each of you will have an opportunity to help ATSU envision its future. Soon to celebrate 125 years, ATSU must continue developing its signature identity, embrace a strong interdisciplinary culture, foster health professions education innovation, and maintain its reputation as the "go-to" national and international authority on osteopathic medicine— whole person healthcare. Among the questions we must ask ourselves:
How will ATSU accomplish its vision of preeminence?
Which skills and resources will our faculty and staff need to continue successfully educating students?
What experience will our students need to be post-graduate, market, and patient-care ready?
What can ATSU do to best prepare for America's changing demographic and economic future?
Megatrends facing America's economy, higher education, and health professions education will be considered. Colleges and universities failing to confront tomorrow's rapidly changing environment will find themselves uninformed and unprepared. ATSU will not find itself among the uninformed or unprepared as we prepare a bold and encompassing strategic plan. An inclusive group of internal and external stakeholders will discuss these questions and trends, and many more, while contributing to the design, refinement, and shepherding of the strategic plan. The strategic planning committee already has been established (see below), with Drs. Norman Gevitz and Michael McManis leading the charge. In 2015, the new plan will be shared with ATSU's Board of Trustees for comments and approval. I look forward to hearing from you during the planning process. 2016-20 Strategic Plan Committee Steering Committee Michael A. McManis, PhD, vice president, planning, assessment, & institutional effectiveness, ATSU Norman Gevitz, PhD, senior vice president, academic affairs, ATSU Lori Haxton, MA, vice president, student affairs, ATSU O.T. Wendel, PhD, senior vice president, strategic university initiatives, ATSU Neal R. Chamberlain, PhD, associate professor, microbiology/immunology, KCOM, university faculty senate, ATSU Members
Jeffrey Alexander, PhD, associate professor, health sciences, ASHS
Lee Bonnel, academic success coordinator, SHM, staff council, ATSU
Ann Lee Burch, PT, EdD, MPH, MS, vice dean and associate professor, ASHS
John George, PhD, director, planning, assessment, & institutional effectiveness, ATSU
Monnie Harrison, CPA, vice president for finance, ATSU
Mary (Liz) Kaz, EdD, MS, associate dean, MOSDOH
Bryan Krusniak, MBA, assistant vice president, information technology & services, ATSU
Clinton Normore, MBA, director, diversity, ATSU
Klud Razoky, BDS, assistant dean, ASDOH
Randy Rogers, CFP, vice president, university advancement, ATSU
Greg Rubenstein, MA, interim co-vice president, communication & marketing, ATSU
Patricia S. Sexton, DHEd, associate dean, curriculum, KCOM
Gaylah Sublette, MBA, associate vice president, sponsored programs, ATSU
Alison Valier, PhD, ATC, associate professor, athletic training, ASHS
Sharon Obadia, DO, director, SOMA
Students
Addison Roberts, OMS II, KCOM
Alison Kapchinske, OT, '15, ASHS
Focus area updates Advancement success Thanks to a successful annual campaign, new donor participation is up 20 percent! Once again, thank you to all employees who made a gift to ATSU. Your support goes a long way with encouraging outside donors to invest in our University. Research and scholarship John Heard, PhD, vice president, research, grants, & information systems, continues to work with faculty and staff across the University to develop ATSU's research agenda for assimilation into the 2016-20 strategic planning process. Learning centered education Norman Gevitz, PhD, senior vice president, academic affairs, has been working with deans and faculty on a common definition and strategy to further incorporate learning centered practices into all University experiences. Online programs to realign Beginning July 1, SHM will join with ASHS' Doctor of Health Science and Master of Science in Human Movement programs to become the College of Graduate Health Studies (ATSU-CGHS). As part of the realignment, ATSU is combining non-discipline specific online programs to gain efficiency and improve quality, access, and affordability for its students. St. Louis groundbreaking On April 25 ATSU will hold an official groundbreaking ceremony for the ATSU-MOSDOH dental education and oral health clinic. Upon completion, the facility will provide state-of-the-art oral healthcare for some of Missouri's most underserved and a "home" for MOSDOH's third- and fourth-year student clinical experiences. Physician Assistant program ASHS' Physician Assistant program has been granted accreditation-continued status by the Accreditation Review Commission on Education for the Physician Assistant. Congratulations to PA program Chair Bert Simon, DHSc, and faculty and staff for receiving the maximum accreditation of seven years. ASHS spring commencement ASHS held its spring commencement ceremony for six online programs March 7 at the Mesa Arts Center. More than 150 students earned a master's or doctoral degree in human movement, occupational therapy, advanced physician assistant studies, audiology, health sciences, and physical therapy. The keynote was given by Donald M. Pederson, PhD, PA-C, professor, family and preventive medicine, University of Utah School of Medicine, who received an honorary doctor of humane letters degree. Congratulations to ATSU's newest graduates!
Dr. Still is a Famous Missourian ATSU founder Andrew Taylor Still, DO, was selected for induction into the Hall of Famous Missourians at the state capitol in Jefferson City, Mo. Dr. Still received the most support in a public nominating and voting process, receiving nearly 38 percent of more than 34,000 votes. A bronze bust of Dr. Still will be inducted at an April 16 ceremony in Jefferson City. ATSU launches diversity web page ATSU recently launched its diversity web page. Because diversity is so important to the University, this content is a priority on the website, with top-level navigation on the home page. I encourage you to visit this section of the website, if you haven't done so already, to see how the ATSU educational experience is shaped by diverse experiences, beliefs, and perspectives. ATSU is Fit-Friendly ATSU was named a 2013 Gold Fit-Friendly Worksite by the American Heart Association. Elite gold-level recipients are awarded for recognizing the importance of a healthy workplace for employees and taking steps to create a culture of wellness. For example, ATSU employees have the option of participating in the Still Healthy Lifestyle and Still Fitness programs. ASDOH honored with prestigious innovation award ASDOH was awarded the Gies Award for Outstanding Innovation by the American Dental Education Association at a presentation held March 17 in San Antonio, Texas. The Gies Awards honor individuals and organizations exemplifying dedication to the highest standards of vision, innovation, and achievement in dental education, research, and leadership. Faculty and staff accomplishments (as of March 1, 2014) Congratulations on recent promotions Verna A. Burkett , AS, clinical education coordinator, SOMA Cailee McCarty, PhD, ATC, assistant professor, athletic training, ASHS Tamara Valovich McLeod, PhD, ATC, FNATA, professor and director, athletic training, ASHS Robin Michela, assistant curriculum coordinator/administrative assistant, SOMA Katie Moore, educational specialist, MOSDOH Tracie Rogers, PhD, chair, human movement, ASHS Accomplishment kudos Jeffrey Alexander, PhD, associate professor, health sciences, ASHS, presented twice at the American Society on Aging, Aging in America Conference in San Diego, Calif., in March. Donna Allen, PhD, assistant professor, SHM, will co-present on positive psychology and wellness at the National Wellness Conference in June in Minneapolis, Minn. Dr. Allen also had a proposal selected for presentation at the National Wellness Conference, also to be held in June, and two proposals accepted for presentation at the 28th International Congress of Applied Psychology Conference in Paris, France. She also was appointed to the Journal of Aging and Physical Activity editorial board. Amanda Barstow, senior administrative assistant, Advanced Care Clinic, ASDOH, received the Arizona campus Employee Excellence Award for the fourth quarter of 2013. Ann Lee Burch, PT, EdD, MPH, MS, vice dean and associate professor, ASHS, was a member of the Women in Education Leadership at Harvard Graduate School of Education, held March 6-8. Neal R. Chamberlain, PhD, associate professor, microbiology/immunology, KCOM, reapplied for an additional five-year fellowship in his original submission category and was named an AACOM 2014-19 fellow for its National Academy of Osteopathic Medical Educators. Lori Dewald, EdD, assistant professor, SHM, had three presentations accepted at the American College Health Association annual conference in San Antonio, Texas, to be held in May. Dr. Dewald also was published in the Journal of Athletic Training. Jack Dillenberg, DDS, MPH, dean, ASDOH, received the 2014 AEEDC Dubai Personality of the Year Award. James Farris, PT, PhD, chair and associate professor, physical therapy, ASHS, was accepted into the 2014-15 cohort of the American Physical Therapy Association's Education Leadership Institute Fellowship. Deanne R. Fay, PT, DPT, MS, PCS, '07, associate professor and director of curriculum, physical therapy, ASHS, will attend the International Classifier Programme in Sao Paulo, Brazil, in April to become an international classifier for paralympic track and field events. Irwin Feinberg, DDS, associate director, periodontics, ASDOH, received the 2013 Outstanding Teaching and Mentoring in Periodontics Award by the American Academy of Periodontology. Carolyn Glaubensklee, PhD, associate professor, SOMA; Barbara Maxwell, PT, DPT, MSc, Cert. THE, '06, director, interprofessional education, ATSU; and Mara Hover, DO, associate chair, family and community medicine, SOMA, were accepted for a poster presentation at the All Together Better Health VII conference to be held in Pittsburgh, Pa., on June 6-8. Colleen Halupa, EdD, assistant professor, ASHS, was named to the editorial board as a reviewer for the International Journal of Higher Education. John Heick, PT, DPT, associate professor, physical therapy, ASHS, was appointed as the federal affairs liaison to represent Arizona for the American Physical Therapy Association. Lynda N. Konecny, DHEd, MS, CHES, '08, assistant professor, SHM, was selected to serve a three-year term on the Journal of College and Character editorial review board. Dr. Konecny also will co-present on positive psychology and wellness at the National Wellness Conference in June in Minneapolis, Minn. Michael Kronenfeld, MBA, MLS, AHIP, university librarian, ATSU Memorial Library, Arizona campus, was selected as one of 50 top alumni over the past five decades by the University of Rhode Island Graduate School of Library and Information Studies. Richard LaBaere II, DO, MPH, associate dean, Still OPTI, was recognized as a Guardian of the Profession by the American Osteopathic Association. Tamara Valovich McLeod, PhD, ATC, FNATA, professor and director, athletic training, ASHS, was named to the board of advisors for MomsTEAM Institute. Dr. McLeod also was featured in the February issue of Athletic Business magazine. The residency team, Thomas E. McWilliams, DO, '76, associate dean – graduate medical education development, SOMA; Lisa Watts, DO, director, medical education, SOMA; and Brian Ebersole, Wright Center for Graduate Medical Education, presented their residency model at the Osteopathic Medical Education Leadership conference in Austin, Texas, in January as part of a keynote panel Jae Hyun Park, DMD, MSD, MS, PhD, director, postgraduate orthodontics, ASDOH, was elected secretary-treasurer of the Arizona State Orthodontic Association. Corey Sanford, production specialist, academic technologies, ATSU, received the Missouri campus Employee Excellence Award for the fourth quarter of 2013. Eric Sauers, PhD, ATC, CSCS, professor and chair, interdisciplinary health sciences, ASHS, was accepted to the Harvard Macy Institute's 2014 Program for Leading Innovations in Healthcare and Education. The Virtual Community Health Center (VCHC) team presented at the Osteopathic Medical Education Leadership conference in Austin, Texas, in January. The team includes Frederic Schwartz, DO, FACOFP, associate dean, clinical education and services, SOMA; Thomas Bennett, DO, director, VCHC project, SOMA; Monica Fernandez, PA-C, MMS, assistant professor, VCHC continuity and educational specialist, SOMA; and Lise McCoy, EdD (ABD), MTESL, curriculum specialist, SOMA. Patricia S. Sexton, DHEd, associate dean, curriculum, KCOM, reapplied for an additional five-year fellowship in her original submission category and was named an AACOM 2014-19 fellow for its National Academy of Osteopathic Medical Educators. Dr. Sexton also is the KCOM – NAOME fellows chair. Well wishes to faculty and staff celebrating anniversary milestones 5-year anniversary Stephen Emlund, web developer, administrative computing, ATSU Jim Farris, PT, PhD, chair, physical therapy, ASHS Lise McCoy, EdD (ABD), MTESL, curriculum specialist, SOMA Michael A. McManis, PhD, vice president, planning, assessment, & institutional effectiveness, ATSU David Owens, manager, A.T. Still Memorial Library, Missouri campus Sarah Pecorelli, MS, specialist, sponsored programs, ATSU Tracie Rogers, PhD, chair, human movement, ASHS Misty Seidel, online financial service coordinator, student financial assistance, ATSU Billy Strait, DO, associate professor, OMM, KCOM Pedro Torres, DA, sim lab coordinator, ASDOH Mary Voytek, OTD, MC, OTR/L, assistant professor, occupational therapy, ASHS 10-year anniversary Barbara Maxwell, PT, DPT, MSc, Cert. THE, '06, director, interprofessional education, ATSU Kenneth Pamperin, MS, director, research support, ATSU 15-year anniversary Rachel Diamant, PhD, OTR/L, BCP, director, occupational therapy, ASHS Kathleen Hall, rotation site coordinator, Michigan region, KCOM Jane Johnson, MA, senior biostatistician, research support, ATSU Bryan Krusniak, MBA, assistant vice president, information technology & services, ATSU Mary Sims, MA, technical services librarian, A.T. Still Memorial Library, Missouri campus O.T. Wendel, PhD, senior vice president, strategic university initiatives, ATSU 20-year anniversary Robert Ehrlich, director, facilities/plant operations, Missouri campus 25-year anniversary Neal R. Chamberlain, PhD, associate professor, microbiology/immunology, KCOM Michael Evans, print technician, communication & marketing, ATSU Lori Haxton, MA, vice president, student affairs, ATSU Patricia Sexton, DHEd, associate dean, curriculum, KCOM RaElla Wiggins, animal caretaker, KCOM 30-year anniversary Norine Eitel, MBA, assistant to president & secretary to the board, President's Office, ATSU Bonnie King, lab technician, physiology, KCOM In conclusion Thank you to each of you and congratulations to our faculty, staff, and students for their many wonderful accomplishments! Yours in service,
      A.T. Still University of Health Sciences 800 W. Jefferson St., Kirksville, MO 63501 | 660.626.2121 5850 E. Still Circle, Mesa, AZ 85206 | 480.219.6000 Office of the President | president@atsu.edu ATSU Communication & Marketing | communications@atsu.edu