President's Perspective – July 2016
Posted: July 13, 2016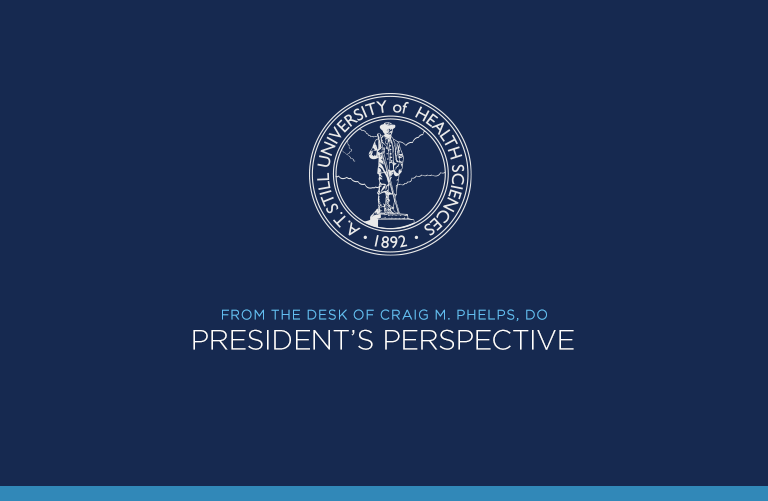 Beyond expectations
Recently, a mother of one of our new graduates thanked me for her daughter's opportunity to attend A.T. Still University (ATSU). I assured her I would let our faculty and staff know of her appreciation; however, we (ATSU) mutually appreciated the opportunity to share in the professional and personal growth of her daughter. Similar conversations during graduation and white coat ceremonies are repeated many times as graduates, families, and friends personally thank faculty and staff.
During ATSU-College of Graduate Health Studies' Commencement Ceremony, Clinton Normore, MBA, spoke of a childhood experience when his father needed to borrow a pickup truck. After watching his father return the truck with more gas than was originally in the tank, Normore asked his father why would he put more gas in than needed. His father's reasoning: Always return things in better condition than you received them. Wise words for a child and also for us today.
Through innovative educational programs, mentoring, and caring, our faculty and staff do their best to fill the "tanks" of our students beyond expectations. ATSU faculty and staff often go the extra mile to assist students in many ways. It is always nice this time of year to thank faculty and staff for taking care of our students and endeavoring to fill their educational tanks beyond the minimum.
Update on 2015-16 annual goals
Improve life-work balance
Thank you to Lori Haxton, MA, vice president, student affairs; Donna Brown, MBA, SHRM-SCP, SPHR, assistant vice president, human resources; Beth Poppre, MEd, associate vice president, student affairs; and Tonya Fitch, MBA, PHR, director, human resources, for leading discussions on improving life-work balance for employees and students. Over the next 12 months, please watch for implementation of many excellent suggestions.
If you have a moment, please view the latest draft summary (PDF).
Simplification of data access
Working with a data use/management group comprised of University faculty, staff, and administrators, John Heard, PhD, vice president, research, grants, and information systems, and Norman Gevitz, PhD, senior vice president-academic affairs, are making excellent progress determining common data sets needed by multiple constituencies throughout ATSU. Tableau has been selected as the software interface, and a website has been created to distribute data to an internal audience.
Want to learn more? Please view Dr. Heard's update regarding University data sets (PDF).
Preeminence vision
In 2010, ATSU's Board of Trustees set a 15-year vision goal, to be the preeminent university for the health professions, guided by the following four criteria.
Leading innovator in health professions education
Superior students and graduates who exemplify and support the University's mission
Osteopathic philosophy demonstrated and integrated
Pioneering contributions to healthcare education, knowledge, and practice
O.T. Wendel, PhD, senior vice president, strategic university initiatives, and Dr. Gevitz continue meeting with ATSU internal constituencies to discuss preeminence for ATSU. A summary will be presented to ATSU's board, faculty, and staff in October 2016.
2016-17 annual goals
Cultural proficiency. This academic year, we will be initiating a cultural proficiency climate survey. The survey will assist ATSU as it continues to foster a learning and working environment that welcomes, appreciates, and respects all students, faculty, staff, patients, and community stakeholders.
Professional development. This academic year, ATSU will offer professional development opportunities for faculty and staff in areas of leadership, competency-based learning, personnel management, and innovative learning technologies including virtual and augmented reality.
Life-work balance 2.0. Suggestions from faculty, staff, and students were heard and are appreciated. Implementation of many suggestions from last year's study will be initiated.
Commencement
ATSU continues to celebrate this exciting commencement season, and we look forward to celebrating ATSU's Arizona School of Health Sciences Commencement Ceremony on August 5, 2016. We wish our graduates well as they begin the next step in their careers.
ATSU-Kirksville College of Osteopathic Medicine (ATSU-KCOM)
ATSU-KCOM celebrated 167 graduates May 14, 2016. Of those graduates, 12 earned their master's degree in biomedical sciences. Suzanne R. Steinbaum, DO, FACC, FAHA, '94, director, The Heart and Vascular Institute, Lenox Hill Hospital, delivered the commencement address and received an honorary doctor of science in osteopathy degree.
ATSU-School of Osteopathic Medicine in Arizona (ATSU-SOMA)
On May 20, 2016, ATSU-SOMA graduated 101 osteopathic physicians. Five of those graduates earned master of public health degrees. Darrell Grace, DO, hospitalist, St. Elizabeth Hospital in Youngstown, Ohio, delivered the commencement address and received an honorary doctor of humane letters degree.
ATSU-College of Graduate Health Studies (ATSU-CGHS)
On June 3, 2016, more than 200 graduates from ATSU-CGHS earned degrees in health administration, kinesiology, public health, health education, and health sciences. The commencement speaker was Clinton J. Normore, MBA, associate vice president for diversity and inclusion at ATSU.
ATSU-Arizona School of Dentistry & Oral Health (ATSU-ASDOH)
Seventy-five graduates from ATSU-ASDOH earned their doctor of dental medicine degrees June 3, 2016. Of those graduates, 17 earned their master of public health degrees. Stephen E. Thorne IV, MHA, founder, president, and CEO of Pacific Dental Services, gave the commencement address and received an honorary doctor of humane letters degree. Irvin Silverstein, DDS, MSEd, a voluntary assistant clinical professor in the Department of Family and Preventive Medicine at the University of California San Diego School of Medicine, received an honorary doctor of humane letters degree.
Faculty and staff accomplishments (as of June 30, 2016)
Congratulations on recent promotions
Please view the complete list of employee promotions (PDF).
Accomplishment kudos
Please view the complete list of accomplishment kudos (PDF).
Well wishes to faculty and staff celebrating anniversary milestones
Please view the complete list of employee anniversaries (PDF).
In closing
Thank you for taking a few moments to catch up on many wonderful activities and accomplishments of our students, faculty, and staff. This academic year promises to be a time of great discovery and opportunity at ATSU.
Yours in service,
Craig M. Phelps, DO, '84
President