President's Perspective – January 2015
Posted: January 15, 2015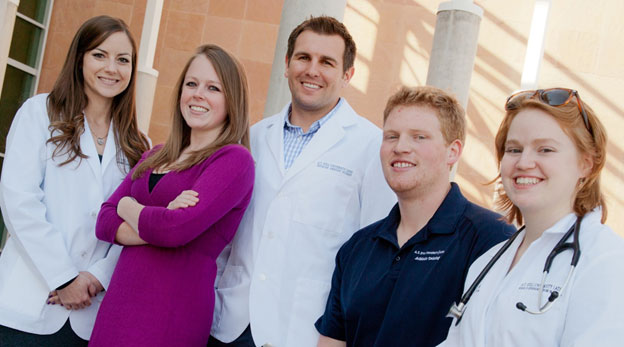 2015 a year of opportunities
This year promises to be an exciting time at ATSU. Arizona School of Health Sciences (ATSU-ASHS) celebrates 20 years of educating graduate healthcare professionals. Missouri School of Dentistry & Oral Health (ATSU-MOSDOH) opens the St. Louis Dental Education and Oral Health Clinic, and Arizona School of Dentistry & Oral Health (ATSU-ASDOH) hosts national Give Kids A Smile Day. Several facilities in Kirksville, Mo., will undergo remodeling, and planning begins for a much-needed additional academic building on the Mesa, Ariz., campus. In addition, a new University strategic plan is in design for 2016-20.
It's all about students, faculty, staff, and alumni
Recently, an ATSU student commented on the University's increasing national recognition among healthcare and health education institutions, and I was proud to hear her story. Last summer she traveled to Texas for military training. Unsure if anyone would be familiar with ATSU or Kirksville College of Osteopathic Medicine (ATSU-KCOM), she was happy and relieved by many positive comments about the University's students and quality educational programs. She returned to campus confirming what she already knew regarding the quality of her educational experience and with additional pride many students and alumni have felt throughout the years. While traveling across the country on behalf of ATSU, I hear similar conversations each day in health centers, healthcare offices, clinics, hospitals, governmental offices, and schools. ATSU's recognition is clearly becoming more visible thanks to the excellent work of our students, faculty, staff, alumni, and community supporters.
Strategic Plan 2016-20
Everyone's thoughts and expertise are needed. While the Strategic Planning Committee is well represented within ATSU, outside eyes and minds are needed to assure a relevant comprehensive plan. Over the next several months, all ATSU community stakeholders will be invited to comment on the University's Strategic Plan draft. These comments will assist the Strategic Planning Committee and help set ATSU's future course. Whether through participation in a strategic planning virtual meeting, attendance at an on-campus event, or comments from home after reading the draft on ATSU's website, rest assured your thoughts and ideas will be shared with committee members for consideration.
ATSU-ASHS 20th Anniversary celebration
Congratulations ATSU-ASHS on 20 excellent years of educating healthcare professionals! With more than 7,800 alumni, ATSU-ASHS graduates are making a difference in the lives of many. Please join us Saturday, Jan. 24, 2015, on the Arizona campus to kick-off a year of celebration. Learn more about the anniversary event and RSVP.
ATSU-ASHS celebrates 20 years of education students for healthcare careers.
Scholarly activity
Following a year of discussions and planning, ATSU launched multiple initiatives to increase scholarly activity. Faculty and students now have additional opportunities to request internal support to explore sustainable projects. ATSU announced a groundbreaking initiative to collaborate with the National Association of Community Health Centers on research to improve the health of patients across the country. Also, ATSU held its annual Interdisciplinary Biomedical Research Symposium in November and its annual Interprofessional Education Collaborative Case Competition in December for both campuses. Read more information on ATSU's scholarly activity initiatives (pdf).
Students, faculty, and staff from regional universities attend ATSU's annual Interdisciplinary Biomedical Research Symposium on Nov. 1, 2014.
2014-15 initiatives
Innovation Imagine printing a custom splint, orthotic, mouth guard, 3-D model of a patient's injury or neoplasm for education or treatment planning, and just about anything else a patient may need. 3-D printers will soon arrive on both campuses stimulating innovation in educational and patient care areas. Ann Boyle, DMD, MA, associate vice president, academic innovations, has developed a list of speakers to present and lead discussion on innovation. Ted Wendel, PhD, senior vice president of strategic initiatives, and Matt Heeren, JD, vice president and general counsel, are leading innovation discussions in support service areas. ATSU continues to lead in innovative educational partnerships, curriculum development, interprofessional education, and program development. Global health Norman Gevitz, PhD, senior vice president – academic affairs; Lori Haxton, MA, vice president for student affairs; and Gary Cloud, PhD, vice president of strategic university partnerships, are gathering information and will be hosting virtual and public forums to discuss ATSU's potential role in global health professions education and learning opportunities for students and faculty. Findings will be shared in a white paper for consideration in ATSU's 2016-20 strategic planning process. Clinical education and residency opportunities Dr. Gevitz, along with Leonard Goldstein, DDS, PhD, assistant vice president, clinical education development, have been working with deans, program chairs, faculty, and staff to assure ATSU is meeting existing student clinical rotation needs and planning for the future. Supporting development of new residency programs is also a priority. ATSU-ASHS recently welcomed the inaugural class of physical therapy neurological residents. Richard LaBaere II, DO, MPH, FAODME, associate dean, Still OPTI, continues collaboration with leadership from ATSU-KCOM and ATSU-School of Osteopathic Medicine in Arizona (ATSU-SOMA) on residency development.
Meet us in St. Louis
ATSU-MOSDOH, in partnership with Grace Hill Health Centers Inc., will open a state-of-the-art dental education and oral health clinic June 2015 in St. Louis. Dental students will spend their third year and approximately half of their fourth year in the St. Louis clinic. The remainder of the students' fourth year of study will occur in community health centers and other safety net clinics in Missouri and the Midwest, including our partner in Kirksville – the Northeast Missouri Health Council. Please watch for email invitations to several open house events this spring and summer.
ATSU-MOSDOH's St. Louis Dental Education and Oral Health Clinic will open June 2015.
Welcome
The University welcomed a new member to the President's Cabinet representing areas of finance and advancement: Richard (Rick) Rieder, MBA, MM, vice president of finance/chief financial officer, began Oct. 1, 2014.
Faculty and staff accomplishments (July 1-Dec. 31, 2014)
Congratulations on recent promotions Read the complete list of employee promotions (pdf). Accomplishment kudos Katherine Adler, DHA, associate dean, academic success and assessment, ATSU-College of Graduate Health Studies (ATSU-CGHS), received the Kirksville Kiwanis Club's Kiwanian of the Year award for outstanding service to the club and community. Adler's husband, Felix, was also honored, marking the first time the club presented a joint award. George Blue Spruce Jr., DDS, MPH, assistant dean for American Indian affairs, assistant professor, ATSU-ASDOH, was honored on the Missouri and Arizona campuses for his lifetime contributions, and the Hero Healer Speaker Series was rededicated in his name. Michael Chang, MNpS, assistant director, alumni relations, ATSU, received the Arizona campus Employee Excellence Award for third quarter 2014. Ruth Chronister, administrative assistant, pharmacology, ATSU-KCOM, received the Missouri campus Employee Excellence Award for second quarter 2014. Jack Daniels, PhD, MEd, associate professor, kinesiology, ATSU-CGHS, and Sarah Johnston, PhD, assistant professor, kinesiology, ATSU-CGHS, had their abstract, "Daniels' Distance Runners – An Investigation of Cardiovascular Fitness over 45 Years," accepted for oral presentation at the International Sports Science Symposium in July. Dr. Daniels was also asked to be the keynote speaker for the conference. Randy Danielsen, PhD, PA-C, DFAAPA, dean, ATSU-ASHS, presented at the Association for Medical Education in Europe annual meeting in Milan, Italy, on Sept. 1. Dr. Danielsen was also appointed to a four-year term on the Arizona Regulatory Board of Physician Assistants. Jim Farris, PT, PhD, and faculty and staff from ATSU-ASHS' Physical Therapy department received official notification awarding maximum allowed accreditation for its Physical Therapy program from the Commission on Accreditation for Physical Therapy Education. Jaana Gold, DDS, PhD, associate professor, ATSU-CGHS, had her abstract, "Oral Health Community Program," selected for oral presentation at the National Primary Oral Health Conference held Aug. 17-20, in Lake Buena Vista, Fla. Leonard Goldstein, DDS, PhD, was appointed assistant vice president for clinical education development – academic affairs, effective Sept. 15, 2014. Jason Haxton, MA, director, Museum of Osteopathic MedicineSM, received an honorary diploma in osteopathy from Verband der Osteopathen Deutschland, the oldest osteopathic organization in Germany, for providing the first international exhibit in Germany, as well as subsequent lectures, exhibits, and research support. Brian McCarty, support specialist, ITS customer service, received the Missouri campus Employee Excellence Award for third quarter 2014. Bob McMullen, EdD, PA-C, director of assessment, technology, and research, physician assistant studies, ATSU-ASHS, received an award of appreciation from Northern Arizona University's Department of Physician Assistant Studies for his contribution to student learning and teaching by example. Robin Michela, assistant curriculum coordinator, ATSU-SOMA, received the Arizona campus Employee Excellence Award for second quarter 2014. Eric Sauers, PhD, ATC, FNATA, '97, professor and chair, interdisciplinary health sciences, ATSU-ASHS, received the ATSU-ASHS Alumni Chapter Board Living Tribute Award for 2014-15 and the Founders Award from the American Society of Shoulder and Elbow Therapists on Oct. 11. Gene Winfield, DO, associate professor, clinical science education, ATSU-SOMA, passed his board recertification in internal medicine. Well wishes to faculty and staff celebrating anniversary milestones Read the complete list of employee anniversaries (pdf).
With gratitude
Thank you for taking a few moments to catch up on the many wonderful people, events, and news at ATSU. Best wishes for a healthy and prosperous 2015. Yours in service,
      Craig M. Phelps, DO, '84 President