President's Perspective – July 2013
Posted: July 8, 2013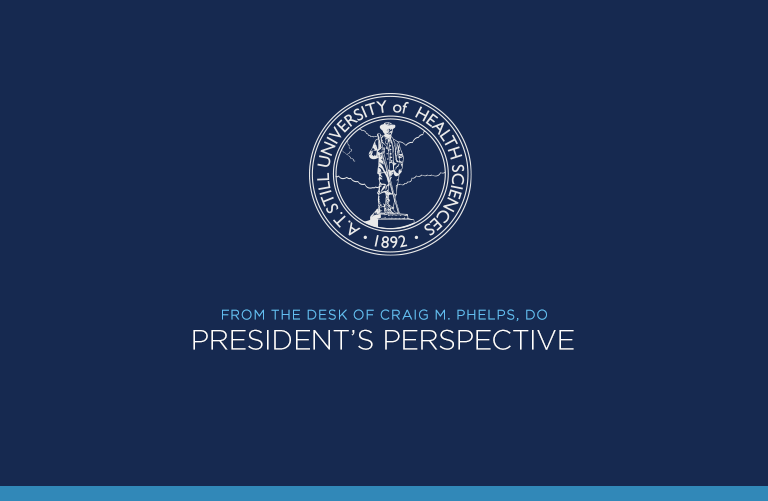 Graduation is always a special time at A.T. Still University, and 2013 spring and summer commencement ceremonies were no exception. As ATSU students, faculty, and staff gathered to celebrate across both campuses, we are reminded of the important role this institution fulfills in our nation's healthcare system. More than 120 years ago A.T. Still, MD, DO, encouraged a new paradigm in healthcare. A paradigm perhaps more important today than any time in ATSU's history as America and other countries look toward prevention and population health as means to provide quality care. Preparing students Today's healthcare provider needs additional knowledge, skills, and talents to merge prevention with treatment, technology with touch, teamwork with sub-specialization, analytics with personalization, and management with leadership. Patients, employers, and payors want (demand) professionals committed to providing the very best quality care, at a fair price. ATSU is committed to graduating students with abilities to lead in delivering care in this new paradigm incorporating whole person healthcare and osteopathic tenets. As ATSU embarks on updating its strategic plan for 2015-2020, focusing on preparing graduates for tomorrow's rapidly evolving healthcare environment will be forefront. While it will be challenging, our faculty and staff understand the necessity and are up to the challenge. Graduations KCOM commencement was held Saturday, May 18, in Baldwin Auditorium on the Truman State University campus in Kirksville, Mo. A total of 185 graduates received master of biomedical sciences degrees (7) or doctor of osteopathic medicine degrees (178). The keynote speaker was J.D. Polk, DO, MS, MMM, CPE, FACOEP, '93, principal deputy assistant secretary for health affairs and deputy chief medical officer of the Department of Homeland Security. Dr. Polk received the honorary doctor of science in osteopathy degree; and Paul M. Williams, DO, '64, and Michael K. Willman, DO, '65, received honorary doctor of science in education degrees.
Dr. Willman, Dean Wilson, and Dr. Williams
ASDOH held commencement exercises Friday, June 7, at Orpheum Theatre in Phoenix, Ariz. Graduates received the doctor of dental medicine (64), doctorate of health sciences (5), and master in public health degrees (23), as well as certificates in orthodontics and dentofacial orthopedics (5). The commencement address was delivered by Claude Earl Fox, MD, MPH, professor emeritus in the department of epidemiology and Miller School of Medicine at the University of Miami, adjunct professor at Florida Atlanta, University, and founding director of the Florida Public Health Institute. Dr. Fox received the honorary doctor of humane letters degree.
Monica DiGiovanni; Robert DiGiovanni, DO, '82; President Phelps; Rachel DiGiovanni, DMD, '13, MPH, '12; Ernest DiGiovanni, DO; and Leonard G. DiGiovanni, DO, '63
SOMA commencement was held Friday, June 7, at Orpheum Theatre in Phoenix, Ariz., with 98 graduates receiving the doctor of osteopathic medicine degree. Thomas E. McWilliams, DO, FACOFP, '76, associate dean of graduate medical education, delivered the commencement address.
Dean Kalousek
A big thank you to all ATSU faculty and staff and commencement volunteers. Upcoming commencements: SHM on July 13 in Kirksville, Mo., and ASHS on Aug. 2 in Phoenix, Ariz. Facilities update ATSU recently purchased approximately two acres for MOSDOH's third- and fourth-year dental clinic in St. Louis. Located on the southeast corner of Truman Parkway and Park Avenue, the site offers many amenities including housing and convenient public transportation access for patients, students, faculty, and staff. Arizona campus construction of the Center for Advanced Oral Health is complete. Missouri campus Interprofessional Education and Dental School (IPEDS) building is nearing completion and occupancy. Faculty and staff accomplishments (as of June 30, 2013) Congratulations to the following on recent promotions:
Kristin Blunk, director of academic services and support, MOSDOH
Elizabeth Curran, DT, CDT, associate professor, ASDOH
Wayne W. Cottam, DMD, MS, associate professor, ASDOH
Rachel Diamant, PhD, OTR/L, BCP, professor, ASHS
Bradley Downing, DO, assistant professor, SOMA
Mellissa Eisenmann, executive assistant, ASHS
Keith Elmslie, PhD, professor, KCOM
Lesley Gilmer, PhD, director/assistant professor, ASHS
Christina Griffin, PhD, OTR/L, FAOTA, emeritus professor, ASHS
Virginia Halterman, interim co-vice president, communication & marketing, ATSU
John Heick, PT, DPT, OCS, associate professor, ASHS
Mara Hover, DO, associate professor, SOMA
Angela James, assistant director of admissions, ATSU
Peter Kondrashov, PhD, professor, KCOM
Joy Lewis, DO, PhD, FACP, associate professor, SOMA
Barb J. Magers, research coordinator, ATSU
Kathleen Mathieson, PhD, associate professor, ASHS
Carolyn McCarty, coordinator of student financial services, ATSU
Ruth Michaelis, MD, clinical associate professor, SOMA
John Olson, PhD, professor, SOMA
Eric Parsons, MD, clinical associate professor, SOMA
Greg Rubenstein, MA, interim co-vice president, communication & marketing, ATSU
Leslie Schmeltz, AuD, associate professor, ASHS
Tessa Tibben, MS, assistant professor/clinical coordinator, ASHS
Dustin Usher, network security analyst, ATSU
Lisa Watts, DO, associate professor, SOMA
Katelyn Wiggans, executive assistant, ATSU
Gene Winfield, DO, associate professor, SOMA
Janet L. Woldt, PhD, MS, associate professor, ASDOH
Meghan Woolbright, conservator, ATSU
Ryan Yontanza, desktop analyst, ATSU
Kudos to the following on their accomplishments: Darien Belluomini, senior administrative assistant, ASHS dean's office, received the Arizona campus Employee Excellence Award for the first quarter of 2013. Ann Lee Burch, PT, MS, MPH, EdD, vice dean and associate professor, ASHS, was named a Distinguished Fellow of the Research Group on Disparities in Health, Teachers College, Columbia University in N.Y. Yingzi Chang, MD, PhD, assistant professor, received the 2013 KCOM A.T. Still Staff Award for Excellence in Teaching. Joseph C. Creech, Jr., DDS, associate professor and director of pediatric dentistry, ASDOH, was elected president of the American Board of Pediatric Dentistry. Randy Danielsen, PhD, PA-C, DFAAPA, dean, ASHS, was appointed by the Physician Assistant Education Association to their Pulse of the Profession Panel. John Fick, EdD, FACHE, associate professor, SHM, was appointed to the Editorial Board of the Journal of Healthcare Management. John Grider, DO, assistant professor, received the 2013 KCOM A.T. Still Staff Award for Excellence in Teaching. Stanley E. Grogg, DO, FACOP, FAAP, '71, ATSU trustee, received the 2013 Outstanding Physician of the Year award from the Osteopathic Founders Foundation. Jason Haxton, director, and Debra Loguda-Summers, curator, Museum of Osteopathic MedicineSM, were inducted into the honorary status of "The Compagnons" by the Collége d' Études Osteopathiques in Quebec, Montreal. Joyce Haynie, MEd, administrative coordinator, ATSU, received her doctorate of health sciences from SHM. Kevin Marberry, MD, associate professor and chair of surgery, KCOM, was accepted for the International Cartilage Repair Society Traveling Fellowship. John Robert "Bob" McMullen, MS, PA, associate professor, ASHS, received his doctorate of education in healthcare education from Nova Southeastern University. Scott G. Myers, DMD, assistant professor, ASDOH, was selected as an American Dental Education Association Leadership Institute Fellow for 2014. Dan Panico, safety coordinator, Arizona campus, received his associate in applied science degree in occupational safety and health technology from Gateway Community College. Tabitha Parent Buck, AuD, professor and chair, audiology, ASHS, received the 2013 Oticon Focus on People award. Jae Hyun Park, DMD, MSD, MS, PhD, director, postgraduate orthodontic program, ASDOH, was appointed an editor for Edorium Journal of Dentistry. Dr. Park has also been appointed an examiner for the American Board of Orthodontics. Randy Rogers, CFP, interim vice president – university advancement, received the annual Distinguished Service Award. Cecelia Sartor-Glittenberg, MS, PT, NCS, associate professor, ASHS, is working on her doctorate degree from Trident University and successfully defended her dissertation. Jean Sidwell, MALS, director of the A.T. Still Memorial Library, Missouri campus, and adviser for American College of Osteopathic Pediatricians Club, received the 2012-13 Excellence in Advising award. Yvette Thornton, RDH, participation coordinator, ASDOH, received the Maricopa County Oral Health Leaders Advocates and Resources Member of the Month Award for March 2013. Roy Turner, technician in the KCOM instrumentation shop, received the Missouri campus Employee Excellence Award for the first quarter of 2013. Arizona campus Student Government Association presented faculty awards to: John Payne, DDS, ASDOH; Jay Crutchfield, MD, SOMA; Andrea Ruotolo, AuD, audiology, ASHS; Melissa Clark, MS, OTR/L, CES, CHT, occupational therapy, ASHS; Monica Fernandez, MMS, PA-C, physician assistant, ASHS; Tammy Roehling, PT, DPT, physical therapy, ASHS; and John Parsons, PhD, ATC, athletic training, ASHS. ASDOH received the Outstanding Education Program Award from the Association for Prevention Teaching and Research. ATSU Communication & Marketing staff received three 2013 American Inhouse Design Awards from Graphic Design USA – Still Magazine online, for the Student Connect logo used in the Still-Well Newsletter, and for the 2011 Annual Report. KCOM Microbiology and Immunology Department received the 2013 AACOM Society of Osteopathic Medical Education Innovation in Medical Education Award. Newly elected to University Faculty Senate: Grace Stewart, MD, assistant professor, SOMA; Roy Holexa, DDS, assistant professor, ASDOH; and Tamara Valovich McLeod, PhD, ATC, professor, ASHS. ATSU faculty who presented at the 2013 AACOM annual conference:
Deborah M. Heath, DO, associate professor, SOMA, and Malinda Hansen, MS, OMS II, SOMA, "Pair and Share: Employing Discipline-Specific Screening Exams to Find Common Ground in an Interprofessional Experiential Program."
Daniel B. Hilton, OMS III and anatomy fellow, KCOM, "A Medical Student-driven iPad Initiative."
Jonathan R. Kirsch, DO, associate professor, SOMA, and Patricia S. Sexton, DHEd, associate dean of curriculum, KCOM, "Learning Communities to Enhance Medical Education Across the Continuum."
Joy H. Lewis, DO, PhD, associate professor, SOMA, "Simultaneous Auscultation Using Electronic Stethoscopes and Mobile Applications for Community-based Medical Student Education."
Joy H. Lewis, DO, PhD, associate professor, SOMA, and Lise McCoy, MTELS, curriculum specialist, SOMA, "Factors Related to Medical Student Selection of Primary Care or Needed Specialty Residencies."
Frederic N. Schwartz, DO, FACOFP, associate dean for community campuses and professor, SOMA, "The Games People Play: Live Demonstrations of Deliberate Practice and Contextual Learning" and "THC GME Consortium to Increase Primary Care Provider Base."
Well wishes to faculty and staff celebrating anniversary milestones: 15-year anniversary
Clyde Potter, environmental services, ATSU
10-year anniversary
Kimberly Blackman, director of continuing education, ATSU
Wayne Cottam, DMD, MS, associate professor, ASDOH
Linda Wheelis, manager, advanced physician assistant program, ASHS
5-year anniversary
Colette Beck, patient services coordinator, ASDOH
Patricia Beré, MBA, senior director of development, ATSU
Megan Bonham, assistant director–admissions support, ATSU
Gary Brandeberry, boiler plant operator, ATSU
Rachael Casey, residential student account coordinator, ATSU
Helen Ewing, RN, DHSc, associate professor, ASHS
Philip Grunder, rotation site coordinator, KCOM
Laura Harvey, MBA, academic success coordinator, SHM
Douglas Hill, DDS, CCU director, ASDOH
Brooke Kelsey, MBA, associate director of development, ATSU
Lisa Kulkami, CDA, lead dental assistant, ASDOH
Terra Lee, instructional coordinator, KCOM
Scott Levy, support specialist, ATSU
Robert Long, technician, ATSU
Dianna Mullinix, patient service coordinator, KCOM
Daniel Ochoa, general maintenance assistant, ATSU
Anna Self, MBA, director sponsored programs, ATSU
Tiana Toovey, dental assistant, ASDOH
Jennifer Tuttle, supervisor of curriculum, KCOM
Amie Waldemer, MBA, associate director, ATSU
Lisa Watts, DO, assistant professor, SOMA
Cathy Wood, administrative support, KCOM
Welcome Norman Gevitz, PhD, senior vice president – academic affairs Dr. Gevitz began July 1, 2013. We are pleased and excited to welcome him to the ATSU family. Summer and family For many, summer offers a few weeks to spend time with family and friends. Just as importantly, being off-campus or off–line can renew our enthusiasm for ATSU and those we serve and work with each day. Yours in service, Craig M. Phelps, DO President