President's Perspective – ATSU celebrating accomplishments
Posted: March 5, 2013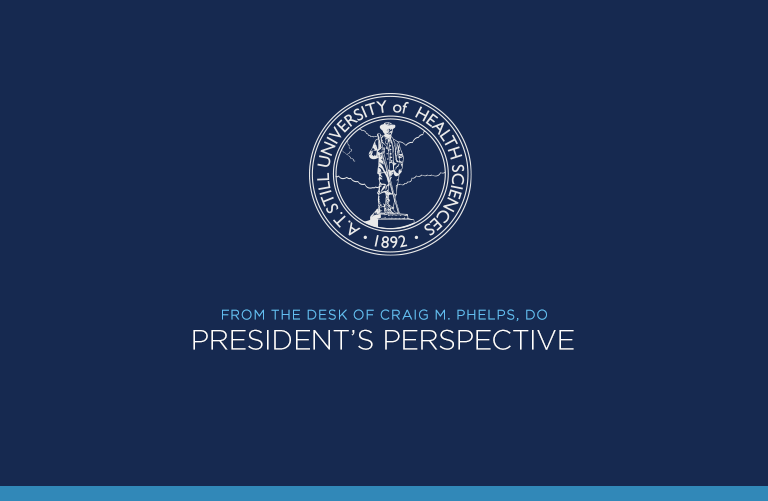 This winter co-workers frequently traveling between Kirksville, Mo., and Mesa, Ariz., faced some unique weather fluctuations to say the least. I can recall one morning waking with single digits outside followed by landing in 80° weather later in the day. One week it snowed in Phoenix and Kirksville. Classes on the Missouri campus were canceled for a day – a rare occurrence. Regardless, it always feels like home when stepping on either campus. Thank you to all who warm the hearts and minds of our students, faculty, and staff.
Strategic initiatives
Thank you to everyone who contributed to ATSU's three strategic initiatives for 2012-2013. Many useful and thoughtful comments were received and incorporated into each final white paper draft.
Diversity in health professions education brings many challenges and opportunities. ATSU will soon begin searching for a director of diversity, with a goal date of employment July 1, 2013.
The Center for Teaching and Learning Excellence initiative also received many exceptional comments. Funds will be budgeted for the upcoming fiscal year, and ATSU's new vice president for academic affairs will be leading the center start-up.
Thanks to many engaged faculty and students, interprofessional education (IPE) has made excellent progress during this academic year. ATSU's deans continue to work with faculty, students, and staff regarding IPE's role in their respective program(s) while also visioning opportunities across schools and programs and with other institutions. Barbara Maxwell, PT, DPT, will be leading IPE at the University level as interim director of interprofessional education.
Team makes history
Creating new primary care residencies for graduating DO and MD students is a national priority. A team of ATSU-SOMA faculty, staff, and administrators accomplished the unbelievable in record time, when their efforts combined with those from The Wright Center for Graduate Medical Education resulted in funding exceeding $4 million to launch 29 first-year primary care residencies per year in community health centers. If successful, this model may provide an additional mechanism for graduate medical education funding.
Congratulations and thank you to Thomas E. McWilliams, DO, FACOFP; Joy Lewis, DO, PhD, FACP; Fred Schwartz, DO; and Lisa Watts, DO.
Give Kids a Smile® Day (GKAS) sets record
On February 15, 2013, ATSU-ASDOH students, faculty and staff, alumni, and community volunteers provided oral healthcare to a record 364 children. If not the nation's largest GKAS Day, it is in the top 2-3. ASHS physical therapy students and faculty also provided safe backpack use tips and postural education.
Congratulations and thank you to all participants especially co-chairs Charlie Brown, D3, and Jessica Lecy-Hunter, D3.
ATSU Board of Trustees
ATSU's governance model allows meaningful interaction between trustees and ATSU constituencies. Last October trustees participated in Founder's Day activities across the Missouri campus. On February 15 and 16, 2013, on the Arizona campus, members attended Give Kids a Smile® Day; reviewed posters on IPE; and interacted with faculty, staff, students, alumni, and former trustees. Future board meetings will continue featuring University schools, programs, initiatives, faculty, and students. Trustees deeply enjoy and appreciate these interactions.
AFA Balance and Hearing Institute grand opening
The grand opening of ATSU's Audiology Foundation of America (AFA) Balance and Hearing Institute was held on March 1, 2013. David Goldstein, PhD, and Deborah Price, AuD, from the AFA attended the opening and ribbon cutting. Congratulations to Tabitha Parent Buck, AuD, audiology chair; Troy Hale, AuD, FAAA, director; and audiology faculty and staff. Thank you to the AFA for its generous gift to establish the institute.
ASHS commencement
Saturday, March 2, 2013, ATSU-ASHS winter commencement was held at Gammage Auditorium in Tempe, Ariz., with a total of 164 graduates receiving master's degrees in advanced physician assistant studies (20) and human movement (14), transitional doctorates in audiology (60) and physical therapy (50), and doctorates in health sciences (20). Keynote speaker was Michael R. Milner, DHSc, PA-C, rear admiral, assistant U.S. surgeon general, U.S. Public Health Service (retired), dean and professor, Massachusetts College of Pharmacy and Health Science School of Physician Assistant Studies, Boston, Mass. Dr. Milner received an honorary degree, doctor of humane letters. Thank you ASHS faculty and staff and commencement volunteers.
Communications and marketing
ATSU's website development is rapidly progressing, and new pages will be unveiled for our home page and online programs before the end of this fiscal year. Social media plays an important role in ATSU's branding strategy, and we are also preparing to launch initiatives on LinkedIn and Facebook where our communities (stakeholders) can connect. I'm excited with what I've seen so far; and I know you will be, too.
Faculty and staff
Congratulations to the following on his/her recent promotion through February 28, 2013:
Martina Allen, OTD, OTR/L, assistant professor, ASHS
Melynda Blackburn, clinical affairs unit manager, SOMA
Jacqueline Forsythe, MBA, vice president of communication & marketing, ATSU
David Koenecke, DC, assistant vice president of admissions, ATSU
George Magnus, CDA, MPH, radiology technician II, ASDOH
Donna McBride, clinical education coordinator, SOMA
Ian McLeod, MEd, assistant professor, ASHS
Brooke Robinson, educational specialist, MOSDOH
Sondra Sanford, MSW, career center associate, SHM
Eric Snider, DO, acting chair of neurobehavioral sciences, KCOM
Kudos to the following:
Jeffrey Alexander, PhD, associate professor, interdisciplinary health sciences – doctor of health sciences programs, received the 2012 ASHS Scholar of the Year Award.
Carolyn Baber, administrative assistant for ASDOH, received the Employee Excellence Award on the Arizona campus for the fourth quarter of 2012
Mary Carter, payroll coordinator, received the Employee Excellence Award on the Missouri campus for the fourth quarter of 2012.
Sandy Catlett, administrative assistant in KCOM anatomy, received the Employee Excellence Award on the Missouri campus for the third quarter of 2012.
Tom DiDonna, DHSc, MSN, RN, adjunct professor, ASHS, received the ASHS Humanitarian of the Year Award.
Michelle Gross-Panico, RDH, MA, assistant professor, ASDOH, received her doctor of health sciences degree with an emphasis in global health from Nova Southeastern University.
Dan Panico, safety coordinator, received the Employee Excellence Award on the Arizona campus for the third quarter of 2012.
Wayne Smith, PT, DPT, SCS, CMT, ATC, associate professor, ASHS, received his musculoskeletal ultrasound credentialing from the American Registry for Diagnostic Medical Sonography.
Tim Tucker, MSPH, director of learning resources, KCOM, received the Fall 2012 Above and Beyond Humanitarian Award for KCOM.
In partnership with San Ysidro Community Health Center, ASDOH leadership dedicated the Adult Special Needs Dental Clinic at King-Chavez Health Center in San Diego on February 23.
Communication & Marketing received the following Council for Advancement and Support of Education (CASE) awards:
College and University General Interest Magazines (circulation <29,999): Still Magazine(Bronze)
Print Periodical Publishing Improvement – Magazine Publishing Improvement: Still Magazine (before and after, Gold)
Excellence in Design – Covers: Still Magazine, summer 2012 (Gold)
Web Magazines: stillmagazine.atsu.edu (Gold)
Individual Student Recruitment Publications – Recruitment Search Publications, Miscellaneous Flyers, and Brochures: rural + urban – One university, two unique campuses brochure (Silver)
ATSU faculty and staff celebrating 5-, 10-, and 15-year anniversary milestones.
5-year anniversary
Eppie Tillotson, MA, coordinator, ATSU
Cynthia Kaye, senior executive assistant, ATSU
Noel Carrasco, MD, professor, SOMA
Yenping Kuo, PhD, professor, SOMA
Philip Williams, network technician, ATSU
Edward Moticka, PhD, professor, SOMA
Robert Bowman, MD, professor, SOMA
Miguel Castaneda, general maintenance assistant, ATSU
Tresa Moralez, administrative assistant, ASHS
Zhiping Jia, research technician, KCOM
Keith Trisilla, technician, SOMA
10-year anniversary
Robert Ligorsky, DO, associate regional dean, KCOM
Julie Bauer Cook, MA, director, ATSU
15-year anniversary
James Roush, PhD, PT, ATC, ATL, professor, ASHS
Carolyn Stanley, clerical support, ATSU
Sorry if I missed you. It seems this time of year we are so busy with our programs/departments and University duties it is easy to miss many of our colleagues' wonderful accomplishments. With over 3,183 students, 717 full-time and 1,124 part-time faculty and staff, there is a lot happening every day at ATSU. If someone you know was missed in this "Perspective" and deserves a special mention please, forward her/his name to cphelps@atsu.edu; and I will "get the word out."
Yours in service,
Craig M. Phelps, DO
President