Poster and survey results highlight the value of 3-D print service for ATSU students
Posted: November 30, 2017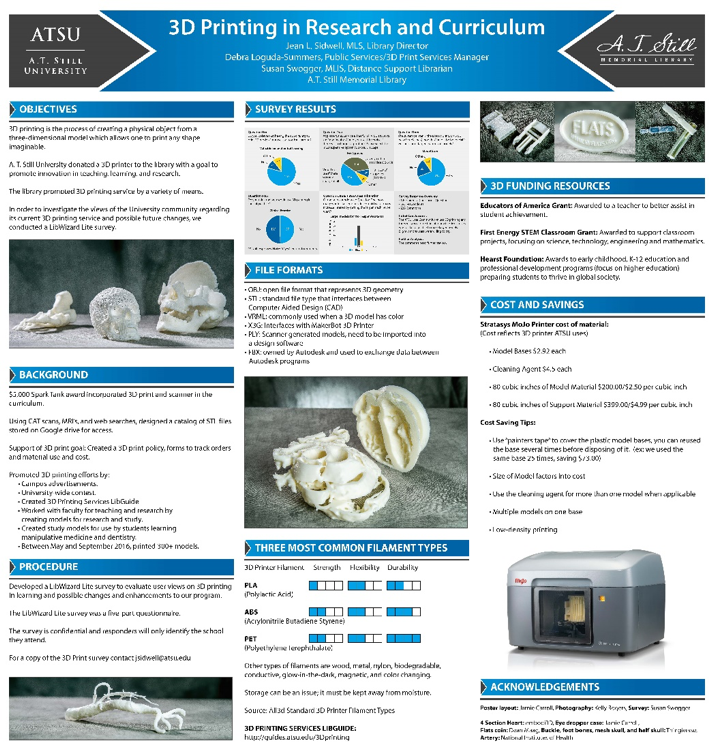 Jean Sidwell, MLIS, library director; Debra Loguda-Summers, public services manager; and Susan Swogger, MLIS, liaison librarian, authored a poster entitled "3-D Print in Research and Curriculum," which was presented to the Missouri Library Association annual conference at the Sheraton Westport Chalet in St. Louis. The poster was well received and the only one on 3-D printing.
The poster described ATSU's 3-D printing services and a five-question survey sent to all ATSU students, faculty, and staff regarding this service. The graphs show the results of the over 280 students, faculty, and staff who responded to the survey. While additional analysis is ongoing, initial results show that a majority of students and faculty appreciate and are interested in this service and can find ways to use it in their education and later clinical practice.
The service is currently subsidized, and thus available at no cost to users; results indicate that this should remain free if at all possible in order to promote experimentation and equity of access.