Physician assistant student says atmosphere, University mission led her to choose ATSU-ASHS
Posted: April 21, 2023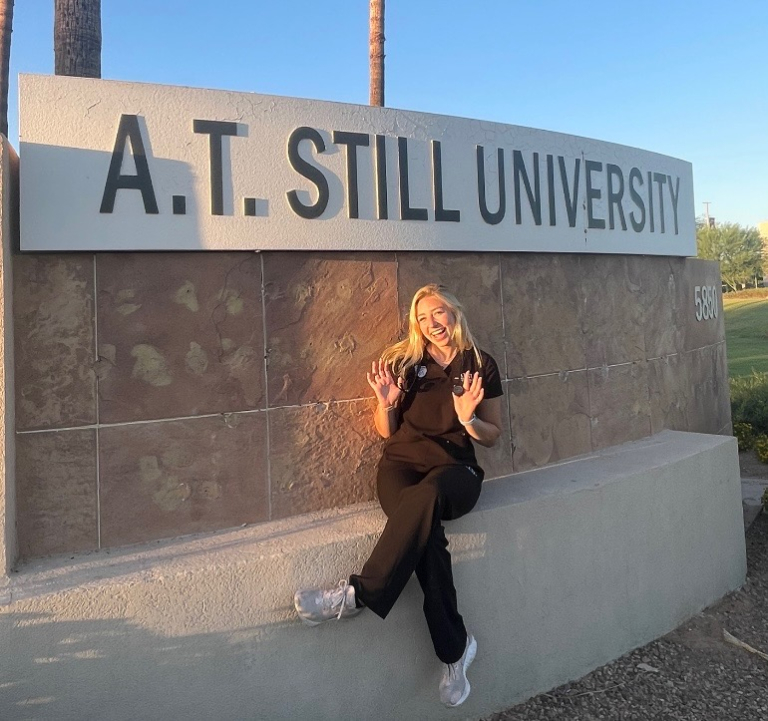 Brielle Hannah Goldberg, PA, '24, poses on ATSU's Mesa, Arizona, campus.
First impressions aren't the only thing, but in the case of A.T. Still University-Arizona School of Health Sciences' (ATSU-ASHS) Physician Assistant (PA) program student Brielle Hannah Goldberg, PA, '24, they were a big part of why she decided to relocate across the country for her graduate health sciences education. 
"During the interview, I was able to have multiple one-on-one conversations with several of the faculty members, which allowed me to gain valuable insight into what my relationship could be like with my professors. All of them were incredibly friendly, and even in the short conversations I had with them I could tell they were all super passionate about what they do as clinicians and as teachers," she said.
"In addition, when I toured the campus and met some of the first-year PA students, I instantly felt welcomed and could see myself fitting right in and making so many new friends without even knowing anyone in the area. Lastly, the mission statement involving whole person healthcare and serving underserved populations really resonated with me, because I felt I could make a big difference within the community."
Originally from Washington Crossing, Pennsylvania, Goldberg attended the University of Wisconsin, Madison, and earned a bachelor's degree in athletic training. She decided upon a future career as a physician assistant, and specifically would like to seek something in emergency care or cardiology.
"I am very passionate about both of these fields and feel that I can do the most I can to help my community through these areas," Goldberg said. "ATSU is not only providing me with all the academic information I need to know in these fields, but also grants me amazing opportunities to shadow such impressive clinicians. For example, I was able to shadow Dr. Jeffrey Butler at Banner Boswell Medical Center in the emergency department during his overnight shift, which gave me insight into a field I am interested in pursuing. Also, our faculty members still practice as clinicians, so they are able to discuss their personal experiences in a variety of fields and what stood out to them the most."
When she began her coursework in Mesa, Arizona, Goldberg remembered how influential student ambassadors were when she made her graduate school decision. Given her passion for the program, school, and faculty, becoming a student ambassador herself was a natural fit.
Goldberg also loves exploring the Mesa area, seeking new adventures and experiences by hiking the nearby mountains, taking road trips with friends, and sampling the different culinary options available.
All of it blends together for a comprehensive student experience, one Goldberg is enjoying every moment of, and with a true sense of purpose.
"One of my favorite things about being an ATSU student is how much we truly follow through with our mission statement to help underserved populations. For example, we were able to volunteer as medical triage personnel during Mission of Mercy, where people could get free dentistry care," she said. "Also, I enjoy the sense of community that is instilled within our school. For example, we have events such as Founder's Day where we are able to gather on the lawn to play games, eat and hang out with friends and faculty."