Physician assistant alumni reception held at ASAPA Conference
Posted: March 21, 2014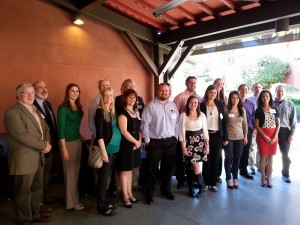 Photo by ATSU PA program faculty member Gerry Keenan, PA-C
Physician assistant (PA) alumni and students in attendance at the Arizona State Association of Physician Assistants (ASAPA) Conference reconnected with one another and heard updates about the Arizona School of Health Sciences (ATSU-ASHS) and the PA program from ATSU-ASHS Dean Dr. Randy Danielsen, and PA program director, Dr. Bert Simon. Below is a summary of their updates:
The PA department's faculty and staff have put in much hard work preparing for a recent site visit by the Accreditation Review Commission (ARC). The site visit went very well and currently the Department of Physician Assistant Studies is awaiting ARC's response.
The Department of Physician Assistant Studies is always ready to welcome more preceptors to ensure students receive quality clinical experiences. If you are interested in becoming a preceptor, please contact Dr. Laura Witte at lwitte@atsu.edu.
As ATSU-ASHS and the Department of PA Studies continue educating future generations of PAs and expanding our network of quality alumni, we look to supporters like you to help them through their journey. One of the many meaningful ways to show your support is to sponsor a student's white coat. More information about sponsoring a white coat for a student can be found here.
The next PA alumni reception will be held on May 24th in Boston in conjunction with the AAPA Annual Conference. More details can be found here.
More photos can be viewed on the alumni Facebook page.