Physical therapy alumni reception held
Posted: February 13, 2014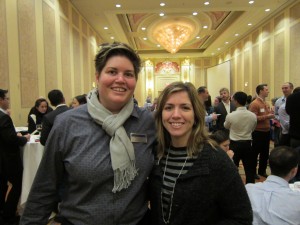 Alumni, faculty, students, and guests reconnected during the American Physical Therapy Association's Combined Sections Meeting in Las Vegas. They received updates from Ann Lee Burch, PT, MS, MPH, EdD, vice dean; Jim Farris, PT, PhD, chair of physical therapy; and Trisha Perry, PT, DPT, '07, ASHS Alumni Board Member. Below are some of the highlights:
ATSU's Arizona School of Health Sciences (ATSU-ASHS) continues to be ATSU's largest school, with nine programs, more than 1,000 students, and 6,500 alumni. Plus, ATSU-ASHS 20-year anniversary is coming up next year! ATSU-ASHS continues to be recognized locally and nationally for its evidence-based approach to healthcare and education.
The physical therapy programs are the largest residential and online programs at the University and remain very strong. There is a 99% graduation rate from the residential program, and the online program has had more than 1,100 graduates since 2002.
As we continue educating future generations of physical therapists and expanding our network of quality alumni, we look to supporters like you to help them through their journey. One of the many meaningful ways to show your support is to sponsor a student's white coat. For more information and to give a white coat, please click here.
Additional photos can be viewed on the alumni Facebook page.