Perfect match: ATSU students donate life-saving marrow to patients in need
Posted: December 8, 2017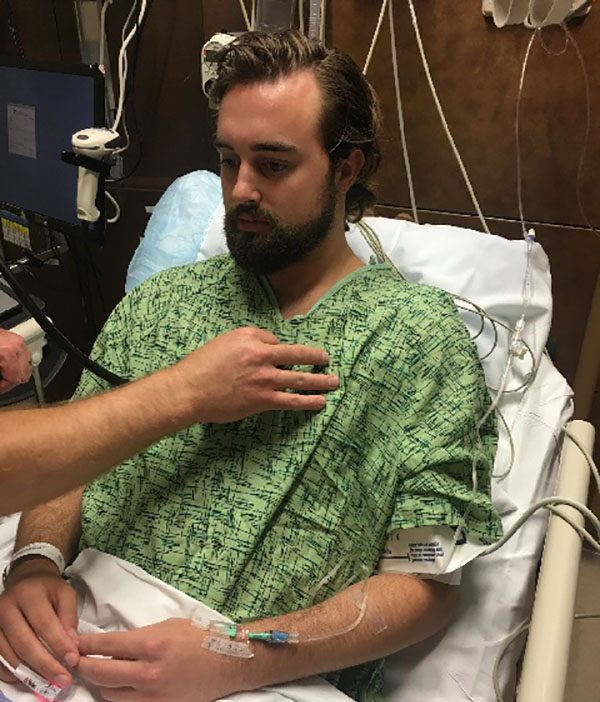 ATSU-MOSDOH's Jonathan Pyle, D2, donates bone marrow.
Alex Dwyer, OMS III, and Jonathan Pyle, D2, just wanted to do the right thing. That's why they decided to become marrow donors. After discovering how much of an effect they could have as donors, both students felt it was necessary to sign up. Ultimately, they were able to save the lives of patients desperately in need.
Dwyer made the decision to become a donor while he was an undergraduate student at the University of Missouri, prior to attending ATSU-KCOM. He was walking by an information booth about bone marrow donations during a homecoming blood drive and made the decision immediately.
"I couldn't think of a reason not to be a donor," says Dwyer. "It's such a minor inconvenience, and you're helping people who are going through terrible diseases."
After becoming part of the registry, Dwyer received a call eight months later. A patient diagnosed with Acute Myeloid Leukemia was in need of a bone marrow transplant to survive, and Dwyer was a match. Because of his donation, the patient is still alive today.
Pyle's reasoning for becoming a donor was similar to Dwyer's. The ATSU-MOSDOH student did what he thought anyone else would do and signed up at an informational booth on ATSU's Missouri campus.
Through his donation, Pyle was able to save an infant suffering from Wiskott-Aldrich syndrome. Individuals with Wiskott-Aldrich syndrome typically have a decrease in the number and size of blood cell fragments involved in clotting. They are also at risk for infections, autoimmune diseases, lymphoma, and bleeding problems. The infant patient who received Pyle's donation is still under care, but his chances of survival have increased substantially with the donation.
Marrow donations offered these two  patients the best chance for survival. Unfortunately, roughly 70 percent of patients who need a transplant do not have a fully matched donor in their family. Knowing this, Dwyer and Pyle knew they had to do everything they could to help.
There are two main methods of marrow donation. One is via peripheral blood stem cells (PBSC). The other is through bone marrow. PBSC is a non-surgical procedure. For five days leading up to the donation, donors are given injections of filgrastim. On the day of donation, blood is removed through a needle on one arm and passed through a machine that separates out the blood-forming cells. Bone marrow donation is a surgical procedure where doctors use needles to withdraw liquid marrow from the back of a donor's pelvic bone. Dwyer was required to take the PBSC route, whereas Pyle took the surgical route.
Both Dwyer and Pyle were surprised about how easy the entire process was. All expenses associated with the transplant process were covered. Dwyer was flown to Georgetown University Hospital in Washington, D.C., for preliminary tests. After the results proved he was a positive match, he was flown out for the remainder of the donation process. Dwyer underwent a week of injections to increase his peripheral stem cell count. Then, he was flown again to a hospital where he had an IV in one arm to remove blood and retrieve the stem cells needed, while pumping blood back into his other arm.
"It was like giving blood," says Dwyer. "It's a very easy process." Although Pyle took the more complex, surgical path, he too said it was hassle- and pain-free. He had some minor soreness following the procedure, but the discomfort only lasted a couple days.
"A little discomfort is OK when you realize you're giving someone another chance at life," says Pyle.
Saving lives was the most important factor for Dwyer and Pyle. They were presented with an opportunity to help others on their journey to becoming healthcare professionals. However, their message is that anyone can positively affect someone's health and well-being.
"You don't have to be a physician or a dentist to change someone's life," says Pyle. "You just have to put yourself out there so others in need can find their perfect match."