Overcoming the fear of falling
Posted: December 17, 2016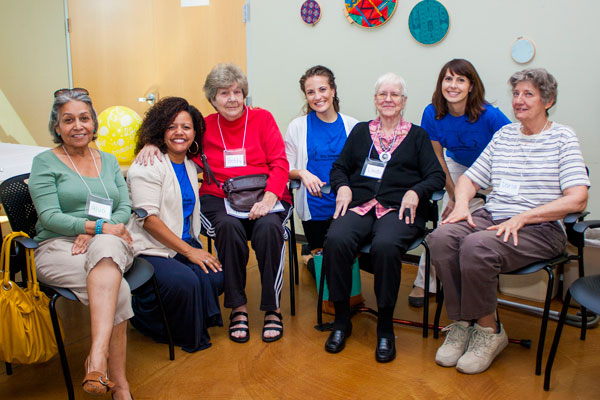 In April 2013, 76-year-old Elizabeth Welsh was making her way to her local bookstore when she fell. While she was able to get up, first responders insisted she go to the hospital. The physician discovered what Welsh thought was a superficial injury was actually very serious.
After several surgeries, Welsh was not interested in leaving her house. Her daughter, who was growing concerned of her mother's fear of leaving home, learned of ATSU's Still Standing Fall Prevention Outreach and enrolled her mother in the eight-week program.
"When my daughter signed me up for the program, I thought 'What do I need that for? I'm not going anywhere,'" says Welsh. "Once I got into it, the students were wonderful. I got my confidence back."
Participants like Welsh who enroll in ATSU's fall prevention program can expect to graduate with a better understanding of how to prevent falls and manage the fear of falling.  Participants are exposed to student coaches grouped into teams of two or four.
"My most memorable moment of the program was the smile and pride on Elizabeth's face when she shared how much confidence she gained," says student coach Nia Jarrett, PA, '17. "The cognitive restructuring of the program showed results quickly, and as she shared her experience, the seeds of confidence grew in the other participants."
Elton Bordenave, MEd, CHC, director of ATSU's Aging Studies Project, says stories like Welsh's are all too common.
"Falls are the leading cause of fatal and non-fatal injuries for older Americans," he says. "This fact is what prompted us to spearhead a dynamic program focused at curbing falls among older adults in Arizona."
Since the program began in 2008, more than 2,500 participants have completed the fall prevention program. This year marks a particularly exciting time as each residential program on the Arizona campus will be represented. Students from physical therapy, occupational therapy, audiology, athletic training, osteopathic medicine, and dental medicine will be trained as coaches to deliver the nationally recognized program and then assigned to a teaching site.
Students are encouraged to team with peers from different health professions programs. These dynamic groupings give students a unique opportunity to learn about the need for interprofessional collaboration
in practice.
"Falls in older adults are a multifaceted problem requiring an interprofessional solution," says Bordenave. "This program offers students an invaluable opportunity to work collaboratively in a team, learn about the contributions of other disciplines, and improve their communication skills, ultimately giving them the skills needed to effectively work in health professions teams in actual practice."
During her falls prevention training class, Jarrett learned alongside an occupational therapy student. She says exposure to different healthcare disciplines opened up a discussion of how participants do not
need to be limited as their lives change.
"Patients need strategies and a plan on how to navigate their lives, and if by chance there are some limitations, communication and planning by multiple healthcare professionals can renew their quality of life," says Jarrett.