Over there: Missouri & the Great War Exhibit
Posted: May 16, 2018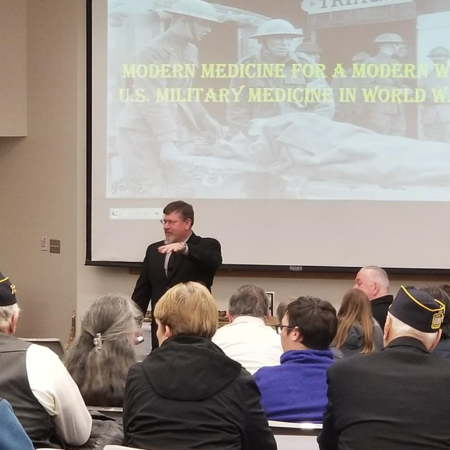 The A.T. Still Memorial Library held an open house to display "Over there: Missouri & the Great War" traveling exhibit on March 9, 2018. As part of the open house, members of American Legion Post 784 and Post 20 of Schuyler and Adair Counties, Disabled American Veterans Chapter 48, and VFW Post 2508 of Adair County participated in a 21-gun salute followed by taps. All veterans and military guests were invited to stand at attention with the A.T. Still University (ATSU) Student Association of Military Physicians and Students to be recognized for their service. This was followed by refreshments and featured speaker Dr. Shawn Faulkner, professor of military history, U.S. Army Command and General Staff College in Leavenworth, Kansas. His lecture was on "Modern medicine for a modern war: U.S. military medicine in WWI."
The "Missouri & the Great War" exhibit was created from a statewide collaborative digitization project on Missouri's involvement in WWI. According to the Missouri state archives, more than 156,000 Missourians served. You can learn more about the digital archives at Missouri Over There which features historical documents, photographs, artifacts, oral histories, and other WWI original material from over 25 museums, archive and private collections, and historical societies across Missouri.
The exhibit was developed by the Missouri Humanities Council and the Springfield-Green County Library District, with funding provided by the Missouri Humanities Council, Friends of Springfield-Green County Library, and the RDW Family and Community Fund. Special thanks to Debra Loguda Summers for her role in developing the exhibit and helping bring it to our library. Jason Haxton, MA, director of the Museum of Osteopathic Medicine and his staff Heather Rudy, MA, and Elaine Pipes helped by loaning artifacts for display. Blytha Ellis, president of the Adair Co. Historical Society and Museum also loaned WWI artifacts.
Prominent Missourians who fought in WWI include General's John J. Pershing and Enoch Crowder, future President Harry S. Truman, and Walt Disney. The last surviving U.S. veteran from WWI, Frank Buckles, was a Missouri native.
by Jean Sidwell, MLIS, director of the Missouri branch library, liaison librarian to ATSU-KCOM