OT faculty member assists the underserved in Honduras
Posted: May 19, 2014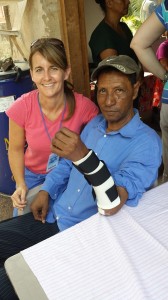 Melissa Clark MS, OTR/L, CHT, assistant professor, Department of Occupational Therapy, returned to Danli, Honduras with a team of eight occupational therapists and one nurse in May 2014. The team provided therapy service for adults and children at a local clinic in Danli and traveled to remote villages to conduct home visits for those unable to reach the clinic. In addition to direct therapy services, clinical education and on-site training were provided to the staff, patients, and families in the areas of positioning, orthotics, home and equipment modifications, and developmental training.
"The mission team was excited to see the continued progress that had been made over the year since our last visit," said Clark. "Many of the children and adults that were seen in the previous year were able to return to the clinic for follow-up visits."
One of the team's major accomplishments last year was helping with the start-up of the Rosa Clinic in a small village outside of Danli. This clinic has continued to grow over the past year and now reaches many of those that are unable to travel to Danli.
Occupational therapy services were provided to patients and families at the free clinic in Danli, the Rosa clinic, a school for disabled children, and at a church-based nursing home. "The team spent many hours conducting home visits in remote villages providing hands-on therapy and home/equipment modifications," said Clark. "The mission was a huge success, and the team is looking forward to returning next year."