OT alumni celebrate
Posted: September 30, 2013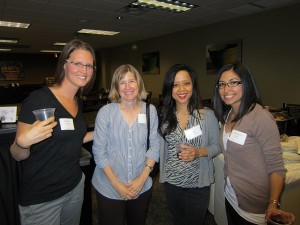 Occupational Therapy alumni in Arizona gathered following the ArizOTA Fall Conference, receiving updates from ATSU's Arizona School of Health Sciences (ATSU-ASHS) Dean Randy Danielsen and Dr. Bernadette Mineo, chair of occupational therapy. Highlights include:
The immense growth of ATSU-ASHS now makes it the largest school at ATSU, currently with more than 1,350 students, 80 faculty, 12 academic programs, and 7,000 alumni. All of these constituents play vital roles in shaping the school as it continues to evolve.
The OT program recently announced a new online OTD program. The program will focus on health promotion, wellness, and program evaluation, and alumni are encouraged to consider the program. Please contact Dr. Mineo at bmineo@atsu.edu for additional information.
Rachel Diamant, PhD, OTR/L, BCP, is the new director of the residential OT program. Congratulations to her as she takes on this role!
Alumni continue to serve as some of our best fieldwork educators, and we offer an AOTA fieldwork educators workshop to help advance their skills. If you have been considering becoming a fieldwork educator, contact Dr. Mary Greer at mgreer@atsu.edu for more information.
Pictures from the event can be found on the alumni Facebook page.