Opportunity for hands-on experience led occupational therapy student to ATSU-ASHS
Posted: December 2, 2022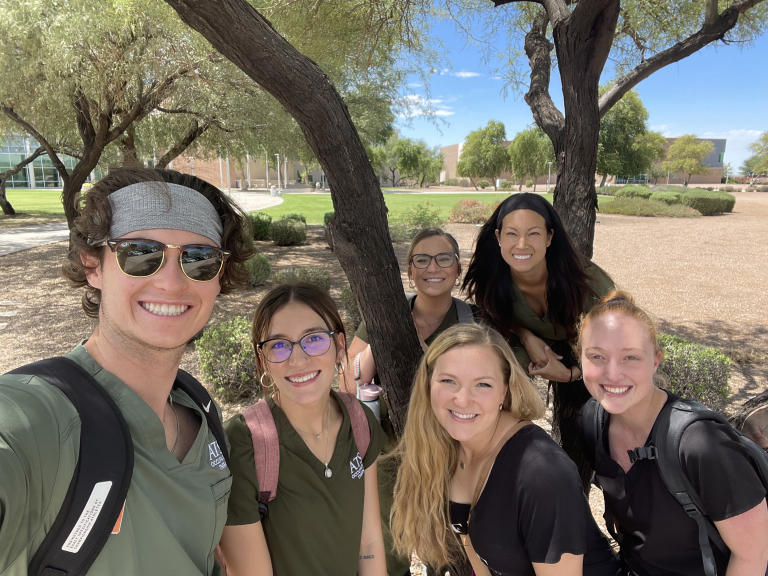 A.T. Still University-Arizona School of Health Sciences (ATSU-ASHS) Master of Science in Occupational Therapy (OT) program student Sarah Squiers, OT, '24, knew ATSU was a place she could find a variety of opportunities for experience from her first glance at the University.
"I chose ATSU for many reasons," Squiers said. "One of the things that really jumped out at me when looking at different schools is that we offer a pro-bono OT clinic that the students help to run, manage, and treat within. We are able to get hands-on experience with real patients before we go out on fieldwork starting in our first year."
Squiers, who is from Tacoma, Washington, and holds a bachelor of science degree in biology from St. Martin's University, said her ultimate goal is to be a pediatric occupational therapist, and ATSU is helping her do what's needed to make those goals a reality.
"ATSU has some really great opportunities to work with pediatric organizations outside of the school that will broaden my understanding of the many different pediatric conditions," she said.
Squiers has gotten involved at ATSU, serving as Pediatric Student Interest Subcommittee lead for the Student Occupational Therapy Association, and as a student ambassador.
"I applied to become an ambassador because the ambassador that I spoke with during my own application process to ATSU was very helpful in answering questions that I had regarding the program, the area, family friendly activities to do, and eased my worries about moving to a state so far from my family," she said. "I wanted to give back to other prospective students the way that my ambassador helped me."
Squiers has also found positive school-life balance at ATSU. She enjoys taking her two daughters to the park, going to farmer's markets on the weekends with her family, and playing indoor and sand volleyball.
She also took part in the annual Powder Puff Football Tournament during Founder's Day.
"I was part of the 2022 OT/SLP/AUD team, which won third place," Squiers said. "It was a lot of fun and I enjoyed meeting the people in other disciplines. I also really like how interactive people are with each other. Everyone is kind and wants each other to succeed."