Occupational therapy alumni reception held in Baltimore
Posted: April 17, 2014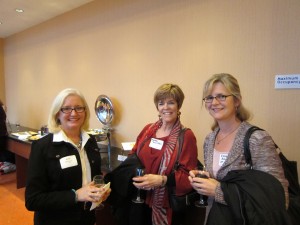 Occupational therapy (OT) alumni and other ATSU alumni in the Baltimore area gathered at a reception April 4 to hear from Ann Lee Burch, PT, MPH, EdD, vice dean, ATSU Arizona School of Health Sciences (ATSU-ASHS) and Bernadette Mineo, PhD, OTR/L, chair of occupational therapy. Below is a recap of their updates:
The ATSU mission of training quality healthcare professionals continues to resonate throughout the ATSU-ASHS programs and its 7,300 alumni. The success that alumni achieve helps bring recognition to the school. Not only do all of our current programs have full accreditation, but the school also has opportunities to expand into other health professions to better treat the whole person.
The OT programs remain strong, with more than 400 applicants each year for the residential program. Dr. Rachel Diamant was named program director last year, and we look forward to graduating future classes of skilled occupational therapists.
Our online OTD program began last fall, with three students in the first cohort. The program focuses on health promotion, wellness, and program evaluation – and there's a 20% discount for alumni! Please contact Dr. Mineo at bmineo@atsu.edu if you are interested.
The OT department is no stranger to the community. Its most recent efforts were in drivers' rehabilitation and community mobility. At its first CarFit event held in February, students and faculty helped participants better understand their car's safety features and driving safety.
More photos can be found on the alumni Facebook page.