NRHA proudly honors Samuels' efforts on behalf of rural Americans
Posted: May 18, 2010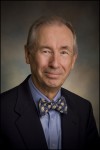 Michael Samuels, Ph.D
The National Rural Health Association (NRHA) will honor Michael Samuels, D.Ph., with its 2010 Distinguished Educator of the Year Award at the association's Annual Rural Health Conference on May 20.
Dr. Samuels is professor and chair of the A.T. Still University School of Health Management's Master's in Public Health program and emeritus endowed chair and distinguished scholar in rural health policy and research and professor of family and community medicine at the University of Kentucky College of Medicine.
"Mike is a teacher of teachers who has kept the spirit and substance of rural health alive for succeeding generations to build on in the quest for better health for rural residents," NRHA CEO Alan Morgan said. "His contribution to rural health will continue for generations to contribute to a healthier rural America."
Dr. Samuels is also a founding member of NRHA.
"I accept this honor on behalf of the generations of students who allowed me into their dreams," Dr. Samuels said.
NRHA's Annual Rural Health Conference will attract 900 professionals and students to Savannah, Ga. In its 33rd year, it is the nation's largest gathering of rural health professionals.
NRHA is a nonprofit organization working to improve the health and well-being of rural Americans and providing leadership on rural health issues through advocacy, communications, education and research. The NRHA membership is made up of 18,000 diverse individuals and organizations, all of whom share the common bond of an interest in rural health.