New Osteopathic Collection and Reading Room
Posted: November 30, 2017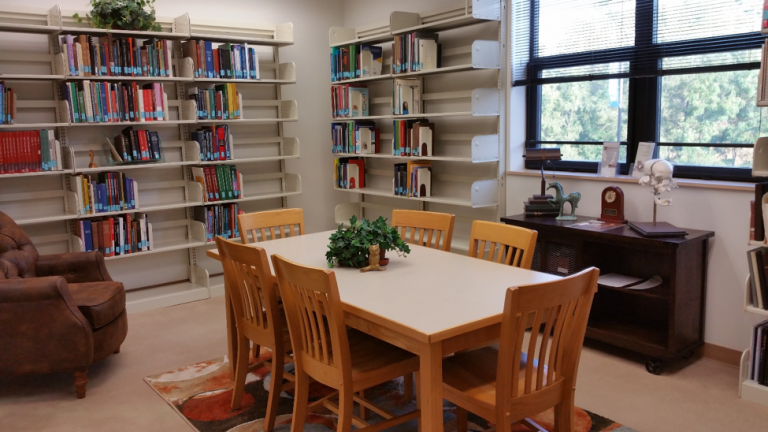 The Missouri branch library is proud to announce the development and dedication of a new Osteopathic Medicine Collection and Reading Room (OMRR). It will seek to acquire and maintain a special collection of all new academic osteopathic medical texts for the benefit of the A.T. Still University (ATSU) community.
In June 2016, the Missouri branch library decided to shelf read (or inventory) its collection of osteopathic print titles. Since several titles were missing, we decided it would be prudent to place at least one copy of each print title in a closed room to house and preserve. We also decided to try to build a truly complete collection of texts in this special area of focus in order to ensure that the ATSU community will always have access to all osteopathic literature. Susan Swogger, MLIS, developed a formal collection development policy for the new collection and research list of new osteopathic titles to add and update the print osteopathic collection. We decided that the acquisitions room would be the right place for the new OMRR. We used existing bookshelves from storage, a rectangular table with six chairs from the first floor, and set up a computer. Facilities painted the walls and cleaned the carpet. We purchased a cabinet, a soft chair, and an area rug from Kelly's Furniture in order to ensure that the new reading room is truly welcoming.
The OMRR was dedicated on Oct. 25 with a ribbon cutting ceremony. ATSU President Craig Phelps, DO, '84 was on hand to give comments, and Jean Sidwell, MLIS, thanked the president, library staff, and facilities personnel for their part in making the OMRR a reality. The room may be utilized for browsing the new osteopathic books, osteopathic manipulative medicine research, library staff meetings, and small group meetings. In order to reserve the reading room for a meeting, please contact the library.