New medical students receive white coats
Posted: July 15, 2013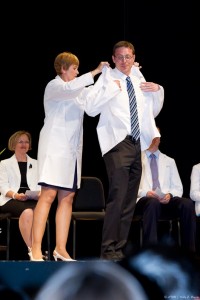 Osteopathic medical students in the class of 2017 received their first white physician's coat on July 13, 2013, at A.T. Still University-Kirksville College of Osteopathic Medicine's (ATSU-KCOM) annual Class Induction & White Coat Ceremony.
Karl Boehm, pre-doctoral fellow, class of 2016, addressed the new class and welcomed them to the University. Christine Beeson, OMS II, presented the key to A.T. Still's log cabin to the new class, which symbolizes the obligation freshman have in preserving the heritage of ATSU-KCOM and osteopathic medicine.
Members of the class of 2017 were presented with their white coat by Margaret Wilson, DO, dean, who concluded the ceremony by asking the students to join her in reading the Osteopathic Pledge of Commitment.
The ceremony was held at Baldwin Hall on the Truman State University campus.