New Dean of SHM
Posted: August 26, 2010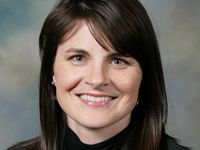 Kimberly O'Reilly, D.H.Ed., '08
After graduating as part of SHM's first class of D.H.Ed. students and serving two years as interim dean, Dr. O'Reilly officially assumes the role.
What she brings to the position: Dr. O'Reilly became SHM's interim dean in 2008, after having joined the university in 2005. In this position, she has moved SHM forward by raising admission standards, establishing full-time faculty positions, and tightening curriculum requirements. She holds a doctorate of health education, a master's degree in social work, and a bachelor's degree in psychology. She practiced in the field of mental health for five years prior to entering higher education, and since 2004 has worked in online education teaching, creating assessment plans, developing and designing curriculum, developing programs and individualized education plans, and providing both faculty and student support services.
What's new: ATSU's first female dean, Dr. O'Reilly ushers in a new era at SHM. Her areas of interest include improving the quality of higher education, educational technologies, bridging the gap between traditional and non-traditional educational practices, decreasing parental rights termination through proactive interventions, and improving quality of life for the terminally ill and aging populations.
Goals for her first year:
• Complete a positive self-study year for the CEPH accreditation application
• Complete curriculum changes for HED programs to align with CHES competencies
• Complete curriculum changes for the HA program to align with CAHME competencies and program requirements
• Increase admissions criteria for all programs
• Create a sustainable curriculum improvement model
• Develop a D.H.A. program and submit a change request to the Higher Learning Commission
• Develop a Ph.D. program and submit a change request to the Higher Learning Commission
• Build inroads with university-wide support in the area of instructional design
• Increase student numbers in M.H.A. & M.P.H.-Dental programs
• Obtain grant funding to increase joint public health offerings across the university
• Continue to build positive relationships with students and alumni
• Continue to find innovative ways to support students and faculty so that positive relationships grow and foster an environment of progressive change for the future of ATSU, healthcare, and prevention
Long-term goals:
• Continue to meet the needs of students and faculty in a positive way
• Become a dynamic education powerhouse educating the top public health students in the world
• Incorporate community health centers into the curriculum so that this vital healthcare entity has highly trained persons with a foundation in osteopathic wellness taking care of our biggest world commodity – people
• Obtain specialty accreditation for all qualified programs
• Grow SHM with programs that add to the strategic plan of the university and help build upon its public health foundation
• Create joint programming for students so that ATSU graduates the most well-rounded healthcare providers and prevention specialists in the world
Most memorable ATSU moment: "My time at ATSU has been filled with so many memorable moments, it is difficult to pick just one. My day-to-day tasks, the people I get to serve, and the university as a whole are just outstanding! I wake up feeling fortunate to be a part of ATSU every morning.
"A few memorable moments include watching the KCOM family come together to support each other and the community after the tornado of 2009; stepping onto the Arizona campus for the first time; sitting in a room with Doug Wood, Jack Dillenberg, Randy Danielsen, and Phil Slocum and feeling like I fit in because they are a very humble and giving group; the day President Magruder called to tell me he was going to officially make me dean; and at commencement, when the students of SHM told me how thankful they were to have me as their dean.
"I'm clearly blessed to be able to serve ATSU-SHM and wouldn't be able to accomplish what I am accomplishing without the hard work of the SHM family."