Never too old to learn something new
Posted: December 7, 2017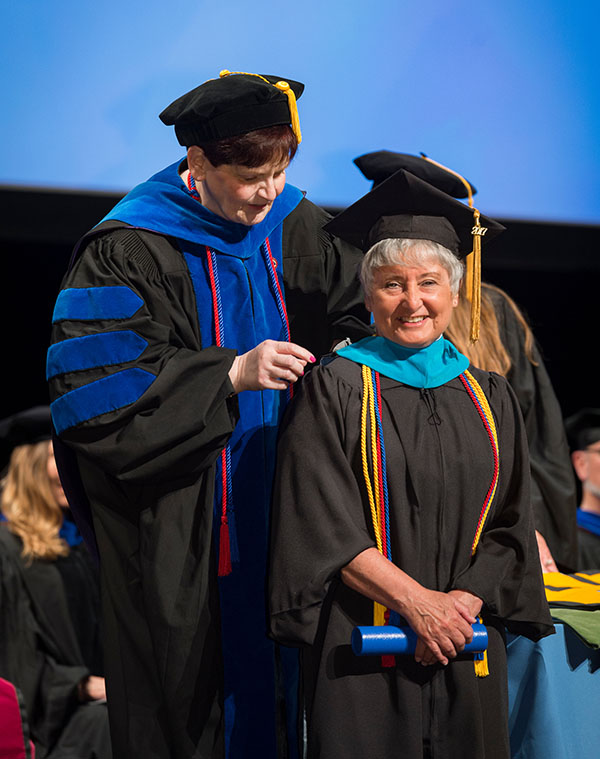 Elizabeth Spero, MHA, RN, CCM, CPDAM, '17, earns her master of health administration degree from ATSU-CGHS.
"I put my own education on the back seat while my daughter was in school," says Elizabeth Spero, MHA, RN, CCM, CPDAM, '17. "But I'm a believer that you're never too old to learn something new."
Spero has been a nurse for 40 years, with 19 years at the University of North Carolina (UNC) Hospitals. Most recently, she worked as the denials and appeals nurse, appealing health insurance denials, including Medicaid and Medicare denials, for UNC hospitalized patients to ensure they received the care they needed. Over a five-year period, she achieved a 65 percent overturn rate of the original denial.
Once her daughter was out of school, Spero decided to complete her bachelor's degree. She earned her bachelor of science in nursing from Aspen University's online program in 2013.
In her career, Spero has worked with a great team of nurses.
"I love nursing because of how much you learn for yourself and from your patients," Spero says.
When the time came to continue her education and pursue a master of health administration degree, Spero began researching universities with online programs. She found ATSU-CGHS.
"I was inspired by the philosophy of Dr. Andrew Still, using the body's own healing forces instead of medications and surgery," she says.
As a student interacting with professors in her online courses, she noticed all her instructors "emulated positivity." A few stood out to her, including Susan Miedzianowski, PhD, CSA, CPC, and John Fick, EdD, FACHE.
"Dr. Miedzianowski pushed us to think more, and to inquire more, and to be more proactive," says Spero. "I just really felt like she was looking for excellence in all her students, and she provided the guidance to get there."
For her capstone class, Dr. Fick was extremely helpful, encouraging, and very positive. When Spero traveled to Arizona for her graduation in May, she was able to meet Dr. Fick in person.
"I feel this University provided me with a solid beginning to further my career," she says. "I am proud to be an alumna of ATSU."
After her graduation, a manager position opened at UNC Hospitals. Today, at age 65, Spero is now the hospital's manager of utilization nurses, case managers, social workers, and denial managers in the Department of Care Management. Her determination to further her career proves age is just a number, and learning lasts a lifetime.