NCAIHP honors first American Indian to graduate from ATSU's KCOM
Posted: January 27, 2014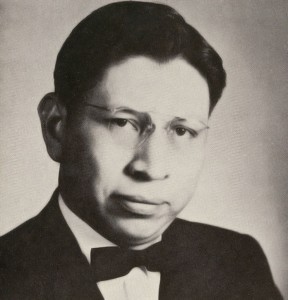 The National Center for American Indian Health Professions (NCAIHP) at A.T. Still University (ATSU) honors William C. Blueskye, DO, as the first* American Indian to graduate as a Doctor of Osteopathic Medicine from its medical school in Missouri.
William C. Blueskye was born on July 13, 1922 and was raised on the Cattaraugus Reserve, New York. His parents were Bertram and Harriet (Hattie) May (Halftown) Blueskye. He had one sister, Matilda (Tillie) John. Dr. Blueskye married Dorothy T. Schopp (Feb. 12, 1923-Feb. 10, 2001) of Kirksville, MO. They had two daughters, Karen L. Blueskye, who passed away on April 17, 2002, and Heidi Blueskye Geizer, of Ohio. He had three grandchildren. Dr. Blueskye died on Jan. 1, 2004 in Lakewood, Ohio. He and his wife are buried in the Ohio Western Reserve National Cemetery in Rittman, Ohio.
The name Blueskye (sometimes written Bluesky) is a well-known name in Onöndowa'ga:' (Seneca Indian) history. The first mentioned was a warrior from Buffalo Creek during the War of 1812. Dr. Blueskye's grandfather, Albert, fought in World War I, and Dr. Blueskye also served as a Technician Third Grade during World War II. His great grandfather was likely the William Blueskye who translated the The Code of Handsome Lake, the Seneca Prophet by Edward Cornplanter in the early 20th century. His father Bertram was one of the Onöndowa'ga:' with whom Arthur C. Parker chose to participate in the depression-era Indian Arts Project (IAP) at Cattaraugus, New York in 1935. Several of his silverwork pieces can be seen in the Rochester Museum & Science Center's IAP collection.
Although Dr. Blueskye's collegiate career was no doubt aided by the post-WWII GI Bill, higher education was not an alien concept in his family. His mother attended Hampton Institute in Virginia, and his father Carlisle Indian Industrial School in Pennsylvania.
Dr. Blueskye graduated from ATSU in 1954 and eventually set up practice in Mentor, Ohio. While he was at ATSU, he became a member of the Alpha Phi Omega, a co-ed service fraternity, which now has chapters on more than 350 campuses across the United States.
Dr. Blueskye's educational achievement in the 1950s is significant. College attendance was not as common as it is today for the Onöndowa'ga:'. We all share in honoring him for his pioneering and enduring legacy.
Guest article by Nathan Lefthand, NCAIHP, project coordinator, who wishes to thank the Museum of Osteopathic Medicine for their assistance in the NCAIHP's research on Dr. Blueskye. This information on Dr. Blueskye was in an exhibit from the NCAIHP.
*There may have been earlier American Indian(s) that graduated; this is the first recording on record.
*A previous version of this article contained incorrect information and has been corrected.