Native American Heritage Month alumnus profile | Dr. Ron West
Posted: November 22, 2016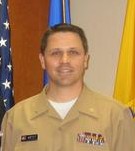 As part of A.T. Still University's recognition of Native American Heritage Month, Ron West, DPT '04 wrote about his journey to ATSU. 
My father was born and raised on the Fort Apache Reservation, a member of the White Mountain Apache tribe. In 1949, when he was 19 years old he realized that there were no opportunities for further education or career opportunities – he would have to leave the reservation to progress. He moved 180 miles away to the Phoenix area, leaving his home, family, and traditions. He started working as a truck driver which transitioned to a job with the City of Mesa Fire Department. He married and raised his family in Mesa, AZ and progressed through the ranks of the fire department from engineer to chief. He helped design the paramedic program and enjoyed providing emergency medicine. He was very excited that in the city his children would receive a good education, have sports training opportunities, and have college opportunities.
Attending college was part of my plan since as far back as I can remember. After graduation from high school in 1985, I enrolled at Brigham Young University. I was on the gymnastics team, and after an injury, I received physical therapy treatment. The therapy was slow and painful. I thought that if I were a physical therapist that I could make it interesting and less painful. This led me to pursue an education in physical therapy. There were many obstacles, but all of those were overcome by studying hard and preparing for the graduate exams.
In 1991, I applied to 15 physical therapy graduate programs. I was not accepted to any of the programs. I called one and asked what I could do to make my application better, and they said that I needed exposure to the profession of physical therapy. I applied for a job as a physical therapy technician, was hired, and started working as a physical therapy technician. In 1992, I applied again to 15 physical therapy graduate programs and decided to attend the University of Miami. I was a recipient of the national Indian Health Service Health Professions Scholarship, which paid for my tuition and offered a monthly stipend for living expenses. I was able to focus on my studies. In 1995, I graduated from the University of Miami and received another blessing: there just happened to be an opening at Phoenix Indian Medical Center for a physical therapist. I applied and was hired.
After about six years of working, my supervisor encouraged me to go back to school to get a doctorate degree. He recommended the transitional Doctor of Physical Therapy program at A.T. Still University. I wasn't excited about returning to school and incurring the added cost, but my supervisor and mentor told me that it would help strengthen the profession of physical therapy and provide me with more opportunities in the future. So, I applied and was accepted. I found school invigorating. It made me a better physical therapist, and I began to think more and examine things more closely. In 2004, I graduated from the transitional DPT program. When I graduated, I was asked to design an online course for the DPT program and to teach for ATSU. This helped me grow and refine my skills as a teacher and a physical therapist.
I worked at Phoenix Indian Medical Center for 19 years. I recently applied for and was hired for a new job at a new Tribal 638 program in San Carlos, AZ. We have a new facility on the Reservation and we are building a new program. I am learning new leadership skills building a new clinic. My father never returned to live on the reservation because of his desire to have employment to support a family. Now, just one generation later, I am returning to the Reservation to provide much needed physical therapy services. I have been able to provide physical therapy services to some of my cousins and family members.
My advice to other American Indian students is to always have college in their plan. Become the best that you can become. Also, always have in your plan to return to help your family.