National Primary Care Week brings experts to ATSU's Kirksville campus
Posted: October 31, 2016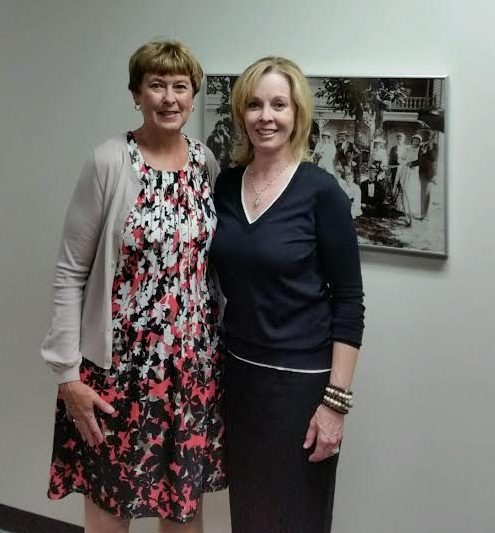 Dr. Wilson (left) welcomed Dr. Fitch (right) and others to ATSU's Kirksville campus
In an effort to augment ancillary campus-based primary care activities, A.T. Still University Kirksville College of Osteopathic Medicine's (ATSU-KCOM) Primary Care Training and Enhancement grant expanded the scope of National Primary Care Week (NPCW) events on the Missouri campus in October 2016. The goal of National Primary Care Week is to promote primary care career choices and provide opportunities for students to network with primary care faculty and local providers. The week's activities began with a National Health Service Corps (NHSC) panel consisting of ATSU-KCOM Dean Margaret Wilson, 82; Joni Adamson, MBA, manager of recruitment and workforce development, Missouri Primary Care Association and NHSC National Advisory Council Member; and Matthew Tilton, OMS II, NHSC scholarship recipient, and NHSC Ambassador.
Students also participated in the NEMO Senior Health Expo held on the Missouri campus as a part of NPCW. This event provided resources and assessments to seniors, caregivers, and adults with disabilities and provided students the opportunity to work with these populations. NPCW events also included a service project where students were encouraged to make cards for local nursing home residents. Finally, two larger showcase events with noted guest speakers were held. Starla Fitch, MD, "The Connection Doctor", spoke to an audience of students, faculty, and local healthcare providers on the topic of resilience and the importance of approaching work-life balance effectively as healthcare providers and the power of connection in medicine.
The week was concluded with a presentation by Marci Nielsen, PhD, MPH, president and chief executive officer of the Patient-Centered Primary Care Collaborative. Dr. Nielsen's presentation focused on patient-centered primary care and the patient-centered medical home. All presentations were livestreamed and made available to off-campus students and faculty.