Museum Minute
Posted: September 23, 2020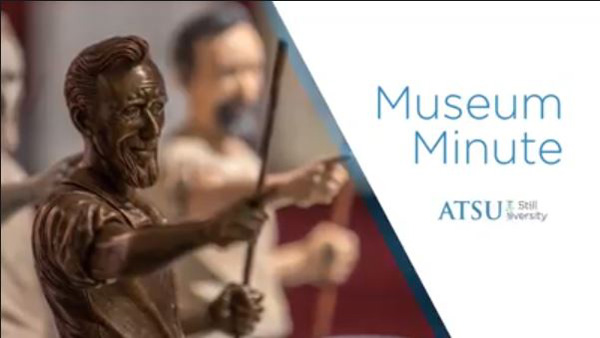 When the coronavirus pandemic shut down much of day-to-day life, ATSU Communication & Marketing and Museum of Osteopathic Medicine Director Jason Haxton, MA, sought a way to engage with the University community and provide something entertaining, educational, and, hopefully, fun.
And so, "Museum Minute" was born.
With Haxton serving as host, museum staff providing relevant images, and Communication & Marketing performing video editing functions, "Museum Minute" has become a popular diversion and a new avenue for the University to share its history with the world.
Several "Museum Minute" episodes have already been produced and shared across official University's social media pages. Topics have included timely entries such as Dr. Still's views and efforts in areas of racial and gender equality, osteopathic medicine's role in the current and prior pandemics, as well as lighter subjects, like graduation and Dr. Still's approach to haircuts.
Haxton is ideally suited to host. A renowned expert in osteopathic medicine's history, he speaks regularly throughout the U.S. and world. He's become adept at providing online lectures and webinars with shelter-in-place requirements enacted and travel discouraged.
"I was thrilled at this opportunity to connect and share with our students, staff, and faculty," Haxton said, "about our amazing founder, Dr. A.T. Still, and the great healthcare work that we provide the world. A lot of our history is relevant to healthcare problems today. My plan was to share our past successes in context to today's healthcare challenges."
While these episodes are brief, Haxton is accustomed to delivering talks of up to two hours.
"Keeping in mind our information overload, I strive for a quick, fun, and informative topic," he said. "I really try to be concise, and yet my average 'Museum Minute' is closer to three minutes."
Visit atsu.edu/museum-of-osteopathic-medicine/news-and-events to view "Museum Minute" episodes.