Museum hosts emergency preparedness workshop
Posted: April 29, 2014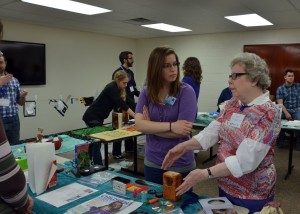 The Museum of Osteopathic MedicineSM, with the Illinois Heritage Association, hosted an emergency preparedness workshop on April 25-26, 2014, which was open to libraries, archives, and historical societies/museums from Missouri and surrounding states.
The training program was given by Patricia Miller, executive director of the Illinois Heritage Association, Bronwyn Eves of Bronwyn Eves Conservation Studios Inc., and Capt. James Snyder, Kirksville Fire Department. It provided information to participants on developing a disaster plan, demonstrated salvage techniques, reviewed systems created by Federal Emergency Management Agency, and offered guidance on creating an emergency/disaster response team.
The training concluded with a hands-on, mock salvage operation given by Miller and Eves and fire extinguisher demonstration by the Kirksville Fire Department. The free workshop was part of a National Endowment for the Humanities grant awarded to the Museum of of Osteopathic MedicineSM.