More than a feeling
Posted: February 24, 2010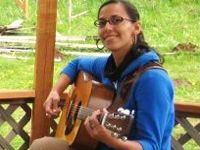 Kellie Holloway, DPT 2012, says her photography skills have developed primarily since beginning graduate school at ASHS.
"Learning so much about the physiology, pathophysiology, biomechanics, and intricacies of the human body helps me remember to look outside into the larger world and the beauty there," she says.
[cincopa 10558860]
"Being the daughter of my father – a crafty, creative genius and banjo/guitar/ mandolin player extraordinaire – the inherent artist in me apparently just can't be stifled, regardless of how engaged I am in my professional studies. Playing acoustic music, taking pictures, and making art will always be a creative outlet as I pursue a career that involves something else I love – the amazing human body."
She enjoys taking photos, she says, "because I don't always trust my mind to retain the things I see. It's also a welcome challenge to capture not only the physical beauty of an image, but the feeling experienced while viewing it."
Holloway uses a Sony digital camera and occasionally a small tripod.