More than 360 students receive degrees during ATSU-ASHS commencement
Posted: June 16, 2021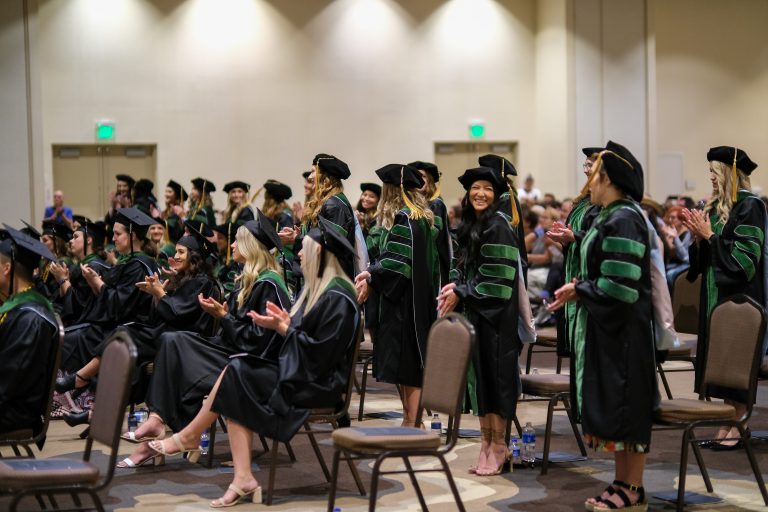 A.T. Still University's Arizona School of Health Sciences (ATSU-ASHS) celebrated more than 360 graduates in several healthcare fields during in-person and virtual commencement ceremonies Friday, June 4, 2021.
Graduates included:
Ann Lee Burch, PT, EdD, MS, MPH, ATSU-ASHS dean and associate professor, told graduates their expertise has never been more in demand.
"There is a reason that all over the country, in small towns and in cities, people stood in their doorways and in their homes to applaud healthcare workers who were and continue to care for patients with COVID-19 in our hospitals, our community health centers, skilled nursing facilities, emergency rooms, and urgent care units," Dr. Burch said. "I would like to suggest to you all that you are quite possibly entering one of the most vibrant times of your life, where your skills and humanity have never been more needed in communities across the country."
Javier F. Cárdenas, MD, who was presented an honorary doctor of humane letters degree, delivered the commencement address. Dr. Cárdenas is a neurologist and director and creator of the Barrow Concussion and Brain Injury Center, the nation's most comprehensive concussion prevention, treatment, and education program. He also created Barrow Brainbook, the first mandated online concussion education and testing tool for student athletes in the country.
He is board certified in neurology by the American Board of Psychiatry and Neurology and is a member of the American Academy of Neurology; National Football League Head, Neck and Spine Committee; and Arizona Governor's Advisory Council on Spinal and Head Injuries.
Dr. Cárdenas challenged graduates to be prepared to face future challenges, using knowledge gained from the COVID-19 pandemic.
"Your educators, your administrators, your staff have been committed to continuing your education. They stand tall and firm to provide you the tools to care for other people," he said. "Coming out of the pandemic, I request you ask yourselves the following questions: Am I a better person for having survived? Will I continue to be? Am I prepared for the next crisis? When it strikes, will I hit it head on? Will I adapt? When the variables become constant and the constants become variable, how will I respond?
"I believe you will respond as graduates of A.T. Still University's Arizona School of Health Sciences, as leaders who are prepared to care for the whole person."
In closing, ATSU President Craig Phelps, DO, '84, reminded graduates they have the necessary tools to serve their communities and have been strengthened by events of the last year.
"You've learned and persevered through not only a pandemic, but many changes and events that have happened in our country and in our world," Dr. Phelps said. "You are well prepared and you will do amazing things."