Mindful therapy
Posted: July 11, 2018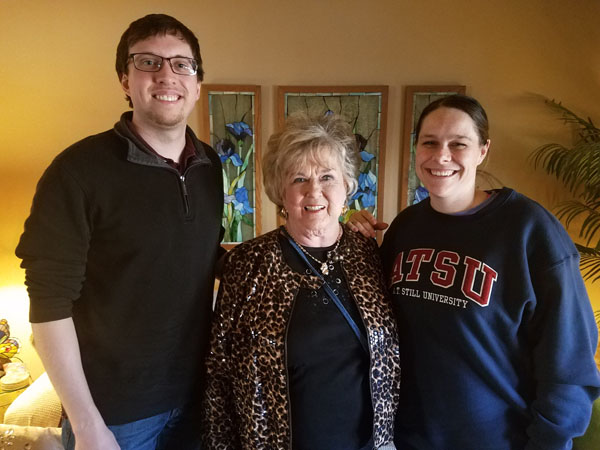 ATSU-KCOM students Adam Russell (left) and Kristina Grant (right) facilitate iCST for Kirksville resident Janet Snyder.
Dementia can be a heartbreaking diagnosis for older adults and their loved ones. Because it is a degenerative condition, people often feel hopeless and fearful of the serious consequences ahead. On a national level, dementia has become a major concern as the overall population is aging. In Missouri and Arizona, the states where ATSU's campuses are located, it is one of the top leading causes of death. But, there is hope for those with mild to moderate dementia to manage the condition and maintain quality of life. Dementia itself is not a specific disease. Rather, it is an umbrella term that describes a decline in mental ability, severe enough to interfere with daily life. Dementia has many forms, with the most common being Alzheimer's disease. While medications are available to control some symptoms, pharmacological interventions have not proven effective in improving outcomes of people with dementia. The lack of curative medicines has led people to search for non-pharmacological alternatives or therapies.
Cognitive Stimulation Therapy Cognitive Stimulation Therapy (CST) is an evidence-based intervention program for individuals with mild to moderate dementia. The non-pharmacological therapy was developed and standardized in the United Kingdom by a team from the University College London. The purpose behind CST is to keep individuals with dementia engaged cognitively, socially, and physically. CST takes three delivery approaches: Standard CST, Maintenance CST (MCST), and Individual CST (iCST). Each of the three CST programs has a printed manual, which features a session-by-session curriculum for group facilitators and caregivers. In addition, each CST manual features key principles that are essential to delivering the curriculum successfully.
A few years ago, the U.K. creators of CST collaborated with Saint Louis University (SLU) to take the program across the pond and into America's heartland. SLU's Geriatric Education Center developed a variety of training materials for healthcare professionals in the U.S. Currently, three entities are delivering CST in their communities: SLU, ATSU, and Perry County Memorial Hospital in Perryville, Missouri.
CST in Missouri
ATSU began offering CST in 2016 through its Area Health Education Center (ATSU AHEC) on the Kirksville, Missouri, campus. Debra Blessing, ATSU AHEC's Geriatric Workforce Enhancement Program coordinator, was trained by faculty and staff from SLU and Perry County Memorial Hospital to deliver CST. She offers the program in Kirksville and surrounding communities free of charge to participants.
Standard CST classes begin with a welcome, introduction, and orientation session. Each following session is structured to include components such as introductions, music, discussion about the weather and current events, a group activity, exercise, and a recap of the day's session. While facilitators may tailor the session's activities to the individual group, it is essential for them to follow the key principles of person-centered care.
"By the sixth or seventh session, you can really see the participants take ownership of their group," says Blessing, who has facilitated more than 300 Standard CST, MCST, and iCST sessions. "They name their group, and they pick their own group song."
In January 2017, ATSU began offering iCST as an elective for DO students at ATSU-KCOM. Blessing coordinates student teams, usually two students per participant, and sessions are held in participants' homes or care facilities. Students spend 10 hours training before facilitating iCST on their own.
"I don't know what I expected when I signed up, but this wasn't it," says Adam Russell, OMS I. "This experience has been really enjoyable."
Russell and classmate Kristina Grant, OMS I, teamed up to work with Kirksville resident Janet Snyder. Snyder, who lives independently with weekly assistance, sometimes has difficulty remembering and concentrating. Because of the flexibility the iCST curriculum offers, Russell and Grant are able to adjust the level of difficulty to challenge her appropriately.
"We've found that we enjoy reading articles," says Grant. "I like that the program is informal, and we are able to have a normal conversation."
The low-stress setting removes anxiety and pressure and allows discussion to flow freely. Snyder says she likes sharing stories and laughing with Russell and Grant, and she looks forward to seeing them. The sessions are a nice change of pace for students, too, as they are able to take a break from the rigors of classes and studying.
"Sometimes in our conversations, it will bring up a memory that I had forgotten about," says Snyder. "These students make me young at heart."
CST in Arizona
CST was shared with the Mesa, Arizona, campus, and Brandi Buchanan, OTD, OTR/L, program researcher and adjunct associate professor, began facilitating Standard CST classes in spring 2017. With funding from a Tempe Community Grant, Dr. Buchanan and interdisciplinary clinicians have been providing CST at no cost to participants.
Arizona facilitators have held five Standard CST classes in three different locations throughout Tempe. The unique locations include a day club for people with disabilities, a large residential facility for individuals needing all types of care, and a senior center. Following the CST curriculum and key principles, facilitators have tailored activities to each group's needs and preferences.
For instance, one participant was quite advanced in his dementia diagnosis. He was a musician and mathematician by trade, but he developed aphasia and had difficulty communicating. Dr. Buchanan and the facilitators incorporated music into his group's activities and allowed him opportunities to talk about his work with numbers.
"By presenting some activities and asking questions we knew would tap into his past memories, he was then able to engage," Dr. Buchanan says. "You could see him add stories and come to life."
Another memorable moment for Dr. Buchanan was at the end of one Standard CST class. The participants posted a signup sheet, and they shared phone numbers and email addresses with each other to keep in touch. One participant planned to invite the group to her own house for a holiday party.
"None of these individuals knew each other when they walked in the room, and after seven weeks, they developed a friendship," Dr. Buchanan says.
Beginning spring 2018, the Arizona campus will pilot iCST. Taking a slightly different approach from the Missouri campus, Dr. Buchanan and other facilitators will train caregivers on how to engage in iCST. The goal with this approach is to improve the communication and overall relationship between the participant and his or her caregiver, which can improve moods and quality of life for both parties.
"CST gives participants hope," says Dr. Buchanan. "They realize there are things they can do to stay engaged and mentally active, rather than focusing on what they can't do."
CST outcomes
All participants are assessed on their cognition before and after any CST program. The pre- and post-cognition scores are compared to see how cognition changed over the course of the program. To evaluate participants, both campuses have been using the Saint Louis University Mental Status exam.
The facilitators reported some participants' scores continued to decline, but overall, many participants improved or stayed the same. In treating people with dementia, CST is considered successful even if participants' scores stay the same, meaning the inevitable cognitive decline is slowing. Because dementia typically occurs in adults 65 and older, that age group is already subject to a variety of health factors. Issues not related to dementia may play a role in outcomes and cognition scores.
So far, data from ATSU's CST programs has been collected and reviewed primarily to find the most effective, cost-efficient way to deliver CST to those in need. Feedback from participants and families has been positive, and both campuses are compiling what works best in each community. One point of interest for Dr. Buchanan is the high number of older adults who showed concern about memory loss but did not have a dementia diagnosis. She notes the importance of education and resources for those with dementia and for those hoping to prevent dementia.
"Some of the reasons individuals with memory issues decline can be addressed with socialization, with mental stimulation, in a setting that feels safe," says Janet Head, EdD, MS, RN, co-director, ATSU AHEC.
Minding the future
Older adults are becoming increasingly concerned about dementia, and those who have it are searching for help. While nothing is available to reverse the course of dementia, CST can help reduce some of the major difficulties caused by understimulation, withdrawal, depression, and anxiety.
"There isn't a magic pill for dementia," Dr. Buchanan says. "CST arms people with ideas on how to continue to keep their minds healthy."
Blessing notes it is important to consider the costs associated with care and management of the condition. According to America's Health Rankings Senior Report 2017, seniors with cognitive impairments have more hospitalizations and higher healthcare costs than those without cognitive impairments. Furthermore, Alzheimer's disease is the most expensive disease, beating out heart disease and cancer. Blessing also points out the U.S. has 15 million family caregivers, and the amount of data on caregiver burnout is overwhelming.
"After learning about CST, I knew we had to do this," says Dr. Head. "Having lived and dealt with my mom's cognitive decline, I saw how much different I could've been for her."
ATSU is leading the way in changing how dementia is treated. The looming implications of this pervasive issue emphasize the importance of better communication between individuals with dementia and their caregivers, and helping them maintain function as long as possible. Until a cure is available, the University is providing its communities non-pharmacological options for a healthier future.