MFH invests $1.5 million in partnership with ATSU-MOSDOH
Posted: April 25, 2013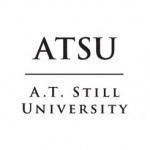 KIRKSVILLE, Mo. – The Missouri Foundation for Health (MFH) recently awarded a Year 3, $1.5 million grant (effective April 1, 2013) to A.T. Still University (ATSU) to assist the University with further development of its new and innovative dental school based in Kirksville, Mo. MFH has provided $1.5 million since 2011 to assist the University with the initial feasibility/planning and development phases. ATSU plans to open its innovative Missouri School of Dentistry & Oral Health (ATSU-MOSDOH) with its first class of 42 students in the fall of 2013, pending accreditation.
The goal of ATSU-MOSDOH is to educate and produce a new generation of community-minded dentists who will help fill widespread oral healthcare workforce gaps in rural and urban communities, specifically within safety-net settings where outreach to underserved patients is achieved. The curriculum includes a focus on public health.
ATSU President Craig M. Phelps, DO, states, "MFH and ATSU have similar missions focused on improving and increasing access to oral healthcare among Missouri's most vulnerable populations. With the ongoing support provided by MFH and the creation of strong partnerships with Missouri's community health centers (CHCs), ATSU is confident its new community and public health-focused dental school will successfully fulfill its mission and increase opportunities for inter-professional education among providers statewide."
"We are proud to partner with ATSU's Missouri School of Dentistry & Oral Health and its commitment to increasing oral health services to Missourians," said Robert Hughes, President and CEO of Missouri Foundation for Health. "The School's dedication to serving the underserved has the potential to have an exceptionally significant impact on dental and oral health services in Missouri."
Missourians, particularly high-risk populations, continue to struggle in terms of accessing dental care services. The state ranks 41st in the nation relative to adults who visit a dentist annually. In particular, adults aged 35-44 years with less than a high school education experience untreated tooth decay nearly three times that of adults with at least some college education. Access to care is compounded by a lack of dental insurance, geographic and financial barriers, and shortages of dental providers—among other factors. Approximately 70 dentists are retiring each year in the state, while only about 45-50 are starting new dental practices. In essence, Missouri's overall supply of dentists is declining, while the state's population and demand for dentists are rising. ATSU's intent is to respond to this growing gap in oral healthcare.
Christopher G. Halliday, DDS, MPH, serves as the inaugural dean of ATSU-MOSDOH. Dr. Halliday's vast professional experiences include serving the underserved in areas as remote as Barrow, Alaska, for three years; and serving seven years with American Indian populations in New Mexico and Arizona. In several posts in Washington, D.C., he was a leading advocate for access to dental care and possesses extensive expertise in the fields of oral/public health – a track record that sets a strong example for ATSU-MOSDOH faculty and incoming students.
"ATSU-MOSDOH will utilize a progressive curriculum, which fosters an inter-professional learning environment," said Dr. Halliday. "We will train dentists to treat individual patients and assure that they are capable of developing oral health promotion and disease prevention programs for entire communities."
ATSU's emerging four-year dental curriculum in Missouri will involve two years of pre-clinical, interdisciplinary oral health education on the University's Kirksville campus in a new 62,000-square-foot, $26 million, state- of-the-art educational facility—which is slated for completion in June 2013. The final two clinical education years will be delivered primarily in cooperation with Grace Hill Health Centers Inc. in St. Louis, Mo., via a new 50,000-square-foot, $23 million clinic and via collaborating CHC partner sites throughout Missouri and beyond. This community-based clinical model sets ATSU's Missouri dental school apart from others and maximizes the best teaching resources of academic and public health dentists.
"During the third and fourth academic years, dental students will provide much needed care and service to disadvantaged populations by working in community-based clinics," added Dr. Halliday. "Through community service and scholarly activity, our goal is to raise awareness within our graduates of the significant impact and role oral health has on the overall health status of vulnerable populations, thereby creating a new generation of oral healthcare providers for today's complex healthcare environment."
Successful ATSU-MOSDOH graduates will earn the doctor of dental medicine (DMD) degree plus a certificate (or optional master's degree) in Public Health, the latter in cooperation with ATSU's online School of Health Management. In addition to the public health emphasis, the curriculum interweaves human systems and dental science courses to enable graduates to understand, analyze, and make decisions about disease, which are in the best interests of their patients, patient families, and communities.
"We are grateful for the continued support provided from MFH during the development of Missouri's newest dental school," adds Dr. Phelps. "ATSU-MOSDOH has the potential to transform dental education by addressing
the shortage of dental providers and improving access to oral healthcare."
Once launched, ATSU-MOSDOH will be one of only two dental schools in Missouri and the only dental school in the Midwest dedicated, at a mission level, to enhancing oral healthcare for the underserved.
Missouri Foundation for Health is an independent philanthropic foundation dedicated to improving the health of people in our region. MFH works as a changemaker, educator and partner to promote community health and increase access to care for the uninsured and underserved.