Mentors help our students and graduates on the road to success
Posted: December 19, 2016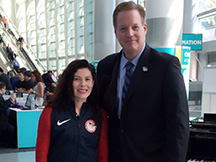 In this issue of Still Magazine, we celebrate mentors and their important roles in the development of our students and graduates. Many of us have mentors to thank for inspiring us to dream a little bigger, try a little harder, place things in perspective, and not take ourselves too seriously.
Two of my mentors are A.T. Still University-Kirksville College of Osteopathic Medicine (ATSU-KCOM) graduates, Keith Peterson, DO, '60, and E. Lee Rice, DO, '73. Drs. Peterson and Rice went out of their way to provide guidance and support to a young, naive student who later became an osteopathic physician. Watching them practice family medicine and sports medicine, while balancing family, community service, and teaching medical students, residents, and fellows has been critical to my development as a person, physician, and president of ATSU.
Recently I had the opportunity to hear from ATSU students and graduates on the importance of mentors in their lives. It is heartening to know they too are benefiting from the generosity of mentors, many of them ATSU graduates. This September I also had the privilege of visiting with Rebeccah Rodriguez-Regner, DO, '06, who recently returned from the 2016 Rio Olympics after serving as a USA Olympic physician. Dr. Rodriguez-Regner and I first met when I shared my ATSU-KCOM experiences with a pre-med class at her undergraduate university. Dr. Rodriguez-Regner is continuing the mentor-mentee tradition with the next generation of ATSU students and graduates. I am humbled she considers me one of her mentors.
Should you feel inspired to become a  mentor, please consider signing up to be an alumni ambassador at atsu.edu/alumni-ambassadors.