Meant to be
Posted: May 13, 2014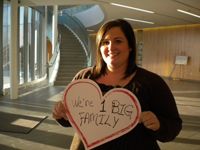 If people are meant to be at a certain time and place, at just the right stage in their life, the pieces definitely fell into place for first-year MOSDOH student Kristen Alexander.
Alexander, who hails from Poplar Bluff, Mo., always knew dental school was in the cards for her. In eighth grade, she met a dentist at a career fair, who a few years later happened to have a position available for a high school intern. Through this mentorship, community service, and job shadowing via the Area Health Education Centers (AHEC) program, she was laying the foundation for a future career in dentistry.
After graduating from Southeast Missouri State University, Alexander took a job at AHEC to give kids in her hometown the same experience to explore healthcare careers she once had. That's when she learned about ATSU and the possibility of a new dental school in Missouri.
"When I read the mission statement and the focus on the underserved at ATSU, I knew that's where I wanted to be. I get goose bumps talking about it," says Alexander. Her aspirations perfectly describe ATSU's vision for its students to become hometown providers.
"I've been in and out of small towns where there's only one healthcare provider for 45—even 90 miles. Experiencing this in my own area turned my career goals into a passion," Alexander says. "It's something you always wanted to do when you were little, and then it turns into a child thanking you, saying he'd never had his own toothbrush before. That's when I knew what I had to do, because I need this in my community."
Alexander was the only student from the inaugural class to attend the MOSDOH groundbreaking ceremony in 2012 and says her shovel and jar of sand from that day remind her of her goals and why she's here: to help Missouri with the dental care crisis. To build relationships with patients, and see them in wellness, not just sickness. To be the next generation of public health dentists. To do what she was meant to do, right where she was meant to do it.